Mid-century modern interior with dresser, bowls, painting and flowers
You've probably often heard terms such as "mid-century modern furniture" and "mid-century modern homes". But what is mid-century modern design?
In this article, we'll give you the lowdown.
Introduction: What is Mid-Century Modern Design?
Mid-century modern architecture is instantly recognizable by its retro style, fusion of manmade and organic materials, and clean lines.
You'll find this style everywhere, from art museums to homes to West Elm shelves. The term "mid-century modern" was coined in the 1984 book Midcentury Modern: Furniture of the 1950s by Cara Greenberg. Mid-century modern design was later catapulted into fame by the TV show Mad Men.
Why is this style still so enduringly popular today? There may be something to be said for its bright pops of color and clean lines – which seem perfectly in-place with today's designs.
History of Mid-Century Modern Architecture
Mid-century modern design grew in popularity in the mid-20th century in the US. German designers and architects who immigrated to the US after the World War II started the movement.
As the US shifted from large-scale production during World War II to the post-war boom in the 1950s, the economy began to focus on mass production. Mid-century modern reflects the priorities and mindsets of the time period in its utilitarian look and purpose.
It is also important to note the rise of office employment during this era – more Americans were working in office buildings than ever before. Furniture designers contributed to providing for these offices.
Mid-century modern is based on earlier styles such as Bauhaus. However, it is still popular today due to its timeless look of geometric and organic forms, high functionality, and minimal orientation.
Some famous mid-century modern designers include Herman Miller, Isamu Noguchi, Cara Greenberg, Arne Jacobsen and Eero Saarinen.
If you're planning to design for a commercial or residential project, here are some distinguishing features of mid-century modern design to help you out.
Characteristics of Mid-Century Modern Interior Design Style
There are some hallmarks of mid-century modern architecture. For example, most authentic mid-century furniture is made from teakwood, because of its durability and color.
Recommended Reading:
Other popular woods for the style include oak and rosewood, particularly for cabinets, desks and tables.
Materials used in tandem with wood include glass, leather, tweed, vinyl, plastic, marble, lucite, and metal. It's a medley of natural and manmade elements. Furthermore, the patterns tend to be repetitive and simple instead of textured or whimsical.
Let's dive into some of the primary characteristics of this design style!
1.

Versatile Color Palette

If color is your thing, mid-century modern will not disappoint.

Expect neutral tones such as black, white and wood offset by muted oranges, deep yellows, clay reds, olive greens, smoky blues, and jewel tones. You can go wild adding them all or stick to a more minimalist palette.

Following the idea of combining the outdoors and indoors, the color palette is often rooted in nature.
2.

Minimal, Sleek Furniture

Mid-century modern furniture, from consoles to dressers, is minimal, efficient and often angular. You won't find floral carvings, rattan, gold painting, shiny mosaics or ornate details. Instead, picture clean, clear light fixtures, plexiglass tabletops, and couches with tapered wooden or metal legs.

Of course, minimalism is blended with unpretentious utilitarianism and comfort in this style. After all, the Eames chair is not just a statement piece – it is known for its comfort.

Remember, it's difficult to attain that sleep look if your countertops are littered with chips packets and your chair is being used as a laundry basket. That hallmark modern look will come from clearing out your clutter. Hide it away in storage containers, chic boxes, drawers and closets. You could also consider peg boards for storing kitchen gadgets and office supplies.

To know how to get the minimalist look, read all about minimalist home design.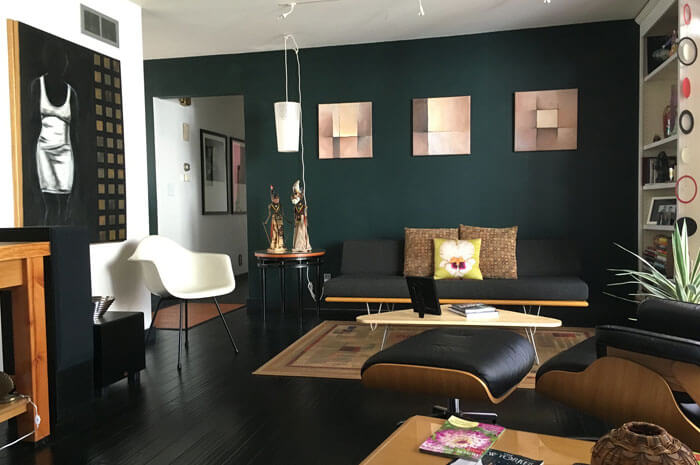 Mid-century modern ranch by Ron Frasier. Licensed under Attribution 2.0 Generic (CC BY 2.0)
3.

Elevated Furniture

Mid-century modern design often emphasised a spacious, light vibe, which makes spaces appear larger than they are. The floors seem more "continuous". Think chromed steel, bent wood and thin legs.
4.

Soft Curves, Sharp Lines and Other Contrasts

Curves, angles and geometric shapes all work in tandem. For example, consider the egg chair, Saarinen dining table and Eames chair. Sharp, thin legs can play off circular tabletops or rounded chair spines.

On that note, consider playing with scale. You can pair an arc lamp with a low coffee table, an oversized pillow alongside a small one on your sofa, or a statement paperweight with tall candlesticks.

Don't be afraid of mixing and matching these contrasts! If you're looking to buy pieces, be sure to read up on the best furniture companies.
5.

Easy to Blend With Other Styles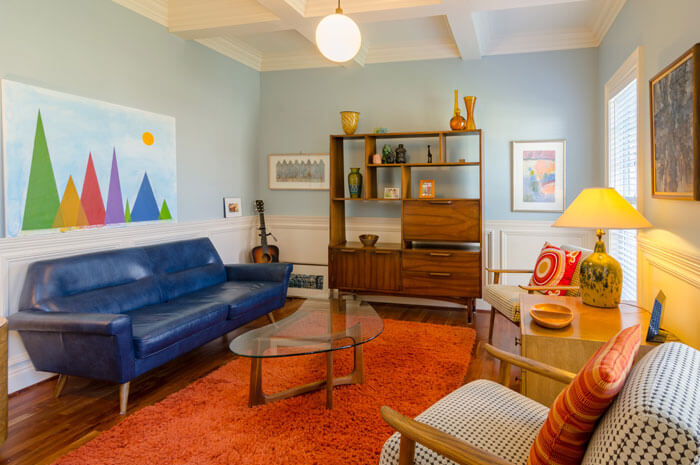 Credit: Jens Behrmann, Unsplash
Versatility is one of mid-century modern's great advantages. Combining it with complementary styles, such as Art Deco, is a breeze. You can also stage your modern pieces with vintage furniture.
Of course, the style is famous for blending indoor and outdoor elements. For example, large plants and window treatments are incorporated to give a sense of continuity between the outdoors and indoors. Good options for plants include monsteras, rubber trees and fiddle leaf fig trees.
Tips to Keep in Mind
MCM is known for letting wooden pieces shine, so ensure that the woods you select do not clash. Ebony wood and teakwood are generally not a good combination.
Furthermore, today's households have different requirements than those of the 20th century. For example, you might want to reconsider using a credenza as a TV stand. You'll also want some extra storage space for your electronic equipment and gadgets.
Conclusion
Mid-century modern interior design still reigns as an appealing option for many people, thanks to its versatility and approachability.
If you're considering an MCM interior design project, you'll want everything to look perfect. This can be achieved with photorealistic 3D rendering, product rendering and architectural walkthroughs.
BluEntCAD offers 3D rendering services to homebuilders, real estate developers, interior design companies, architectural companies, home renovation companies, design build contractors and remodelers for large to medium commercial, residential and hospitality projects.
Ready to take your company to new heights with 3D rendering services? Contact us now!
Maximum Value. Achieved.