If you want to treat your client to wood trends that are in vogue, this is the article for you. We'll take you through everything from the types of wood to the materials you can pair them with.
Introduction
Incorporating woodworking trends into a commercial or residential space won't just increase its charm, but also its appeal for resale. What's more, it's one of the most cost-effective ways of increasing a structure's resale value.
Keeping up with architecture industry trends isn't always easy, but there are ways to do it. We'll save you the trouble for wood in interior design trends, though.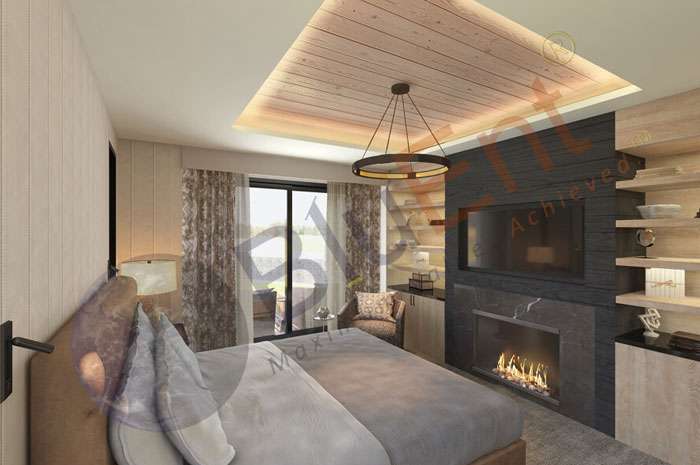 Interior rendering by BluEntCAD
Here are the Latest Wood Trends:
Go Bold With Colors
Say hello to darker, bolder shades! Neutrals aren't out of style (they never will be), but don't be afraid of accents. They'll go especially well with the light wood that is currently popular.
Here are some ways to incorporate those color pops:
Wood dye:

This adds color but still shows off the wood grain. Unlike paint, it won't make the wood chip, since stains and dyes soak in.

For dyes (also called tints), you can choose between water and alcohol types. The latter dries faster. Conversely, there are oil-based and water-based stains.

A dye will penetrate and darken the wood, while a stain will sit atop it and add a protective layer.

Blackwood:

If you don't want the chore of extra treatment, blackwood is a great option. It is naturally black and adds elegance and gravitas to any space.

For a similar look without blackwood, you can try shou sugi ban, a Japanese method that originated in the 18th century as a way to make cedar weather-poof. It involves charring the wood surface till black, and has recently gained traction as a treatment for both interiors and exteriors.

Copper-painted oxidized wood:

Go for this for a really eye-catching, artistic visual! Flakes of miniaturized iron and copper are mixed into the paint. Your custom millwork will give the appearance of oxidized metal. You can also, of course, opt for copper foils or oxidized patina paint.
Wooden Vanities
Wooden vanities, especially those made with light or reclaimed wood, are very much in, since they add a natural, soft look to your space. A displayed grain pattern would also lend a vintage feel.
Whether it's simple and clean, floating, rustic with natural knots, or asymmetrical, custom wooden vanities are a great investment for those who like getting ready in style.
Recommended Reading:
Rustic Metal In Wood Trends
Yes, we are talking about industrial style. It is inspired by the no-nonsense, no-frills look of factories, warehouses, and other industrial spaces.
Custom millwork with a wood and metal combination will add a striking yet homey beauty to your space. An example would be wooden floors paired with exposed pipes, or a vintage maple vanity offset by a metal-framed mirror.
The style here is approaching utilitarian. Metals to go for include steel, aluminium, copper, and tin. Don't be afraid of them being a little distressed! It's all part of the look.
Pale Wood Tones are Part of the Latest Architecture Trends
Whether it's in the city or the countryside, pale wood fits in just about anywhere with its cool minimalist air. They're also good as neutral backdrops for accent pieces or ornaments.
Think woods like white oak, beech and maple, which lend themselves gorgeously to modern or "Scandinavian" styles. Since a natural look is popular, use oil or a clear coat finish to allow the wood's beauty to shine through.
Some pale woods, especially the pale softwoods, can be more brittle than their darker counterparts, but there are many that are hardy.
Here's a closer look at the woods to help you choose.
American white oak:

Commonly used for furniture, floors and doors. Also has a natural water-rot resistance.

European white beech:

Boasts a creamy color and even, fine texture. It has good workability and hard wearing.

American maple:

Versatile, great for floors, panels, furniture, or ornamental pieces. It is scratch-resistant and hard.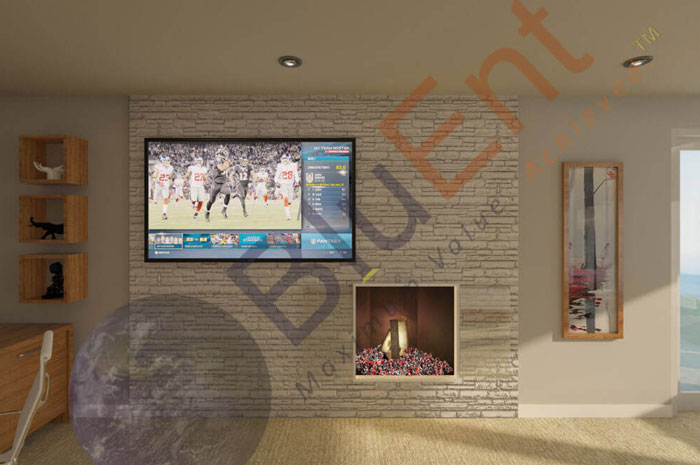 Still from architectural walkthrough by BluEntCAD
Be Perfectly Imperfect
Organic, raw and unpretentious. Think nail holes, contrasting wood shades, gorgeous spalted maple, and live-edge wood. These can be added anywhere, even your kitchen. They will lend your space a rustic yet luxurious look.
A more traditional rustic style would be "heavier" and darker, whereas a contemporary style would be lighter and fresher. For the latter, you can incorporate whitewashed wood, or if you think things are getting too woody, go for bare white walls. Stone and brick also go well with wood for a raw look.
It's all up to what your client prefers.
Minimalism Isn't Dead
Pale wood with white, eggshell or cream interiors works to create a cool, calming atmosphere and makes your space look larger than it is. To avoid this looking too bare or "hard", break the monotony with textures, using throws, soft cushions, and accent or ornamental pieces.
If you want tips on properly maintaining your millwork, we've got just the guide for you.
Conclusion
We hope this list of wood trends has given you an insight into how to enhance your architectural project! Whether it's custom commercial millwork or residential millwork, they'll be sure to benefit from these styles.
What do you think? Are there other new trends in architecture you think should be on this list? Let us know in the comments!
But what if you've already got the millwork design down and are just looking for shop drawings to help bring them to life? Luckily, BluEntCAD has you covered with millwork shop drawings.
We cater to casework companies, woodworking companies, custom furniture manufacturers, millwork manufacturers, interior design companies, prefabricated home design companies, decks and fencing manufacturers, and cabinet making companies. See what we've done for other companies like yours.
Ready to perfect your project with millwork shop drawing services? Contact us now!