Residential construction documentation is arguably the most important part of any residential building project, whether a townhouse, apartment complex, condominium or multi-family home.
Construction documentation is a collective term for drawings that constitute production information. These construction drawings are further incorporated into tender and contract documents. 
Your general contractor (GC) will use these final drawings to obtain a building permit and to construct your project. There are 6 primary types of drawings that are used for construction documentation. Depending on your scope of work, all or some of these drawings will be utilized.
Introduction to Residential Construction Drawings
The drawings in your residential construction documentation set are either built-to-scale or as per elevational, sectional, or plan views. All designs follow identical architectural standards that allow them to be deciphered and interpreted.
Architecture drawing plans serve two critical functions – applying and receiving the building construction permit and helping in construction.
There are 6 essential drawings that help accomplish these tasks. Let's discuss them.
Types of Drawings for Building Design
1.

Plans

Plans are diagrams drawn to scale, showing the arrangement of columns, beams, and ceilings inside a building. Typically, most documents include a site plan, floor plan, roof plan, and ceiling plan.

Site Plans: These are large scale drawings that display the full extent of the site.

Floor Plans: Displays a horizontal view from above the building that shows the layout of rooms inside. 

Location Plans: These are supporting documents and provide an illustration of the building in context to its surroundings.

Ceiling Plans: Ceiling plans indicate ceiling level, installation of molding structures, and attachment of light fixtures.

Plans are your building's very first construction documents and deserve the kind of expert attention that BluEntCAD can provide. Want to see some of the plans we've made for our clients? Browse our portfolio!
2.

Interior and Exterior Elevations

Elevations are orthographic projections of interior and exterior faces of a building. Elevation drawings are first-angle projections that display the building as seen from one side, with the rest flattened.

An exterior elevation indicates floor-to-floor height, overall building height, exterior wall openings such as doors or windows, and the different materials used on the outer surface.

Interior elevations, on the other hand, show details of a particular room including its walls. They indicate the overall height of the room, finishes, wardrobes and cabinetry, and wall openings including doors and windows.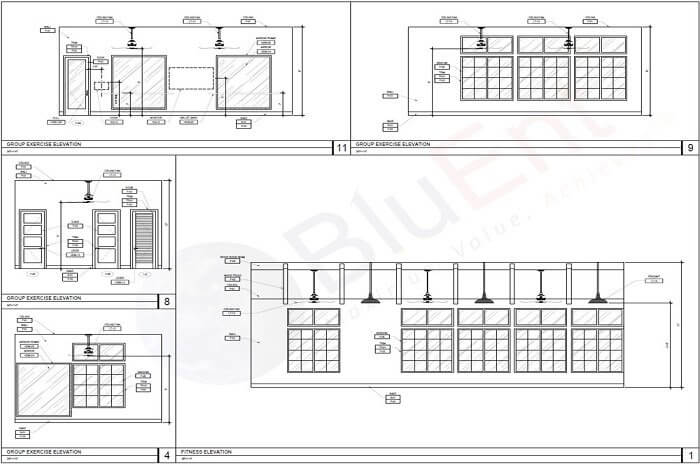 Elevations are essential because they give you the right perspective of how your house will look from any side.
They are also excellent promotional and branding tools, adding great value in convincing your clients to take up your services. 
3.

Section Drawings

Just like a plan displays your building horizontally, a building section drawing cuts vertically through the house, showing different sections of the rooms, vertical dimensions of the rooms, and materials used from foundations footings to the rooftop.
4.

Interior & Exterior Detailing

So far, all the drawings that have been discussed are large scale.

Once you get an idea of how the overall construction is going to be, the focus zooms into specific areas of the building and the type of materials that are going to be used for constructing them – these are known as exterior and interior details.

These document sets are created from a vertical or a horizontal cut or elevation of the house.
5.

Room Finishes and Schedules

As soon as you figure out how the rooms are arranged, you would want to focus on how they look. And a schedule does just that.

The schedule comprises of all information on a material or a product at a collective place.

For instance, if you have a multi-level building with different doors, a door schedule will tell you the total number of doors, types of doors, their locations, and the materials they're created with.

Additionally, schedules are not limited to furnishing. They can include plumbing fixtures, room finishes, cabinetry, and appliances as well.
6.

Framing and Utility Plans

Framing plans are structural drawings and comprise an integral part of residential construction documentation.

They indicate the roof frame and flooring members for your house. With the help of framing plans, a builder is able to view the material size and location of weight acting on the framing members.

Utility plans illustrate the location of all mechanical, electrical, and plumbing (MEP) fixtures inside your building.
Recommended Reading:
Other Residential Architectural Drawings
Apart from these 6 essential drawings, there are several drawing sets that are of essence to architecture drawing plans.
1.

As-built Drawings and Record Drawings

It is common for any building project to undergo changes during the construction phase. As-built drawings, as the name suggests, show only those structures that have actually been constructed on the ground.

The final changes are marked in red by the contractor. These are then used to create record drawings that show the completed project.
2.

Assembly Drawings

As the name suggests, assembly drawings show how multiple components fit together into a single unit. Orthogonal plans, elevations, sections, or three-dimensional views often constitute assembly drawings.
3.

Electrical Drawings

Electrical or wiring diagrams are technical drawings that convey how electrical systems will be installed through a visual representation of circuits or an electrical system.
4.

Shop Drawings

Prepared by contractors, suppliers, manufacturers or fabricators, shop drawings are indicative of how pre-fabricated components should be manufactured, assembled, and installed. These are usually prepared after consulting the design intent drawings.

There are various types of shop drawings, such as millwork shop drawings, metal shop drawings, and tile and stone shop drawings.
Conclusion
So, now you know what your residential construction documentation set comprises of.
But how do you make sure that these drawings are kept intact before, during, and post-construction? Well, all drawings reference back and forth so that nothing gets lost.
For instance, floor plans have an indicative marking where a section cut is made. This is also present on exterior elevation drawings. Building section drawings have clear markers that highlight where a wall section is located. Framing plans have symbols for each individual beam used, redirecting contractors to the beam schedule that shows all beams in the project.
We hope this article has helped you in understanding residential architecture drawing plans. 
If you're about to start a new construction project and want premium residential construction documentation services with a fast turnaround time, it's best to hire a well-established company such as BluEntCAD. We serve homebuilders, real estate developers, 
large architectural and engineering companies, and home designers. Browse our portfolio to see how we've helped organizations like yours!
Ready to get accurate residential construction drawings at a fast turnaround time? Contact us now!
Maximum Value. Achieved.