Image by cmarinalbert
You've heard of barnhouses. You've heard of condominiums. But have you heard of barndominiums?
These modern spaces blend the rustic rural setting with the airiness of lofts, and may just be one of the next big home trends in the US. Considering that, you'll need to know all about them to make your barndominium plans.  
Introduction: What is a Barndominium?
The term barndominium is a combination of the words "barn" and "condominium". Barndominiums (or "barndos") are one of the fastest-growing trends in the US residential sector.
Barndominiums can be new constructions or converted barns, and are often made of metal. The combination of agrarian and modern designs creates an innovative and stylish living space.
The design combines a living area, often built around or above a larger open space that is used as a workshop, shed, barn, or for a hobby that requires extra space.
The popularity of barndominium plans has increased in recent years, largely due to its architectural appeal, relative affordability, and faster construction. Barndominium homes are especially popular as single-family homes, particularly in rural markets that are away from the coasts, such as Montana, Texas and Tennessee.
When Was the Barndominium First Created?
The concept of combining a barn with a home is not new.
For example, in Germany and the Netherlands, you have the Low German house, which is a kind of vernacular architecture and combines a barn, byre and living quarters. You can also take the example of some Mennonite and Amish communities in North America, who often combine workshops, barns and homes in single buildings.
Recommended Reading:
However, the specific term "barndominium" seems to have surfaced in 1989. Various sources point to Karl Nilsen, who planned communities around their love of horses. For managing horses, Nilsen came up with the barndominium concept.
While his real-estate project never quite took off, the concept of a modern space for both animals and humans began to grow in popularity in the US.
Key Features of Barndominium Houses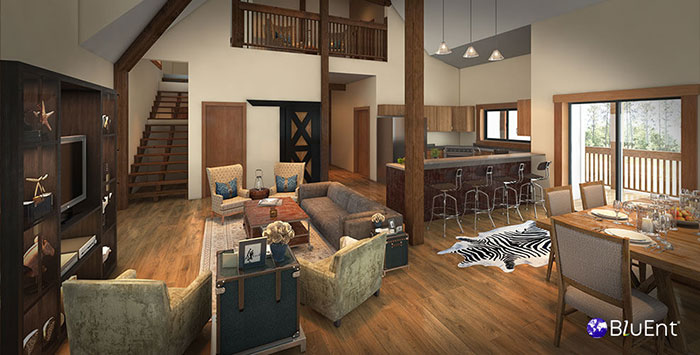 Interior rendering of an open floor plan by BluEntCAD
Open floor plans are common – many professionals insist that they are essential to barndominium plans. A barndominium floor plan will almost always be open, so expect that if you are building one from scratch.

Most barndominium homes are constructed with sheet metal siding and a steel frame.

Whether luxurious or rustic, barndos are large and open, giving the appearance of a barn or storage building. Large living rooms and kitchens can also be included, if the client wishes.

Tall, potentially vaulted ceilings, as high as eighteen feet.

A barndo's interior living space is built above and around a large open space.

While natural light is not necessarily a "feature" of barndominium plans, it certainly allows you to enjoy the full extent of a barndo's spacious interior and rural charm. Hence, many barndos will feature plenty of natural light.

Despite its rural elements, a barndominium incorporates modern amenities and comforts.

Loft styles are often used to maximize space, acting as workshops or studios. This is similar to how barns utilize hay lofts for overhead storage. Hence, the layout can be customized as per your client's needs.
Top Benefits of Barndominiums
Before you get started on your barndominium plans, it's important to know what barndos offer, so you know how to maximize their utility.
With a "traditional" barndo, of course, you could be living a horse-lover's dream. However, there are more benefits worth noting.
1.

Affordability

One of the biggest advantages of barndominium homes is their relatively affordable building and maintenance costs.
Instead of constructing a separate house and barn, there will be only one structure, which means about half the work for the general contractor.

Furthermore, all materials and equipment will need to be delivered just once. There will also be only one team working on the building, rather than two.

Because of their prefabricated steel frame, they are energy efficient.

They have lower tax and insurance costs than conventional houses.
2.

Customization
Barndominium plans can be adapted depending on the client's needs and wants. Many styles are possible, from studio apartments with 2-stall barns to 3-bedroom living areas with 10-stall barns.

Interiors can range from rustic vibes to modern luxury – the possibilities are endless.
3.

Shop & House Convenience
The house/shop combination is highly attractive to clients who work in trades and require a covered space to work.

It can also fit large families and visiting friends or relatives. Since they are cheaper to build per-square-foot than conventional home, there can be plenty of space for people to enjoy themselves.
4.

Durability
The metal framing makes barndos fairly resistant to the elements.

Many barndos are durable enough to stand strong in an F-4 tornado. This is something that could be important if you live in an area prone to tornadoes, hurricanes, and so on.

They are naturally resistant to rust, fire and mold.
Getting Down to Business: Barndominium Cost
The amount a barndo will cost you will depend on varying factors, such as location, materials, style, DIY, and so on. Having said that, the average cost lies between 95 and 125 USD per square foot. Hiring a general contractor means the cost will be closer to the latter.
By comparison, constructing a traditional home usually costs around 100 to 200 USD per square foot. A large section of this cost goes toward exterior framing and covering, as well as the roof.
Of course, instead of constructing a new barndominium, you could retrofit an existing barn into a home. Again, costs will vary significantly based on size, materials, and so on. On average, the total cost for a conversion would be around 30,000 USD.
Conclusion
And there you have it. A beginner's guide to barndominium plans. What do you think? Would you live in a barndominium house? Let us know in the comments!
If you are planning on constructing barndos, you're going to need architectural construction documents with a fast turnaround time. BluEntCAD provides drafting services to home builders, real estate developers, large architectural and engineering companies, and custom home designers. Browse our portfolio to see how we've helped companies like yours!
Ready to make your next construction project a success with drafting services? Contact us now!