Are you planning a construction or renovation project that involves contemporary architecture? In addition to organized construction documentation, you'll need to know the salient features of the contemporary architecture style so you can give your client exactly what they want.
Let's get started.
Introduction to Contemporary Style
Often, types of architecture are classified into movements, which are linked to specific historical periods. In contrast, contemporary architecture is not a movement or school of thought – it does not adhere to a particular style or set of standards.
Rather, it includes many stylistic choices and features that reflect the values and opinions of the 21st century. Furthermore, it actively aims to break away from the past, and incorporates changes and improvements to older architecture.
Whether modern residential architecture or hospitality design, contemporary architecture is not defined by any single style. Rather, it is unified in its goal to be innovative and unconventional. Contemporary building design changes the way we interact with the environments in which we work, play and live in.
Examples of contemporary design include the New Museum of Contemporary Art in New York City, the Heydar Aliyev Center in Baku, the Shard in London, the Sydney Opera House in Sydney, and the Royal Ontario Museum in Toronto.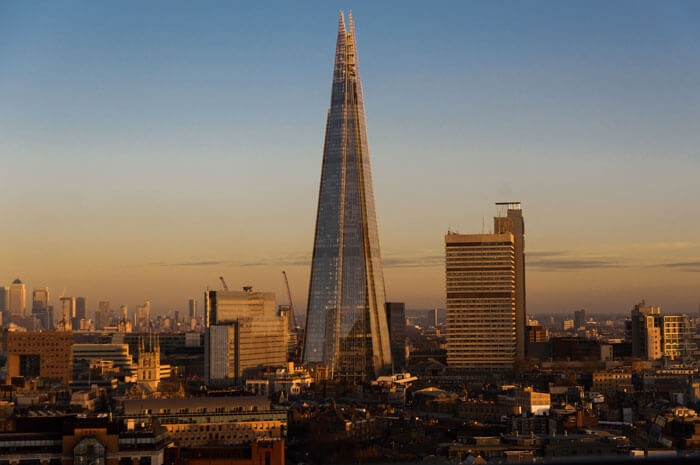 The Shard, London by Olga Lioncat, Pexels
History of Contemporary Architecture Style
While there is debate as to the dates, contemporary architectural style is generally considered to have originated in the 20th century's second half. It is distinguished from the modernist architecture of the early 20th century.
After World War II, international cooperation grew rapidly. This had a notable impact on all forms of art around the world. Hence, contemporary architecture style is marked by transcontinentalism, an endeavour to create structures that are integral to their environments, and a sense of "placelessness".
Recommended Reading:
Since contemporary architects have access to innovative methods and materials, they are not restricted to creating linear forms.
For example, they can use 3D printing and BIM technology to create more precise, challenging and interesting forms. Furthermore, 3D renderings portray buildings in photorealistic detail before a single brick is laid.
The result is not just safer and more environmentally friendly buildings, but buildings that appear to defy logic and sometimes what is conventionally considered "good taste".
Features of Contemporary Architecture
1. Open Floor Plans
Open floor plans create a sense of unity between spaces in a structure. They allow more natural light and give the appearance of a larger space. Furthermore, their flexibility means that your space can transform into anything you want.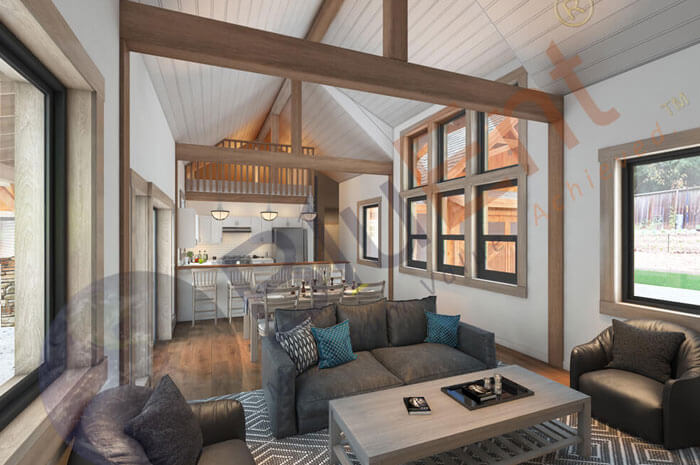 3D interior rendering of open floor plan by BluEntCAD
2. Geometric Simplicity
Contemporary architecture, including contemporary homes, often have a clean, non-fussy aesthetic. Exterior details, molding and decorative trim tend to be sparse, but unique materials can be used.
The simplicity helps to cultivate a luxurious, tranquil atmosphere. Visual monotony can be broken with curved facades
3. Unconventional Materials
By its nature, contemporary architecture is inventive and unexpected. Hence, it often features unconventional building materials. For example, it may use concrete, metal, or exposed brick in a residential or domestic space.
This minimalism can add warmth or coolness depending on how it is done and how the space is furnished.
4. Harmony with Nature
Large glass walls, overhanging roofs, clerestory windows, large windows and skylights all help to create a sense of harmony and unity between structures and their environment. The light and openness also gives the impression of being more connected with nature.
To know more, check out our biophilia article.
5. Bright, Airy Interiors
Multiple openings, panoramic views, larger windows, and uncommon positioning make full use of natural light. This is not just for lighting purposes, but also passive solar heating.
The direction of the sunset and sunrise might influence placement of solar panels and how external spaces are used for recreational purposes.
6. Flat Roofs
Flat, overhanging roofs are not just a visual choice, but also serve a function. They provide shade while protecting a building from the elements.
Furthermore, overhanging roofs extend the architecture into the surrounding environment, creating a more cohesive look.
7. Environmental Considerations
Sustainable design architecture has become increasingly popular, and is here to stay. It aims to use materials and processes that minimize damage to our natural environment. For example, one may use reclaimed wood, metal or concrete.
There is also a focus on HVAC systems, which take up a lot of energy. Energy-efficient design may include passive solar design, cool roofs (that is, reflective or light-colored material on the surface), solar panels, double glazed windows, and sustainable landscaping.
A fascinating material manufacturers use is green concrete. Concrete is in itself somewhat environment-friendly since it can be recycled. Green concrete is made from various different materials, often waste materials such as plastic or glass.
One eco-friendly materials in concrete may include silica fume, wood ash, and fly ash.
Conclusion
Whether you are thinking of constructing or renovating properties, it's a good idea to know the basic architectural features currently in use. The more you know, the more inspiration and insight you will gain, and the more likely you will receive the result you want.
One of the best ways to ensure a good finished structure is accurate architectural construction drawings. BluEntCAD serves homebuilders, architectural companies, engineering companies, real estate developers, and home designers for large to medium hospitality, infrastructure, commercial and residential projects.
Ready to make your project a success with construction drawing services? Contact us now!