From tariffs and labor shortages to the upcoming US presidential elections, the AEC industry trudged into 2020 anxious about several unknowns.
The dream for things to settle down, however, was short-lived. Those optimistic that the AEC industry would go uphill had their hopes dashed when the global coronavirus pandemic struck.
The first case of coronavirus in the US was reported on January 21st. In just two months, the number of infected people has seen a sharp spike. As of April 23rd, there are nearly 850,000 confirmed cases with around 48,000 deaths. Experts are predicting that the novel coronavirus will have long-term ramifications for the economy – including the construction industry.
Coronavirus and the construction industry – The current situation
In an interview with Construction Dive, Steve Lesser, a construction attorney with Florida's Becker & Poliakoff, advised the country's contractors to wait and see before reacting to the negative effects of the pandemic. He believes that the smart thing to do right now for all construction industry stakeholders is to "take a breath, slow down, and know that every day may bring more information, and the more information we have, the better we can predict what to do."
Mr. Lesser's thoughts echo the views of Richard Branch, chief economist for Dodge Data & Analytics. His estimates show that builders who rely on China for material supply can expect higher costs and delayed delivery.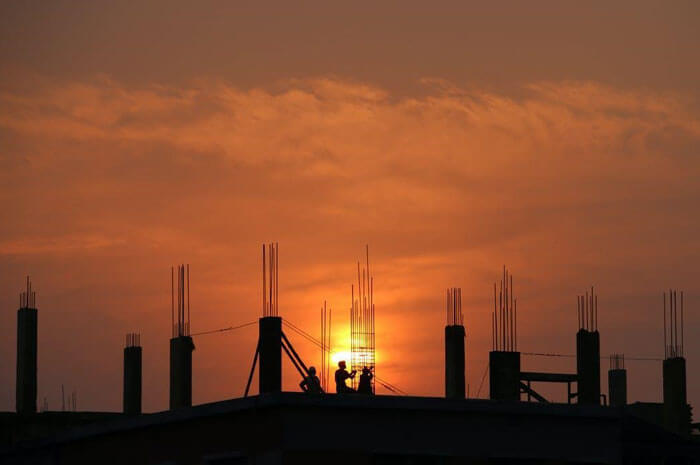 Engineered Systems and Clear Seas Research have partnered up to provide inputs from professionals from the AEC and mechanical industries about their experiences with the coronavirus pandemic. 360 companies took this survey. Let's take a look at what they had to say.
More than 46% of AEC firms intend to suspend their employees with or without pay.

61% of businesses reported a decrease in new business activities.

Around 35% of active projects in AEC firms have been delayed and 14% have been cancelled. For the mechanical industry, these numbers are 36% and 16% respectively.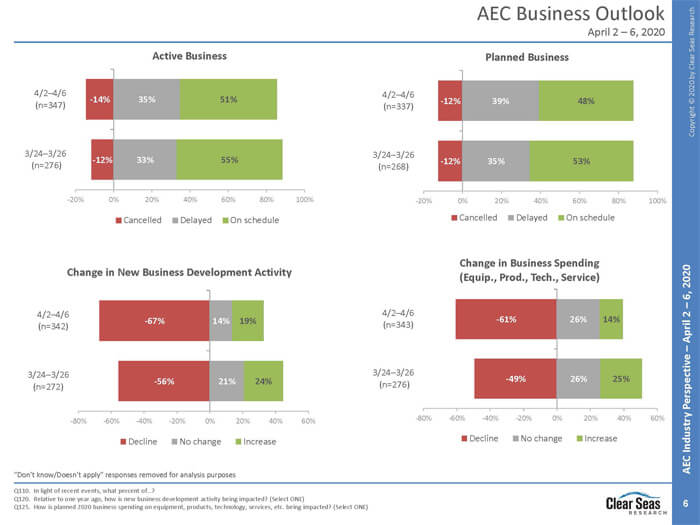 Image Credits: Clear Seas
Needless to say, a sense of panic is taking over. Although construction workers are used to risks, the grim facts that an antidote or vaccine are nowhere near in sight and the cases keep piling up are making even the most optimistic contractors doublethink every move.
Chief concerns
Workers' safety, delayed supply, uncertain clients, and restrictions on travel are some of the key areas that are going to hinder ongoing and future construction projects. Let's analyze these in detail.
Employee well-being and safety

Most organizations in affected areas are concerned about employee health. The good news is that OSHA says that risk of transmission is low for "workers whose jobs do not require contact with people known to be, or suspected of being, infected with SARS-CoV-2, nor frequent close contact with (i.e., within 6 feet of) the general public."

Company management across the country is not just concerned about physical well-being. They are serious about mental health too, since anxiety among contractors and workers is a chief issue brought on by the pandemic.

Supply chain disruption

The welcome sigh of relief in the US, brought on by the Chinese government by relaxing the 77-day lockdown in the country, was short-lived. While containment efforts in China had already slowed down or shut-off factories in several Chinese cities and provinces, a second wave of infections has brought everything back to square one again.

The fall in the production of everything from construction materials such as stone and steel to ready-to-install finished products such as sinks and bathtubs due to a disrupted supply chain is going to worsen in the US.

Delayed delivery will potentially slow down ongoing construction – pushing completion timelines even further.

Shortages in supply already affected one of the US' top homebuilders, the Toll Brothers, in February. According to Reuters, the coronavirus outbreak has led to a deficit in small appliances and lighting fixtures, forcing the company to delay the sale of 11 homes in California. (It's noteworthy that California is one of the Toll Brothers' biggest markets.)

Restrictions on travel

Companies across the world are brainstorming possible measures to tackle an outbreak near a jobsite.

While some firms have decided to close sites when required, other firms have imposed stringent travel impositions for their employees. Some have even cancelled all nonessential business travel.

With fewer and fewer people being physically present on site, it will definitely be a challenge to construct buildings.

Apprehensive clients

One of the most significant impacts of the pandemic will be on the psyche of clients and lenders, especially in highly affected sectors such as hospitality. Pundits are predicting finances to dry up for new projects and the shelving of current projects until a 'sense of normalcy' returns – this is regardless of the lowest interest rates on record.

While insurance policies could cushion the blow of shutdowns, cancellations, and delays, professionals must check what situations their policy covers, advises attorney Diana Parks, partner at Dorsey & Whitney.
What lies ahead?
Keith Prather, from Pioneer IQ, a Kansas-based business management consulting firm, has come up with a COVID-19 action plan – a Fear and Recovery Curve Model that assists in indicating when the pandemic will top out and when it will begin to recede.
The model analyzes the rate of fear among different stakeholders and comes up with a reading on the estimated time of rebound. It relies on information from national and state governments, the World Health Organization, and hospital groups. The model is dominantly reliant on a scenario that a successful vaccine shall be developed in next few weeks.
Contractors can track infection rates in different areas and calculate odds accordingly with a COVID-19 tracker map developed by Johns Hopkins University of Medicine. Companies can then combine both data sets from the model and map to tailor mitigation efforts for their respective target markets and industry verticals.
Supply chains are likely to be diverted as well. Going forward, the country might try to up its in-house manufacturing ability as well as turn attention to Mexico. This will get the supply and delivery cogs in the construction project machines going. Additionally, the projects that are currently halted will resume – a sort of 'construction wave' if you will, possibly in the third quarter. This is again good news for the sector.
BluEntCAD remains hopeful with the saying, 'This too shall pass.' In the meantime, we advise all our readers to stay inside, remain safe, and come together during these challenging times.
Maximum Value. Achieved.