Architectural construction drawing by BluEntCAD
This blog has been updated on – April 29, 2022
In every residential construction or renovation project, residential construction documents are paramount for successful, safe construction. The construction documents are created and updated for the homeowners, the local or state departments, and the contractors. These residential CD sets are proof of the quality, process and building requirements.
Despite the effects of Covid-19 on the real estate industry, new residential construction in the US is expected to have increased by 33% from 2019 to 2022. This has generally stemmed from single-family housing and home improvements, such as alterations, major replacements and additions. Furthermore, the forecast for new residential construction in the US alone sits at $798.14 billion by 2025.
Hence, there is an increased requirement for accurate construction documentation.
Introduction to Residential Architectural Documentation
Residential building construction involves the development of both multi-family and individual homes. Such dwellings may include apartment buildings, condos, pre-built or custom homes, single units, duplexes or quadplexes.
Residential construction documentation helps to effectively showcase and communicate the design to those involved in the project. The structure plans, working drawings, and architectural blueprints constitute the construction drawing (CD) sets.
CD sets include digital photographs, detailed descriptions and specifications of each section and feature. They provide a deeper understanding of the entire process.
Digital blueprints enable homeowners to validate that the design is according to their expectations and visualizations, and that their ideas have been incorporated into the project.

The jurisdiction authority, such as the building and planning department, reviews the construction drawings and residential building plans to ensure that the design meets state and local building code requirements.

The building code requirements incorporate site, view and seismic essentials along with the energy efficiency regulations. The construction permit is then given once the review of the CD sets is approved.

Contractors use these residential construction documents to understand the design, scope, cost and timeline of the project.

It also helps them to know when consultants such as plumbers, electricians, etc. are required for the specific project.
The architectural documentation is integrated into the construction process to ensure that the project is finished in a stipulated timeframe with minimal errors.
Keys to Effective Residential Construction Documents
The Right Technology
CD sets for residential projects should be developed using the appropriate technology, such as Revit, AutoCAD, and SketchUp. The set will include foundations drawings, floor plans, roof plans, structural/roof framings, elevations, sections, and interior elevations. Find out more about the 6 drawings you'll need in your residential construction documents.
Specifications
Many construction and renovation jobs are conducted with minimal specifications. In such instances, clients don't actually knew what they're getting and are often disappointed with the final results.
In the absence of written specifications, you might receive "builder's grade" products, which are budget-friendly but often of low quality.
If your client wants to know what they are getting from a contractor ahead of time, it is best to have written specifications, which may cover installation of systems, products and materials. They are written as installation specifications, product specifications or performance specifications.
Some planned residences may have specific performance requirements for systems and components. In certain cases, this could extend to broader needs that encompass the environmental effects of construction materials, indoor air quality, or compliance with rating standards. Such information should be clearly indicated as a "statement of intent" or "special requirements" on the cover sheet of the CD set.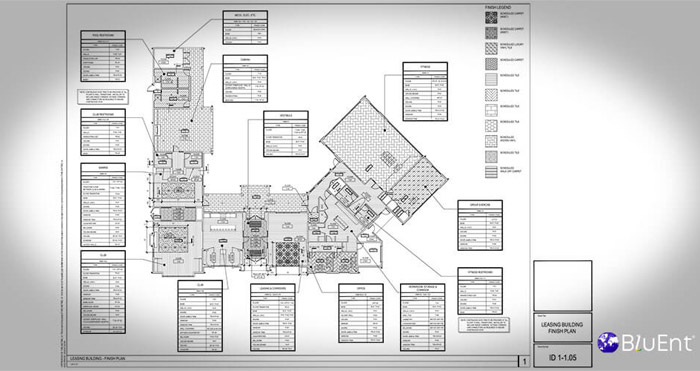 Interior construction drawing by BluEntCAD
Building Information Modeling (BIM)
BIM tools, Revit Architecture and Revit MEP are used to create 3D BIM models.
Using a database-driven Revit application enables a higher level of control and precision when working on 3D models, floor plans, elevations, sections, schedules, and material/quantity details. The final designs are released once the surfacing clashes are rectified.
Interactive Floor Plans
Your construction documentation provider should prepare a varied selection of floor plans. These plans can also be used in brochures or websites.
Floor plans can be created in a variety of formats, such as color-coded plans, 3D plans with or without furniture, and interactive plans, showcasing the various design alternatives for the project.
3D Rendering
Accurate photorealistic 3D renderings are computer generated for both external and internal spaces. These help your client visualize the space clearly and set an atmosphere and mood. They can be pivotal in sealing deals and grabbing investors' attention.
Incorporating the Client's Ideas
The construction drawings are usually customized based on the client's choice of the design options shared with them. These choices and ideas are included in the base production plans to deliver an integrated drawing set.
The client might, for example, want alternatives to conventional materials, considering all the innovations in structural materials in recent years. Furthermore, standard practices in one region of a country may be regarded as an alternative in another. It is crucial that the designers and construction team are familiar with such alternatives. 
Review and Quality Control
The construction drawings should be reviewed by the designer and the construction team before construction begins. This may seem like an obvious point, but instructions are often inconsistent, incomplete and ignored. The proposed methods, required performance and design intent should all be subject to review.
It is also recommended that quality control checklists be developed for every project. These should be supplemented by a diligent review by the construction and design manager. The checklists should contain the critical points that need to be verified and serve as a common point of reference as well as a minimum standard for construction. 
Conclusion
Accurate residential construction documents that can be effortlessly integrated into the building development process are a must for practicality, safety, and aesthetic sense. 
However, they can be difficult and frustrating to create, and require technical knowledge. That's why many companies approach BluEntCAD. We specialize in construction documentation services for large to medium projects. Our clients include homebuilders, architectural and engineering companies, real estate developers, and home designers. Browse our portfolio to see how we've helped businesses like yours.
Ready to make your residential project a success with construction drawing services? Contact us now!
Maximum Value. Achieved.