Residential exterior rendering by BluEntCAD
You cannot successfully execute any construction project without a foundation plan drawing, which is part of construction documentation.
Without a strong foundation, your building will be dangerous and unreliable, and not last a long time. It is vital to ensure that the structure is earthquake resistant, as well as resistant to rain and wind.
In this article, we'll take you through the definition and importance of foundation plans.
What is a Foundation?
Before we get started on foundation plan drawings, let's define a foundation.
A foundation is the lowest part of a structure, sandwiched between the building and the ground. Its goal is to distribute the load from the house to the soil. It is imperative that it can withstand the weight of the building.
Usually, foundations are built with poured concrete or masonry such as brick or concrete block.
Masonry is resistant to damage from soil and moisture and has high compressive strength. A masonry foundation protects other materials by extending above the ground. Such a foundation is generally reinforced with other materials such as metal.
In some cases, foundations are created with piers or treated wood posts. These either rest on concrete or rock pads or are driven deep into the soil. Piers and posts are often used where the land is prone to flooding, or when one is building on or near a water body.
It is difficult to overstate the importance of getting the foundation right. A poor foundation has a domino effect. If it does not serve as a stable starting point, then the walls, support beams and base will follow suit.
Hence, if you fail to invest appropriately in the foundation plan drawing, it could lead to the building being dangerous and to expensive modifications and repairs.
What is a Foundation Drawing Plan?
The foundation plan drawing offers a plane view of a building, that is, a top view of the foundation walls. It shows:
Area and locations.

Girders, beams, columns/piers, and openings.

Dimensions and internal composition.
Foundation plans are primarily used by the building crew. As their name suggests, they involve the development of a plan for the building's foundation.
The creation of a foundation plan is a highly specialized function. Typically, it is done by a structural engineer and involves an extensive study of both the ground beneath the foundation and the materials used for the foundation.
The foundation plan draws on information given in the elevation plans, floor plans, and plot plan.
Recommended Reading: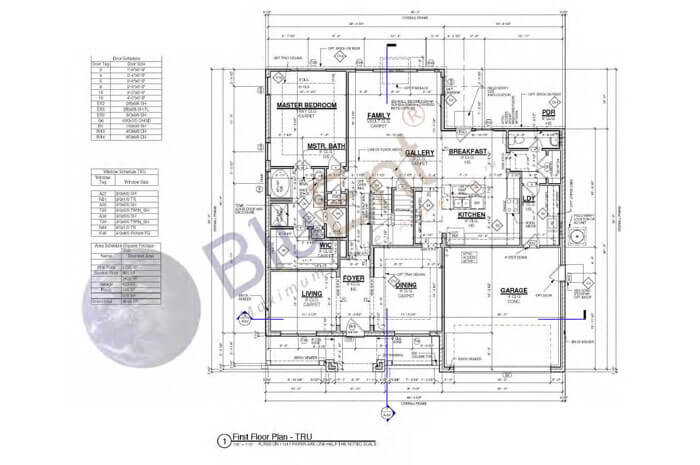 Floor plan by BluEntCAD
Foundation Plan Drawing Requirements
The following checklist of features will help you to guarantee that your plan is up to the mark. It is not exhaustive, but it serves as a guide:
Door sizes & locations

Heating appliances

Exterior walls

Existing attached structures

Plumbing location

Smoke alarm

Wood stove location

Fireplace location

Drains & sump (if required)

Room sizes & names

Window sizes & locations

Footings for foundation walls, columns and piers

Dwarf walls

Dimensions & notes
If the foundation plan involves non-standard construction or is slab on grade, it is compulsory to submit a professional, stamped design.
Steps to Create a Foundation Drawing
Select location of structure

Select scale for your drawing

From the floor plan, locate outline of foundation walls

Draw foundation walls, columns and piers

Use breaks in the walls to indicate doors, windows, vents and access holes

Draw footings for foundation walls, then for columns and piers, and finally for chimneys and fireplaces

If required, draw supporting beam with centerline symbol

Display direction, spacing and size of floor trusses or joists

Add in necessary dimensions and sections

Letter required notes

Shade wall drawings
Difference Between Foundation Plan and Basement Plan
It could be easy to confuse a basement plan for a foundation plan, especially since the procedures for drawing both are the same.
However, it is important to note their differences. The foundation plan drawing provides necessary information for the people who are building the foundation.
On the other hand, the basement plan includes both the foundation plan and the floor plan, and shows stairs, windows, doors, interior walls and built-in appliances of fixtures.
Conclusion
We hope this article has given you an insight into foundation plan drawings and why they are important for construction projects. 
Getting them right can be tricky, and it's best to get them done with professional construction drawing services. BluEntCAD serves homebuilders, architectural and engineering companies, home designers and real estate developers for large to medium sized hospitality, commercial and residential projects. Check out our portfolio to see how we've helped companies like yours.
Ready to make your construction project a success with accurate construction drawings? Contact us now!