Restaurant inner space
One of the most significant restaurant trends in recent years has been industrial restaurant design.
Successful restaurants seek ways to stay ahead of their competition, and if you're looking to jump on the industrial design bandwagon, this article is for you. Furthermore, by knowing what goes into industrial design, you'll also get a better idea of what you'll be seeing in your interior drafting.
Introduction: What is Industrial Restaurant Design?
Industrial restaurant design involves a fuss-free, no-frills decor you would expect to find in factories, warehouses, and other industrial structures.
This means architectural details that are "stripped back", such as steel fixtures, bare bricks, metal beams, salvaged or recycled materials, and wood, including millwork. Variations have also sprouted from industrial style, including rustic, vintage, urban and modern.
However, certain elements remain constant even among the variations: concrete walls, exposed brick, large windows (often floor to ceiling), weathered wood, exposed pipes and distressed metal. There are also bare walls, subdued, earthy colors, and minimalist decorations.
Industrial decor and design have the additional advantage of requiring less renovation and upkeep, since the distressed look is part of the charm, and many elements are deliberately exposed rather than hidden. Hence, the overall cost is reduced.
What are Industrial Design's Origins?
There is no clear point at which industrial interior design "began", but it is generally considered to be in the 20th-century.
It evolved around the time that old but sturdy industrial structures, such as factories, were being converted into residential spaces, as cities were growing and space becoming more limited.
However, rather than obscuring or hiding the characteristics of those industrial spaces, architects, designers and residents chose to draw attention to it. This was partly because it saved major construction and renovation.
Key Elements of Industrial Design for Restaurants
1.

Earthy Color Palette

Think cool, neutral colors. You might go for grays, browns, off-whites, and earthy greens. (There are some exceptions, particularly in urban design, where you may see brightly colored furnishings that add an energy and vitality that appeals to a younger crowd.)

You can add color with plants, minimalist decor, and distressed colored furniture. Accent colors in industrial design normally include rust or wood tones, or vivid splashes of red, green, blue or purple.
2.

Specific Lighting

Pendant lighting is particularly suited to industrial restaurant design, as it brings a rustic charm and creates a warm atmosphere. You can also use iron or steel lamps and desk lamps with extensible arms, as well as exposed lightbulbs.

For a more comprehensive look into appropriate lighting, check out the main types of light and lighting fixtures.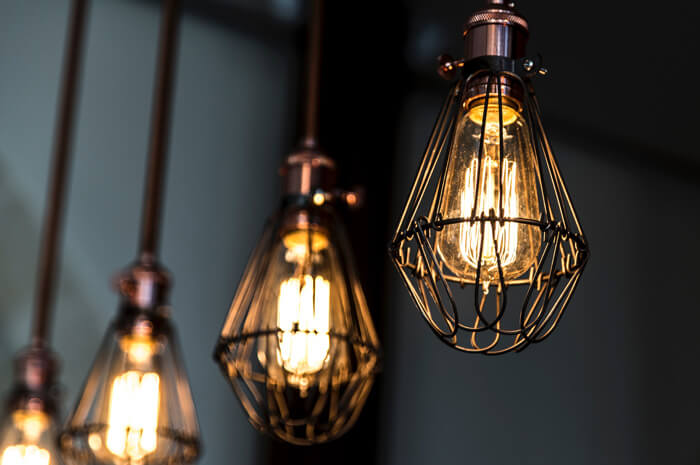 Pendant lights at Masseria Amastuola Wines & Resort, Italy
3.

Wooden Elements

Distressed or reclaimed wood adds warmth and charm to your restaurant. Consider using it for your chairs, tabletops, countertops and floors. It helps to make the metal elements in industrial design seem less "sterile" and "cold".

Wood can also add a sense of richness and intimacy. You may want to try, for example, walnut bar stools.

Here's how to choose the best wood type for your furniture. If you really want to stand out, go for millwork.
Recommended Reading:
4.

Open Spaces

In industrial restaurant design, unused space itself is part of the look, feel and utility. Hence, do not allow your space to feel overcrowded.

Avoid too many decorations and go for a more minimalist look, including functional elements and clean lines. (The functional elements themselves are considered part of the decor simply because they are displayed rather than hidden or obscured.)

You can prevent your restaurant from seeming overwhelmingly large and open with strategically placed furniture to break up the space.
5.

Exposed Pipes, Ducts and Bricks

This is one of the signature elements of industrial design. Exposed elements add a lot of character to a space and amplify the urban/industrial look. Once again, they become decorative simply because you draw attention to them rather than conceal them.

Old pipes can also be incorporated into your furnishings. You can use them to make tables, chairs, stools, and shelves.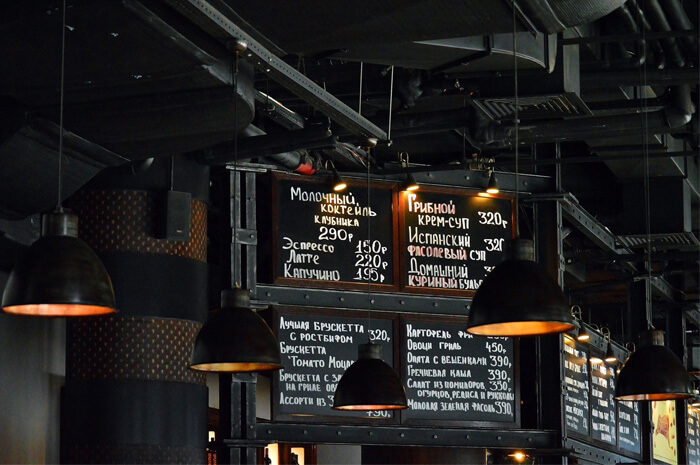 Credit: Islandworks, Pixabay
6.

Cement

Cement can be used for floors and walls, and, somewhat less commonly, countertops. It is popular for his resistance to scratches, abrasions, fire, UV rays, and heat.
7.

Mind the Finishes

Ideal fixture finishes for industrial restaurant design include brass, iron, chrome, copper and glass.
8.

Large, Bare Windows

Floor-to-ceiling windows are not uncommon in the industrial style. Often, these windows will not have any shade and include a metal framing. If you do wish to use a cover, we recommend that you go for a simpler roller shade.
Conclusion
We hope this article has given you an insight into what restaurant industrial design involves.
If you require interior construction drawings for your restaurant or other project, BluEntCAD is just a click away. We serve homebuilders, custom home designers, real estate developers, and architectural and engineering companies for large to medium sized commercial, hospitality and residential projects.
Ready to make your project a success with interior design drafting? Contact us now!
Maximum Value. Achieved.