US +1(832) 476 8459
|
Canada +1(647) 478 5230
Interior Construction Drawings for Minimalist Homes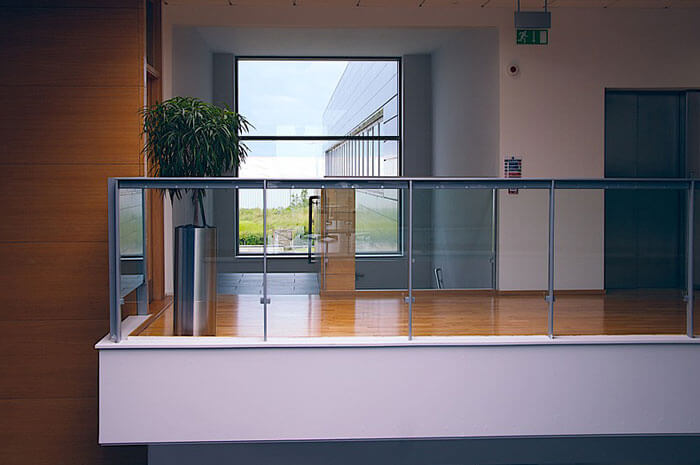 What did Leonardo Da Vinci, Marcus Aurelius, Albert Einstein and Steve Jobs have in common?
They were devout minimalists.
The great Leonardo da Vinci said, "Simplicity is the ultimate sophistication."
Minimalism is the new decoration today. From Jane Siberry to Robert Pattinson, there are so many celebrities who have decided to value space around them instead of accumulating material things like luxury cars, high-end properties and expensive wardrobes.
Minimalism does away with a lavish style but it doesn't ignore the absence of design. A grandchild of the Bauhaus Movement, minimalism is present not only in the lifestyles of the uber millennials but also in their living and working spaces. These begin with the creation of minimalist construction drawings.
Building construction drawings for the minimalist – The thought process
The Bauhaus Movement was the result of intense decoration practices which had seeped into the current architecture of the time, undermining the form and function of the objects and structures. Bauhaus led to the coining of the term, 'form follows function' which means that the design should be based on the function and not on aesthetic appeal.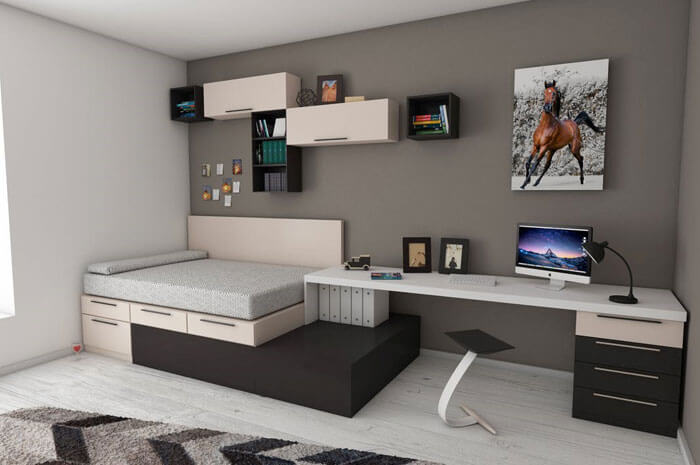 The minimalist style of Bauhaus Art gave way to the modern minimalism practices which were influenced by movements such as De Stijl. The minimalistic architecture favors geometrical and linear forms, gave preference to shape, line and colors and avoided curves, white floral designs and ornamentations.
Modern minimalistic architecture takes into account a simple question, for all designs and intents – How much can you strip away from a building, painting, sculpture or furniture without dissolving its essential identity and purpose?
The minimalist architecture is characterized by one word – simple.
It reduces the building to its most rudimentary form, essence and function. Nothing over the top and certainly no ornateness. This stands true of the minimalist house plans too. In fact, the minimalist house interior has these same characteristics too.
So, what does the minimalist house architecture comprise of?
Comprising of simple space geometries, the minimalist houses have functional layouts and are arranged purposefully. As little as possible space is wasted and rooms are either spacious or compact and efficient, based on the function they will solve. The idea behind this is to create clean and simple spaces which evoke tranquillity and a sense of order.
Perhaps the most striking feature of minimalist house drawings are open floor plans, modest storage designs, minimal interior walls and emphasis on exterior views and daylight. You will not find formal sitting rooms, libraries, walk-in closets or dining rooms because many minimalistic floor plans lack redundant spaces. Instead, open expanses are flexible and can be used for multiple purposes.
So, who built the first minimalist home?
Philip Johnson is credited to have the first minimalist house in history in 1949. This glass house did not have any complicated exits and entrances but just a simple glass façade. A flat roof was supported by simple steel posts and the floor plan was open for natural daylight to flood the spaces. Only the washrooms had walls, leaving enough breathable room for habitable spaces and furniture.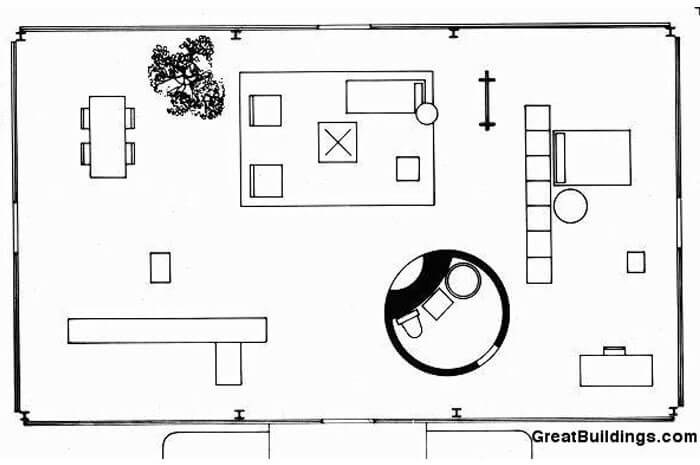 Click Here
Let's have a conversation!
Minimalism in Modern Architecture
There are numerous examples of minimalism in modern architecture. The IBM Plaza in Chicago or the AMA Plaza was built by Ludwig Mies van der Rohe in the 20th century.
IBM Plaza – Image Source: Wikipedia
The Grangegorman House from the 21st century, designed by ODOS Architects is another great example of minimalistic designs and their beauty.
Modern Minimalism – Quintessential Features
Minimalism focuses on extreme simplification. You cannot expect complex shapes, curves and wall interiors with rich tapestries. The De Stijl artists used only the primary colors and limited their designs to rectangles, squares, vertical and horizontal lines. Today's designs use richer palettes and complex shapes but still conform to clean, simple shapes and high-contrast colors, highlighting the mood and ambiance.
Here are some ideas for you to consider:
A double story, 3 bedroom modern minimalistic house in Toronto by Modernest
Rectilinear row house
Open floor plan on the first story with load bearing exteriors
Wall stacked stairs for optimum efficiency
No wasted spaces
Small closets
Private bedrooms on the second story
Minimal kitchen storage
A double story, 3 bedroom house in Texas by Pavonetti Architecture
Rectilinear geometry
Open floor plan on first floor with load bearing exteriors
Wall stacked stairs for less wasted space
U-shaped basic kitchen and utility area
Private bedrooms on second story with minimal extra storage
Minimalist house in Finland by Avanto Architects
Geometric shape in crucifix form
Efficient, open floor plan
Minimal walls
No extra storage space
3 story minimalistic cabin in Washington State by Olson Kundig Architects
Compact, open floor plan for living, dining and kitchen
Modest storage and private room space
Maximum views for letting in daylight
Some of these examples have been customized to suit the client needs but the basic features of open spaces, less interior walls and modest storage spaces are similar. These are the same underlying characteristics to minimalistic architecture everywhere. When you look for construction drawings and details for interiors, make sure to work with an experienced team like BluEntCAD.
Here are some interior detailing tips for you to furnish your newly built place
Let colors speak for you
To most people, minimalistic houses look like empty boxes instead of habitable spaces. If you're on your way to becoming a minimalist, sprucing up your place with a rich color palette is as important as decluttering everything that you own.
Go with a scheme of two or three colors on your walls and furniture. You can light up your rooms with a myriad of colorful frames and by adding accent pillows to your couches. Having uplifting colors is an inexpensive solution for adding personality to your home without the addition of bulky material furnishing.
Modest but stylish storage
Before buying storage containers; understand and make a note of your requirement. Combine aesthetic and function to your space. Larger sideboards look suave and are handy storage spaces at the same time. Select multi-functional storage. For example, a bed which doubles up as a couch for 2 people or an ottoman with storage to put away toys after your kid is done playing. Lift-up coffee tables are another good idea to keep your place spacious and habitable.
Get in touch with our experts to know more about Construction DrawingsE-mail: cad@bluentcad.com
US: +1 (832) 476 8459
Canada: +1 (647) 478 5230
Query: Work with experts
Playing with textures and layers
White, neutrals and pale pastels are highly preferred in minimalistic interior drawing. Mix and match the wall color palette with contrasting rugs, tapestry, drapes and furniture to give your space more dimension and character. You can also experiment with simple décor items which are closer to nature. Floral wallpapers and flowerpots create an airy and carefree ambiance.
If you are new to the practice, try going with the flow. Talk to others from the community. You can also read online to get inspired. As always, BluEntCAD's experts are here to help you in planning your interior construction documents for your new minimalist home.
Maximum Value. Achieved.
Subscription
Help?
Follow us to receive blog updates, industry news and annoucements, services offered and culture at BluEntCAD.