The future is eco-friendly. Interior design and interior drafting will need to get with the program. This will include a vast range of spaces, including restaurants, lobbies, residential hotels, gyms, community centers, club houses, and more.
Let's get started.
Table of Contents:
Eco-friendly interior designing, also called sustainable interior designing, is becoming increasingly important.
The retail store lifecycle is getting shorter. We are living in a culture of 'pop-up retail', in which a store opens for a few months with the motive of leaving an impression on potential customers, and then moves to another location.
Conversely, permanent stores often don't keep the same interior for a long period, as people demand variety.
In both scenarios, sustainable retail interior designing creates a win-win situation for both the environment and the brand.
Here are some great interior design ideas you can incorporate in your next project.
The most important part of the eco-friendly idea is the type of material procured in the interior design project.

Sustainable materials are not harmful to the environment, are recyclable, and will produce minimal toxic or non-biodegradable waste.

Great materials for environmentally conscious design:

Bamboo

Cork

Hemp

Wool

Glass

Jute

Cardboard

Scrap or recycled metal

Reclaimed wood such as barn wood or weathered wood

Recycled timber

Recycled plastic

These materials are versatile in nature and can be explored in innumerable design ideas.

Eco-friendly finishes you can consider:

Finishes with low VOCs

Latex paint

Water-based paint, sealants and stains

Milk paint

Low-biocide paint

Flaunt your environmentally conscious materials with signboards or notes so your customers know! They will appreciate your efforts.

Recommended Reading:

Sustainable Insulation

Thermal insulation in the long run lowers costs by saving electricity utilized by the temperature control system. This can be achieved by using the environment-friendly insulation in the walls, floors, and roofs of the building.

For example, the straw bale method is commonly used, in which a double wall structure sandwiches a straw bale.

Apart from this, cotton or cellulose and sheep wool can be used as insulation that can handle both cool and warm weather conditions. Since most heat escapes through windows, the windows should be of high quality and provide insulation. Carpets are also fantastic insulators – they can retain as much as 10% of a space's heat.

Control Electricity Consumption

Controlling electricity consumption is a concern of every business. Unnecessary consumption can be limited using various interior designing techniques.

Natural light can replace electrical fittings during the day with large windows and/or skylights. One can also use energy-efficient light sources, motion detectors, glass walls, automatic temperature controlling, and automatic timers to switch lights on and off.

Make sure your interior design drafting gets it right.

Flexible and Durable Interior Design

One of the simplest ways to avoid needless waste is to account for longevity of materials, objects and spaces. A key to this is to design flexible interiors. Pick timelessness over quick trends and invest in quality pieces that will last you a long time. This will also be cost-effective in the long run.
Let's explore two creative examples of sustainable eco-friendly interior retail design
Aesop Botanical Pop-up Store (Paris)
Aesop botanicals is a skin, hair and body care retail company with a worldwide presence.
They follow the sustainable interior designing formula, which is seen in one of their pop-up stores in Paris.
Rodney Eggleston, an Australian architect, used Aesop's own packaging. He arranged 4,500 cardboard boxes to form an artistic structure. However, the most attractive part is the ceiling, which is covered with empty bottles. The creative use of everyday materials is striking.
Aesop's Melbourne store similarly uses cardboard, and their Singapore store showcases locally sourced coconut husk.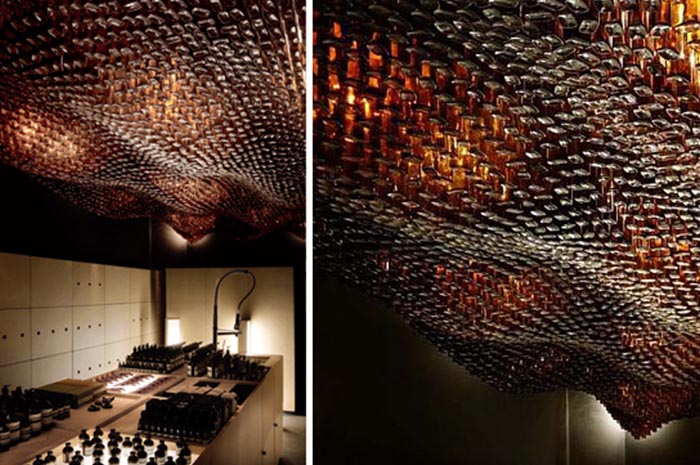 The Wooden Orchid is the exceptional idea of one architect, Vincent Callebaut. This mall-garden hybrid is currently at the conceptual stage and has already won many hearts.
It is a large retail center that will have gardens, a library, a farmer's market, and a sports center. But more importantly, it will feature renewable energy sources, smart city tech, green infrastructure and natural building materials.
The main idea behind such a design is to mirror nature and grow organic food within these interior walls. Biophilic design, anyone?
Furthermore, the architecture enhances the ecosphere of China's biggest freshwater lake, Poyang Lake.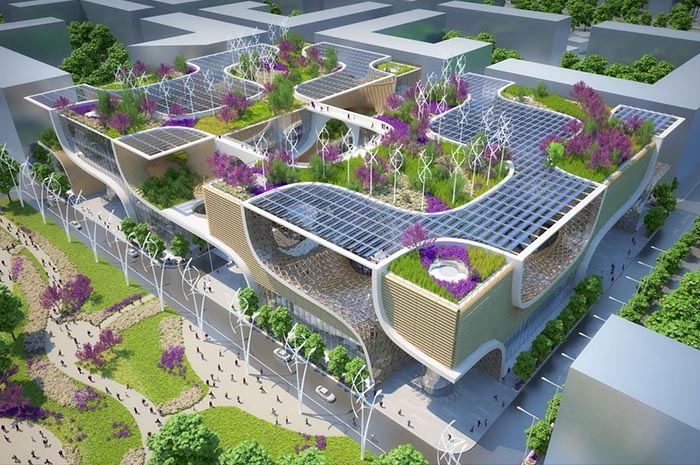 Conclusion
Environmentally conscious interior design will require accompanying interior drafting. Luckily for you, BluEntCAD does just that.
We are a CAD drafting company with experienced interior drafters who will help make your eco-friendly project a stunning reality.
BluEntCAD serves interior design companies, architectural companies, and retail chains, and use Revit modeling, AutoCAD and Chief Architect for all our drafting, modeling and detailing.
Ready for accurate interior CAD? Contact us now!
Maximum Value. Achieved.