Marble kitchen countertop with a minimal metal faucet
"Stone cold" doesn't have to apply to your interiors. With these seven stone trends, you'll be able to add class, charm and warmth to your home. Perfect whether you like spending time indoors or enjoy entertaining guests.
Whether you're looking at stone wall design or some natural stone design, this article has you covered.
7 Stone Design Trends That Will Liven Up Your Interiors
1. Go Wild With Green, Gray and Terracotta
It's all about biophilic design this year. Popular color choices are warmer hues of green, gray and terracotta. Decide how you want to pair them with the latest interior design trends. If you want more about color trends, you can check out this article!
2. Textures Everywhere
Thanks to the pandemic, stone design is taking on a more serene, muted tone. This includes subtle textures like a natural rough surface that add interest to neutral colors and help the architecture shine.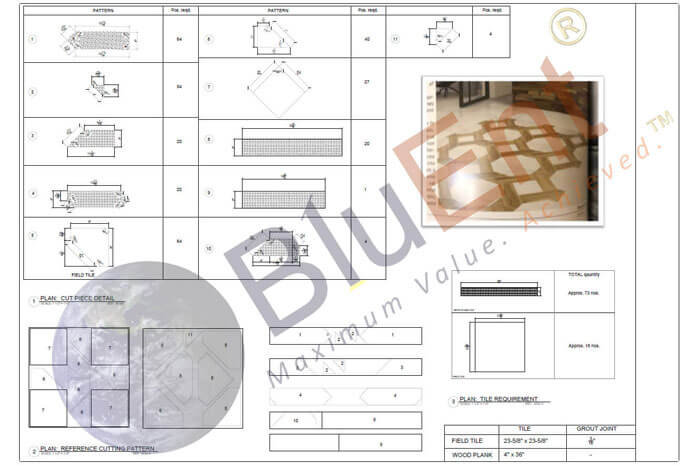 Flooring stone shop drawing by BluEntCAD
3. Veining Through
Veins offer a striking, elegant effect, especially in tandem with large tiles. A popular combination is marble veins over porcelain tiles. While white and gray is a classic combination, people are adding warmth with beige and brown.
Veined stones also has the added benefit of not requiring an artificial design, since it occurs naturally.
4. Natural Stone Fireplaces
Nothing says warmth and coziness like a natural stone fireplace. This is one stone trend that likely won't go away soon.
5. Stone Walls
An instant attention-grabber is a stone wall, with the stark color and texture contrast. A marble floor and dark furniture would complement this particularly well. Check out these fantastic stone wall ideas by Design Cafe!
6. Stone Accents
If you do not want to invest in a stone wall, a stone accent will help liven up your interior design. Pops of natural stone will add a rustic warmth and interest. Think custom stone sculptures or even a small stand for a television.
7. Natural Stone Walkways
Create a relaxing atmosphere with a natural stone walkway or stairway. Depending on which stone you use and how, it can add a Zen, classy, or enchanting quality to your garden.
Popular Types of Stone Used in Architecture
You can't just use any stone for a specific purpose. A crucial part of implementing stone trends is knowing which stone to use for what. 
For example, marble, limestone and granite are used for flooring because they are durable, strong and require little maintenance. For cladding, you'd best use sandstone or slate, while for shelves you can go for granite or limestone. Tabletops should be made with quartz or granite.
Let's dive into the various types of stone you can use, and for what purpose.
Marble: This is a metamorphic rock that forms when limestone has been exposed to pressure and heat. It has veins of calcite crystal and comes in several colors.

Marble is one of the most popular stones in architecture and interior design, because it is strong but still easy to carve and polish. This makes it suitable for many different applications. However, it is most popular in bathroom and kitchen designs.

3D office rendering with marble countertop by BluEntCAD

Alabaster: Alabaster, a translucent, white stone in its pure form, has been used for centuries, primarily for ornaments and other elaborate objects. It is fine-grained and soft, and due to its water solubility is best used indoors, especially for lighting design.

Flint: An abundant, durable stone found in sedimentary rocks. Since the Roman era it has been used for construction, but is not often utilized in contemporary building. While it comes in different colors, it is most commonly black with a white crust. In architecture and interior design, it is often knapped (that is, split to expose its glossy insides) before being put in mortar.

Granite: Granite forms with the crystallization of magma under the Earth's crust and is widely used in architecture, from cladding to furniture. It has low porosity, high durability, and high compressive strength, which makes it very popular.

Limestone: This stone is easy to carve and typically has a uniform color and texture. It is a sedimentary rock composed primarily of calcium carbonate. Popular varieties include Portland stone and travertine.

Basalt: A dark igneous rock that is often used as an aggregate for concrete, due to its high strength and low cost. It is also popular as a flooring and cladding material, particularly when polished.

Slate: Slate is a foliated rock, which means it can be split into thin slabs. It is fine-grained, durable, and weather resistant, and so is popular for roofing, paving and cladding. For interiors, it can be used for hearths, kitchen worktops and floor tiles.
Conclusion
We hope this article has given you some ideas for stone interior design! Let us know which trend you used in the comments.
Stone designs are brought to life with accuracy with the use of stone shop drawings. How do you get them? Get in touch with an experienced shop drawings company like BluEntCAD.
We've been serving the AEC industry since 2003 and cater to large kitchen remodelers, flooring manufacturers and installers, hand railing manufacturers and installers, real estate developers, commercial architecture companies, and custom home designers.
Ready to make your project a success with tile shop drawings? Contact us now!