Hotel King Saron, Greece
Landscaping for hotels is not as simple as planting a few palm trees and calling it a day. Your guest experience is determined not only by the hotel design and fine dining restaurants, but also by outdoor spaces.
The gardens, signage, trails and recreation areas should all come together to provide an unforgettable experience. Remember, your landscaping design is part of your brand identity.
The right landscaping features will help your hotel to maintain a high occupancy rate. In this article, we'll show you how.
Introduction
Landscaping isn't just about looking nice. It's also about amenities: poolside seating, coffee tables and fire pits. This caters not just to family vacationers, but people who are working.
After a long day of meetings or taking care of the kids, guests will want to put the day behind them. They will want to sit outside and feel like they are at a home away from home.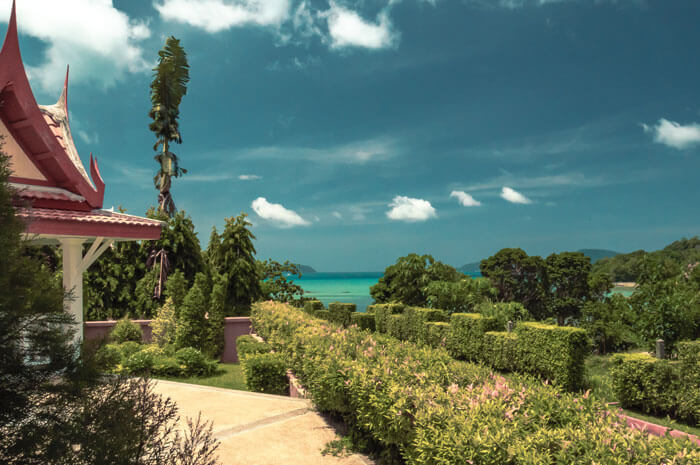 Credit: Vitaly Sacred, Unsplash
Here are some hotel landscaping elements to consider before you start anything else:
Differing Goals
Tailor your surroundings to what your guests want. For example, if they are looking for relaxation and wellness, water features such as ponds, fountains and waterfalls work well. The water sounds help to soothe them and also drown out other noises.
For a place to chat and have fun, but still relax, you can include swimming pools, fire pits, or shaded patios.
Maximizing Space
Not all hotels are built on several acres. This is where techniques such as rooftop landscaping, vertical gardening, and living walls can step in. You can incorporate plants, gardens, and even a swimming pool.
Durability
High foot traffic means that some of your gorgeous flora might be subject to wear and tear. Hence, we recommend that you hire professional landscapers, who will know which grasses and plants are suitable for the area, climate and purpose.
Safety
Your hotel landscape design needs to be secure, especially at night. To ensure this, install security cameras within the landscape, and have enough lighting in walkways and entrances to not leave any dark areas.
With that, let's dive into hotel garden design.
How to Keep Guests Coming Back With the Right Landscaping for Hotels
1.

A Place to De-Stress

Chances are your guests will have some work to do while staying at your hotel. They'll want a space where they can relieve their stress and be comfortable.

Hence, landscaping for hotels should include inviting spots such as cafes, poolside bars and courtyards.
2.

Stunning Entrances

First impressions count!

Does your landscaping intrigue guests with elements such as oversized potted plants and a riot of well-tended, colorful flowers? If so, you're on the right track!
3.

Seasonal Colors

You know what's fun? Constant color. This means having colors blooming round the year with a rotation of annuals. Shrubs and perennials are great, but don't underestimate the power of lush, bright hues.
Credit: Pavel Danilyuk, Pexels
4.

Mind the Mulch Fires

Fresh mulch can be a fire hazard, especially in dry, hot weather. If piled too deeply, it can actually spontaneously catch fire.

Hence, mulched areas are usually spread out to prevent any fires from spreading too fast. If your hotel landscape includes plenty of mulch, ensure that the areas of the garden are separated by barriers such as grass or concrete.
5.

Drought-Resistant Plants

Unfortunately, the Earth isn't getting any cooler.

Do your bit by improving your hotel's water conservation. Use drought-resistant plants that don't need frequent watering, such as lavender and coneflowers. If you're going for indoor gardening, consider burro's tail, aloe vera and small palms.
Recommended Reading:
6.

Harmony and Consistency

Create a conceptual focus.

Cohesion and unity should be a key part of your hotel landscape design. It will add a sense of "completeness" to your space, which your guests will recognize intuitively.

One way to achieve this is by repeating certain shapes or textures throughout your garden. For strong patterns, you can use focal points such as a unique plant species or even an architectural feature. These work well in entrances, leisure spaces and pathways.
7.

Pay Attention to Lines

Lines will influence how guests navigate and interpret your landscape.

Vertical lines create a sense of dynamism and expansion, while horizontal lines suggest relaxation and ease. Curved, dynamic lines encourage wandering and exploration.

Straight-line landscaping is often used in urban settings and traditional office buildings. If you're using a lot of plant material, it will be labor-intensive to maintain.

Curved-line landscaping is commonly used around water elements such as ponds or fountains. They draw attention and emphasize other elements, since they imply a central point.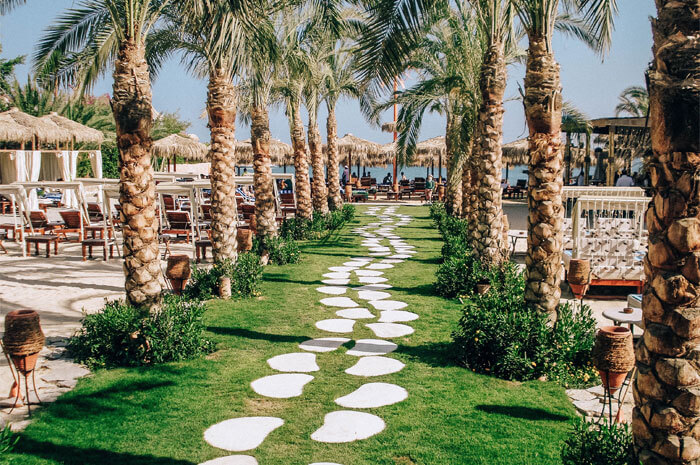 Credit: Riviera Pearls, Unsplash
8.

Avoid Allergy-Inducing Plants

Millions of adults suffer from allergies, so avoid allergy-inducing plants in your landscaping. At worst, you will have guests being carted off to the hospital.
9.

Pet Safety

If your hotel claims to be pet friendly, avoid including plants that are harmful to pets, and consider edible flowerbeds and plants. You should also provide guests with disposable waste bags.
Conclusion
We hope this article has given you an insight into proper landscaping for hotels.
If you need to pitch your design to investors or want to know what your hotel garden will look like before it's even built, BluEntCAD is just a click away.
We provide photorealistic 3D rendering services to real estate developers, commercial architects, interior decorators, homebuilders, subcontractors, remodelers, renovators, and designers for large to medium sized hospitality, commercial and residential projects.
Ready to make your hotel project a success with 3D rendering services? Contact us now!
Maximum Value. Achieved.