3D rendering of modern lounge by dit26978
Whether you're looking for bathroom tile ideas, kitchen backsplash ideas, or even something for hotel interior design, it's useful to know the latest tile trends.
This year it's all about biophilic design, art deco, and soothing colors. Let's dive in.
Introduction
Before we begin with the latest tile trends, let's define what a tile even is.
A tile is a piece of material such as stone, ceramic, or glass used to cover surfaces such as floors, walls, roofs, tabletops, and so on. The term "tile" is derived from the Latin word "tegula", from an Indo-European root meaning "cover".
Tiles have been in use for thousands of years, and are currently commonly used in kitchens and bathrooms, though they are also used for floors and even living room walls. Tile shop drawings are used for accurate placement and design, and photorealistic 3D rendering can provide a realistic image of your final space.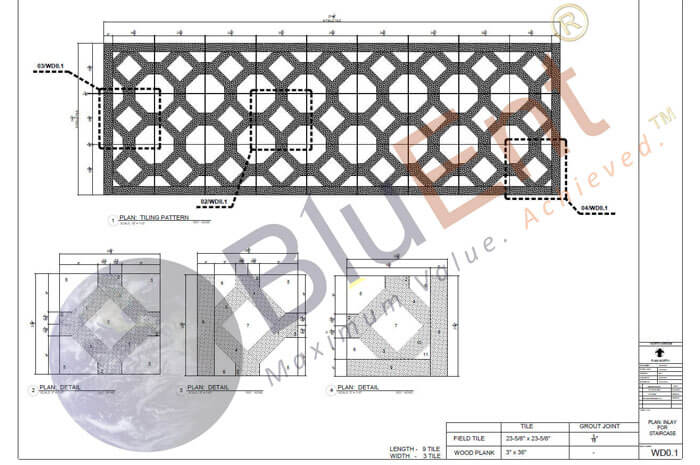 Flooring shop drawing by BluEntCAD
Common Types of Tiles
Ceramic: These tiles are durable and suitable for many applications. For a clean, uniform result, it is best to check the ceramic tile lot number when purchasing. Glazed ceramic tiles will work well for floors, while unglazed tiles will give you a rustic finish. Ceramic tiles are so popular that you will be hard-pressed to find them excluded in any list of the latest tile trends.

Porcelain: Porcelain tiles can emulate brick, natural stone, and even wood. As a result, you get a similarly elegant finish without the weathering or upkeep. Porcelain tiles are seen as "all-purpose" and come in a variety of styles, colors and designs. They are a great option for kitchen backsplashes or bathrooms. Furthermore, since they do not fade, crack or freeze, they can also be used outdoors.

Glass: As you might guess, due to their more delicate composition, glass tiles are best used for backsplashes and tabletops. They have a good stain resistance, so you can easily mop up acidic food stains. Go for these tiles if you want a clean, fresh aesthetic.

Cement: Cement tiles can provide you with incredible colors and patterns, but are difficult to lay and need to be resealed once a month for maintenance. Hence, it is best to use them in small quantities and low-traffic areas.

Granite: These tiles can look somewhat similar to marble ones due to the natural flecks. They are a great choice if you are on a budget.

Mosaic: Do you need an accent on a wall? Mosaic tiles are for you. They come in several different shapes, colors, sizes and even materials. The drawback is that they can end up looking dated, so choose your tiles and location carefully!

Marble: If refinement and elegance are your goals, marble tiles will work well. However, marble is also susceptible to scratches and stains, and can be expensive. As such, it is best to use it for decorative features, such as backsplashes, columns and shower floors.
New Tile Trends For Modern Interiors
Now that you're familiar with the tiles that are available to you, take a look at the latest tile trends for a sophisticated residential or commercial interior. Many tile businesses seem to be catering to people's desire for wellbeing, calmness and serenity – a natural byproduct of the pandemic. As a result, some trends feature neutral, soothing tones. Furthermore, there is a preference for tiles that are easy to clean.
Whatever your choice, you can get an idea of what your space will look like with tile mockup designs or interactive floor plans.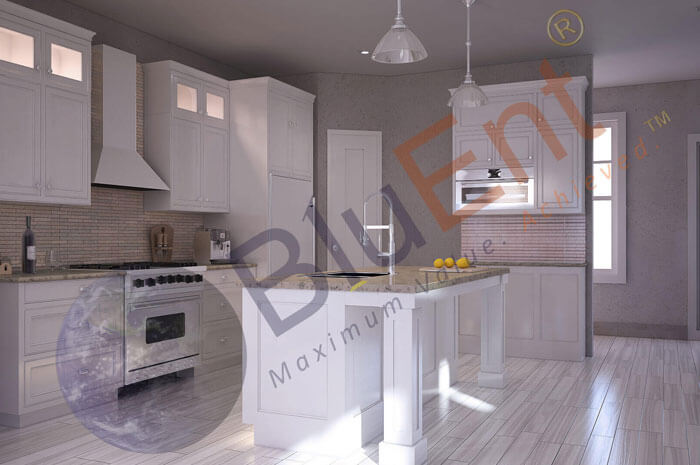 Interior rendering featuring tiles by BluEntCAD
1. Neutral Tones
Subtle, restful green tiles are part of the biophilic design trend that has been gaining traction. They add an organic, fresh look to any space, and pair well with timber elements.
Warm palettes, whether matte or glossy, are also gaining popularity. Think creams, soft grays, whites and golds.
2. Pastels
Yellows, light blues, and blush pinks are in. You can go for a glossy, matte, or even holographic finish, if you're feeling adventurous. Pastels are a great choice if you want some color, but in a way that is soothing.
3. Square Tiles
Square tiles have been increasing in popularity in recent years. However, these are not like the bathroom tiles you knew growing up. There is a trend towards hand-crafted square tiles, which can be anything from colorful to subdued.
4. White Subway Tiles
A classic in the form of a horizontal offset brick pattern. These tiles, which have their roots in early 20th century subways in New York, became popular in hospitals due to their easy-to-clean, hygienic surface. They are especially relevant today, with concerns about hygiene and cleanliness due to the pandemic.
However, it's not just about utility. White subway tiles are a classic look for kitchens and bathrooms.
5. Interesting Geometrical Shapes
Think square tiles with oval ellipses on the surfaces, organic and curved shapes, water droplet shapes, and leaf shapes. Also popular are hexagons.
6. Oversized Tiles
Oversized tiles can be used for tables, shower walls, countertops, and other larger spaces. A great option is hexagonal tiles, which will add geometric interest to any space.
7. Terracotta
A great way to add some earthy warmth to your space is by using terracotta tiles. You can use them in your dining room, kitchen, cloakroom and even hallway.
Best Places to Buy Tiles in the US
Conclusion
Which latest tile trends do you want to incorporate in your project? Are you going to use them for your shower tile ideas, or your funky kitchen backsplash? Let us know in the comments!
If you need flooring and stone shop drawings, BluEntCAD is just a click away. We've been operating since 2003 and have a team of dedicated, experienced drafters who can cater to your business needs.
Ready to make your project a success with 3D modeling or tile shop drawings? Contact us now!
Maximum Value. Achieved.