Image by Engin Akyurt
Is the interior design you want comfortable and cozy, while remaining chic and elegant? Modern farmhouse style might be for you. In this article, we'll cover all the basics you need to know.
Introduction to Modern Farmhouse Style
Modern farmhouses are one of the many styles of houses in America, and focus on rustic charm and practicality. While it shares some similarities with the "cottagecore" style, they are by far not the same.
The modern farmhouse style emerged as a response to the minimalism trend that burgeoned during the 1990s and early 2000s. While the style generally follows the aesthetics of rural architecture, it also adds modern comforts, leading to a look that is both cozy and sophisticated.
Modern farmhouse became trendy in recent years, especially thanks to the popularity of the show Fixer Upper on HGTV.
However, note that modern farmhouse style is different from the classic farmhouse style. Let's get into that before we go any further.
Modern Farmhouse vs Classic Farmhouse
The classic farmhouse style occupies a historic place in the US. It takes its inspiration from the farm houses of early European settlers, incorporating:
Apron sinks

Natural wood accents

Vintage accessories and furniture

Floral and paisley fabrics

Slipcovers
Modern farmhouse homes take the relaxed, comfortable classic style and gives it a modern twist. While it remains rustic, it is less so, and appears more "sophisticated". It includes elements such as:
Glossy accents

Sleek lighting

Neutral color schemes

Smooth lines

Granite countertops

Stainless steel appliances
Key Elements of Modern Farmhouse Interior Design
So you want the modern farmhouse look. You're in the right place. The characteristics we list below can all be incorporated into your modern farmhouse plans.
1.

Practicality

Whether they're in your modern farmhouse kitchen, living room, or bedroom, furnishings and accessories should remain practical and comfortable.

Note that while they should give a welcoming air, you should be able to use them regularly – they should not be too delicate to handle. This goes for antiques, too. Think barn doors, ship lap and batten, to start with.
2.

A Neutral Palette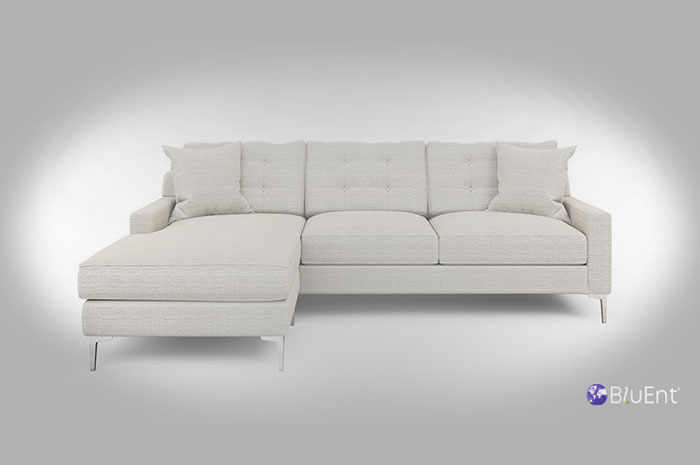 3D furniture rendering by BluEntCAD
A neutral palette (warm or cool) is integral to modern farmhouses. Think beige, sage, gray, silver or cream. This will create an easy, soothing backdrop for your furniture and decor. If you want a crisper look, try pairing white or greige with black elements.
You can use different colors for accents, but to stay true to the modern farmhouse look, try keeping the overall color scheme light and neutral.
If you're wondering which colors will actually look good, get a snapshot of your future space with interior rendering.
3.

Mix and Match Materials

Start with natural wood tones. Salvaged woods with some wear and tear add character and coziness. Look for knots, nicks and scratches to create an authentic look. Some elements you can incorporate include classic farmhouse tables, rough-hewn flooring, and raw-edge open shelving.

To this distressed wood, add in industrial elements, such as stainless steel appliances, oversized metal light fixtures, railings, and sleek kitchen cabinets. Generally, try not to use more than three metals per room.

If you want to add depth to the look (which you will need, since the color palette tends to be somewhat flat), use a variety of textures. Throw in fabrics such as wool, cotton, chenille or canvas.
4.

Natural Elements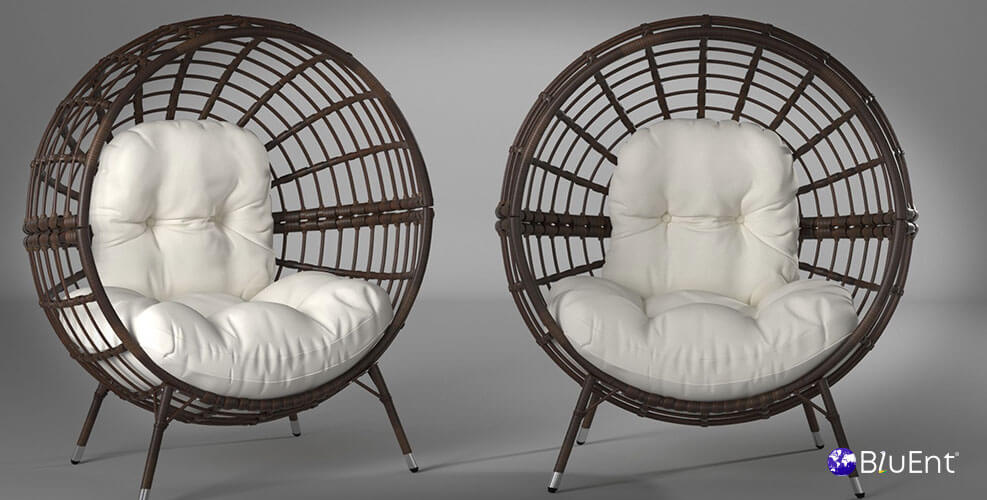 3D product rendering by BluEntCAD
As much as possible, stick to natural materials. Aside from distressed wood, use the following:
Sisal

Rattan

Wicker

Natural stone
Check out the latest stone trends and tile trends to steal ideas from!
5.

Keep it Clean

Go for a look that is cozy, but not cluttered.
Modern farmhouses distinguish themselves with sleek, industrial elements and spaciousness.

Vaulted ceilings and open floor plans are common.

Slat-back chairs and open concept designs are popular.

Bring in more natural light with a lack of window treatments – this will also visually extend the boundaries of your rooms.

Where possible, items should be kept inside drawers and cabinets.
6.

Vintage & New Decor

One of the great aspects of modern farmhouse homes is the opportunity you get to mix antique, vintage, and new elements. That minimalist art you bought can occupy the same space as your heirloom desk. A farmhouse sink can be paired with a high-tech faucet.

Whatever your choices, the only thing they need to do is create a cohesive balance. They should complement, not clash with, one another. If you want to know how your furniture will look ahead of time, go for an architectural walkthrough! You won't have to buy a single piece prior to that.

Having said that, feel free to incorporate elements from other styles, especially those that tend toward the wood and metal charm.
Conclusion
And there you have it. The perfect place to begin for your modern farmhouse journey.
We highly recommend using 3D rendering services to view your space before it is built, renovated or refurbished. This will help you make the right decisions and prevent future errors.
BluEntCAD offers 3D rendering services to home builders, real estate developers, interior designers, architects, design build contractors, and remodelers. Browse our portfolio to see how we've helped businesses like yours!
Ready to make your modern farmhouse style home a reality with 3D rendering services? Contact us now!