Image by Polona Mitar Osolnik, Pexels
Libraries aren't just places to store books and take Instagram photos. They are hubs of knowledge, activity and technology that can be ambitious in scale and design. To create appropriate, safe and comfortable areas for study, reading, research and even socializing, we need to know the principles of modern library design. This is also helpful for creating the best construction drawings for building a library.
Current expectations for libraries are high. Designers, architects and engineers are working to create striking exteriors and interiors to attract a wide variety of people. Many of these projects focus on multi-settings for engagement, and aim for adaptability as well as a strong sense of place.
Introduction
Much of your library architecture project will depend on the unique purpose of the library, as well as the culture of the country or area.
Having said that, there are some general principles that are important to bear in mind so that you can get a more complete idea of modern library architecture.
Modern library design is an ever-evolving craft. Even as technology changes the dynamics of our spaces, we crave familiar acts such as sliding out a novel from a bookshelf with a ladder.
For examples of modern library design, you can look to successful modern libraries such as the Matsubara library in Japan, the Beyer Blinder Belle in the US, the Tianjin Binhai Library in China, and La Trobe University Library in Australia.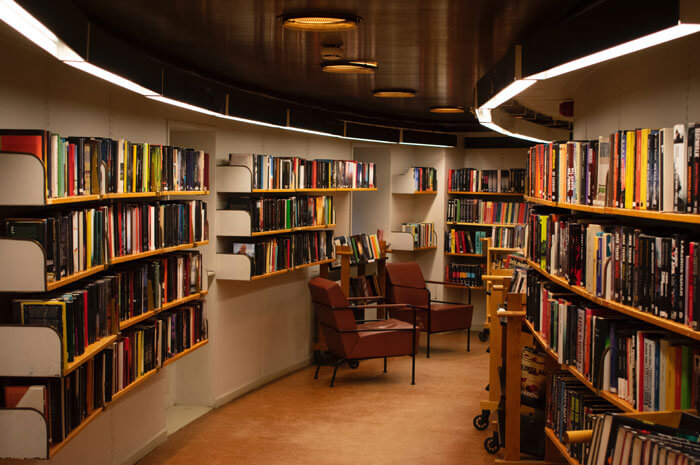 Image by Rafael Cosquiere, Pexels
Types of Libraries
You need to know the type of library you will be building. Here are the types.
1.

Research Libraries
Contains a collection of materials on one or more subjects.

Supports scientific or scholarly research.

Strives to provide access to all required materials.

Often a national or academic library.

Includes primary and secondary sources.

Maintains permanent collections.

A larger specialty library might contain a research library within its field.
2.

Digital Libraries
House digital information and resources.

Defined as an organization rather than a service.

Usually provides items easily and affordably.

Has a responsibility to provide future access to materials.
3.

Academic Libraries
On university and college campuses.

Aimed to serve students, faculty, and other academic institutions.

Help improve reading culture around the world.

Provides resource linkage, research support and consultancy.

House reliable, relevant and current information across various disciplines.
4.

Children's Libraries
Contain collections of books meant for juvenile readers.

Often kept in separate rooms in public libraries.

Commonly provide services such as storytelling sessions for preschool children, toddlers and infants, as well as after-school programs.

Aim to develop early love for reading and literacy skills.
5.

Public Libraries
Also called public lending libraries.

Cater to the public.

Might be part of a countywide system, in which case citizens can use all branches if they have an active library card.

Almost all materials are available for borrowing.

Typically issue library cards to community members who want to borrow books.

Library staff are in charge of the details of borrowing time and number of items borrowed.

Visitors to a city can often obtain a public library card.
Image by Sylvia Yang, Unsplash
Elements of Modern Library Design
1.

Furnishings

The furnishings in your library will play a crucial role in enhancing the patrons' experience. Choose furniture that will help you meet your goals, whether that's facilitating connections, nurturing creativity or showing collections.

We suggest avoiding blocky, heavy furniture and instead using nimble furniture that can be moved around easily so that the space becomes more flexible. Consider:
Height-adjustable desks

Flip-top surfaces

Side storage bins

Modular components

Shelving on casters

Moveable walls
If you want to capture people's attention, go for displays featuring beautiful, popular or timely content in high-traffic areas. For example, many books have incredible artwork, so instead of having the spine facing out, you can display the cover or inner pages.
2.

A Transformational Experience

Ideally, modern library architecture will empower patrons to have the types of experiences they and their communities want. Libraries are becoming more than just spaces to borrow books – they are spaces to collaborate and connect.

As libraries acquire more digital materials, they can afford to devote less space to physical items. The modern library provides a multifunctional space for people to interact and learn new skills. It is, in essence, a meeting place, a cafe, a digital creation studio, and more.

Many modern libraries are also taking merchandising ideas from retail stores for increased circulation and more convenient borrowing. They are also making use of outdoor spaces.

To give your patrons a transformational experience, consider:
Kitchenettes

Cafés

Shallow raised floors

Public meeting spaces

Mobile service desks

Gaming computers

Glass walls that bring the outdoors in

Lounge areas (consider warm, inviting furniture, a fireplace, and wood paneling)

Courtyards

Conference rooms that double as makerspaces

Video editing stations

Classes on various topics, whether 3D modeling or digital art or anything else
3.

Communities

Ray Johnston, founder of Johnston Architects, says, "Libraries serve as the living room of the community."

For library building design to support what a given community wants, designers must first understand those communities' needs. This can be done through an extensive listening process.

From this, you can gauge whether the community wants a specific location, flexibly located outlets, integration with outdoor spaces, more meeting areas, etc.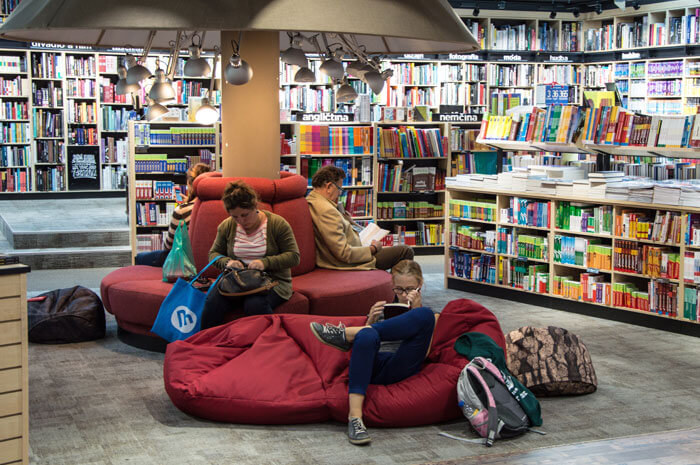 Image by Pixabay, Pexels
4.

Sustainability

Sustainable library design is part of the larger trend of sustainable architecture. There are various steps you can take to ensure your library is not a complete blight on the environment. Here are some of them.
Minimize space usage by using an efficient and pleasing sense of space

Use roof areas for solar panels and plants

Maintenance-friendly construction

Thermal insulation

Switchable sockets for PCs and printers

Spaces for bicycles

Define and control the library's ecological footprint

Natural ventilation

Power supply from renewable energy source

Light as required (dimmer switches, step switching)

Water saving features
If you need to understand what your sustainable library will look like before it is built, we suggest going for 3D exterior rendering or an architectural walkthrough.
Other Tips on How to Design a Library
Use a classic color theory instead of what's trending so it won't look dated in a few years

Manage very large spaces by creating "barriers" with furniture such as carpets, tables, lamps and seating

Avoid drawing attention to awkward or unattractive features such as blinds, radiators and piping

Integrate signage with graphic themes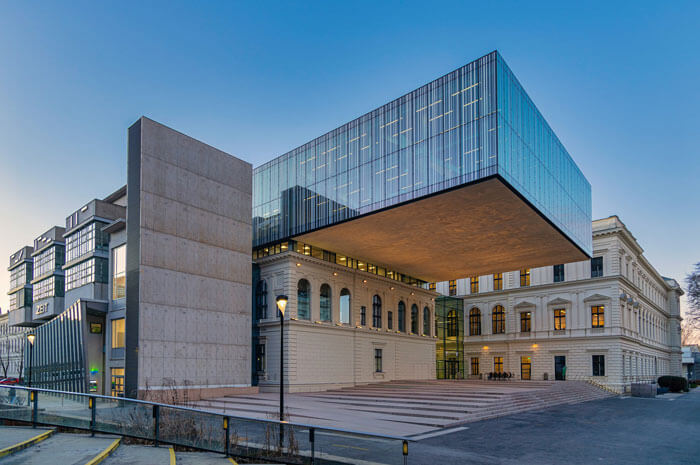 Image by Werbeguru, Pixabay
Conclusion
Modern library design encourages multiple uses and connections. Natural light, openness and a variety of settings are also integral to them.
For your library to best serve your patrons, you will require construction documentation. You needn't look far for that. BluEntCAD provides architectural construction drawings to architectural companies, homebuilders, real estate developers, engineering companies, and custom home designers for large to medium projects.
Ready to make your project a success with construction drawing services? Contact us now!
Maximum Value. Achieved.