Spacious hall in modern hotel
Complaints of poor or inadequate interior finishes are common when customers receive their products and can have a detrimental effect on your company's reputation and sales.
In this article, we'll be covering the best interior finishes to help you avoid that situation.
Introduction: What Are Interior Finishes?
Interior finishes are used in the last stages of the manufacturing or construction process. They form the final surface of any element. The purpose is to protect this element from corrosion, water, abrasion, frost or impact, and/or be decorative.
Some elements are self-finished. That is, the surface is part of the material that the element is made from.
The term "finishes" tends to refer to internal surfaces, but finishes can also be applied to external elements. However, in this article, we will be focusing on interior finishes.
These can be applied dry or wet. Application might involve layering. For example, a primer or undercoat might be applied to a wall before the final coating of paint.
The NBS categorizes finishes as decorative fabrics/papers, resin flooring, insulation with rendered finish, stone/concrete/ceramic/quarry tiling or mosaic, plastic/rubber/lino/cork/carpet sheeting or tiling, and edge fixed carpeting, among other things.
It is important to note, however, that there is some overlap in this categorization with various other building components. Furthermore, other classifications may put some of these items in other categories. As an example, stone may be considered a part of the floor construction, and plaster may be considered a lining, not a finish.
Regardless, an accurate translation of the designer's intention in your interior construction drawings is critical for good finishes.
Which Factors Influence Interior Finish Choice?
When it comes to interior design, your choices in finishes aren't necessarily easy to pick. Some of the most common influencing factors are:
Durability

Corrosion and weather resistance

Expected life

Cleaning and other maintenance requirements

Appearance (gloss, silk, matte, etc.)

Color

Safety

Ease of application

Availability

Cost

Environmental impact
Top Choices For Interior Finishes
1. Paint
Paint finishes are available in oil-based (alkyd) and latex paints. Most people prefer latex paints because they are easier to clean and don't give off the same levels of unpleasant fumes as oil-based paints.
Do note that some paint manufacturers may use different terminology for the same finish. For example, they may refer to a "glossy" finish as "high-gloss".
Types of paint finishes:
Eggshell: As the name suggests, this paint finish has a low sheen similar to that of an eggshell. It is versatile: good for most walls and cleans better than flat enamel or flat paint. Eggshell finishes are popular in family homes, since they also help to hide flaws in walls.

Flat: This finish has a fully matte surface and a somewhat chalky feel. It is useful if you want to cover up cracks, bumps or other blemishes, and is often used for interior walls and ceilings.

Flat enamel: Good for guest bedrooms and powder rooms. Flat enamel has a matte finish, but it forms a bit of a film as it dries. It also holds up nicely to cleaning on occasion.

Semi-gloss: Semi-gloss is often used on kitchen cabinets, bathroom cabinets, trim, and doors. It is easy to clean, and has a subtle shine.

Satin: This is a somewhat glossy finish, with a smooth look. Often it is used for trim, ceilings, doors and windows, but it can be used on walls as well. Use it in areas that get more traffic, or in kitchens, children's rooms, or bathrooms.

High-gloss: As the name suggests, this finish is very glossy, with an almost reflective quality. It looks similar to plastic or enamel. It is becoming a popular choice for a more dramatic look for furniture, trim and cabinets in contemporary and formal settings.
2. Marble
Marble is often used in backsplashes and bathrooms. It can come in many colours. Frequent cleaning is required, since marble is sleek and shiny, and it may not be suited to colder climates. However, it can last for many years with proper sealing.
3. Decorative Stone
This finish is best left to specialists to apply.
Natural, decorative stone brings a rustic and classy look to any space. It's great for hospitality and "high-end" projects. Take a look at some of the latest stone trends you can add in your interiors.
To make sure that you get the best results that match what your client wants, use 3D interior rendering. You can even go for an architectural walkthrough if you want to give your client a truly gorgeous experience.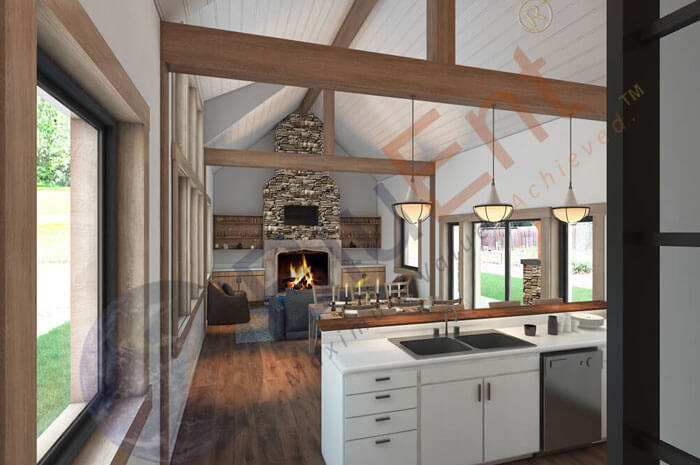 Decorative stone in open floor plan living room in interior rendering by BluEntCAD
4. Wallpaper
Wallpaper can add a lot of character to any room, especially if you want to go quaint or old-fashioned.
You can choose from paper, vinyl or even 3D photo wallpaper. Vinyl is suited to the kitchen, moisture-proof wallpaper to the bathroom, and washable and lightweight wallpaper to children's rooms.
5. Hardwood
Hardwood provides a timeless look and elegance that has the potential to fit any style.
For a more traditional look, you may gravitate towards ash, mahogany, walnut or oak. For a contemporary look, consider sapele, maple or tigerwood. And if rustic is your choice, there's cherry or hickory.
While hardwood is resistant to scratches and dents, it can have problems with moisture. To prevent hardwood from deteriorating prematurely, it requires a protective sealant. Every few years, regular sealing is needed.
6. Carpet
Carpets are relatively easy to install and provide good insulation, which can help keep power costs down. They are a good way to add warmth to a room and are especially suited to colder climates. You can extent their life with steam cleaning and vacuuming, but they will need to be replaced about four or five times in a thirty-year timespan.
Trouble can pop up if there are untrained pets around, or you don't take care of the pests that like to live in carpets, such as fleas and ticks. They can also cause problems for people with respiratory ailments, since it holds dust and various other allergens. And since they retain moisture, mold can grow.
7. Tile
Tile is well suited to kitchens and bathrooms, whether they are in a home, hotel, or government building. This is because it is resistant to many issues such as moisture and temperature.
To get a good idea of your options for tiles, especially with regard to the current trends, read this. For the best, most accurate results, you can use tile mockup designs or tile shop drawings.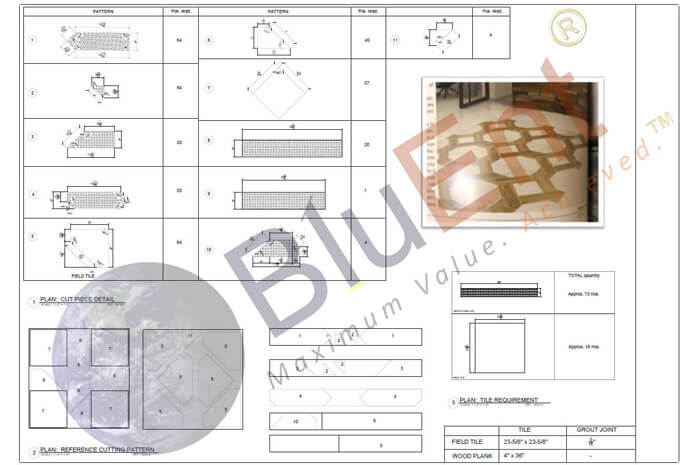 Flooring stone shop drawing by BluEntCAD
8. Vinyl
Do you want variety while also being cost-conscious? Vinyl is for you. It comes in a wide variety of colors and patterns, and can even imitate hardwood or granite. Vinyl can retain its look for a long time as long as it is not in a high-traffic area, such as the kitchen or bathroom.
However, it is important to note that vinyl releases harmful gases and VOCs that contribute to issues with air quality. It can also rip with sharp objects. If it is within your budget, we would recommend going for one of the other finishes.
Conclusion
With the correct interior finishes, you can improve the look of your space, extend the life of certain elements, increase brand visibility, and reduce energy costs. We hope this article has given you a good starting point.
Whatever your choice, an interior construction drawing set will help you finish your project successfully. BluEntCAD develops architectural construction drawings for large to medium commercial, hospitality and residential projects. We serve homebuilders, architects, real estate developers, large engineering or architectural companies, custom home designers and new home designers.
Ready to make your project a success with construction documentation services? Contact us now!
Maximum Value. Achieved.