A room under high-rise buildings by Sonny Sixteen
BIM software in the AEC industry has made the visualization of any construction project an innovative solution and process for contractors, engineers, designers, and architects.
3D modeling in Revit has massively changed the architecture industry and was one of the most popular software in the US in 2018.
If you are starting your first construction project or are still confused about the benefits of Revit modeling, we will assist you to understand its myriad advantages.
What is Revit and 3D Modeling in Revit?
Revit is a BIM software that is frequently used by those involved in the construction project to build real-life data-based amalgamated 3D models. The BIM software has been evolving ever since the 1980s and that's how Revit was launched in 1997.
Here's what you need to know about Revit and 3D Modeling in Revit
Building professionals use BIM Revit for design & documentation purposes.

This process incorporates leveraging a specific, assimilation BIM model to conceptualize, document, and design a construction project effortlessly.

One of the biggest benefits of Revit 3D is that the construction professionals can create a virtual Revit house model of a structure or project before the actual construction begins.

The interior designers, engineers, and architects build the most intelligent information-rich 3D house models because the Revit features and tools support BIM.
If the construction project participants use this cutting-edge software 3D modeling in Revit appropriately then it can have multiple benefits including minimization of costs, less to no rework or delays and so many more.
Let's explore some of the paramount benefits to understand how Revit 2022 can help you in your next construction project.
Impact of Revit 3D Modeling on Building Design
Quality design and increased productivity
3D modeling in Revit makes it achievable to deliver a meticulous 3D perspective by incorporating the process of BIM.  
The accuracy displayed through BIM is unparalleled and gives a superior quality to the outcome of the project.

We have several construction architects and interior designers who consider these Revit 3D objects to be chief facilitators of successful construction projects.

Revit amplifies productivity by ensuring the work and designs are delivered faster because it takes less time to produce Revit house models.

The architects, engineers, and contractors spend more time and effort on creativity and the actual construction of the infrastructure.

The efficiency of the construction team is enhanced because these tasks become effortless and simpler through Revit.
Enhanced communication between all stakeholders
Construction projects are massive and include several components. Collaboration and Scheduling have turned out to be huge a challenge in the past. 3D modeling in Revit has offered innovative solutions to improve collaboration between every stakeholder of a project.
Imagine the entire architectural project details on one unified single platform with every team member having access to the same version throughout the project. Yes, that's how powerful BIM Revit is.
The Revit house models can be extensive and complex. However, through Revit managers and professionals can access every detail or change made to the project at every step.

The storage features in Revit allow team members to securely store every version of the 3D model to be stored on the server.
Irrespective of where the stakeholders are working from, if they have permission and an internet connection, they can access all the versions, plans, and relevant information from anywhere.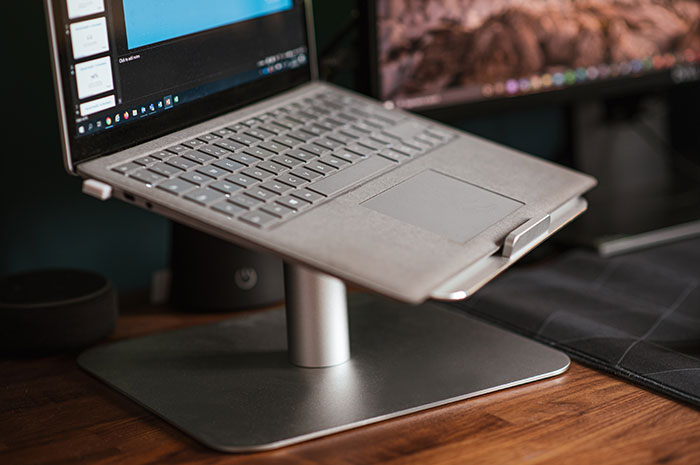 A person working on the laptop placed on the stand by Anete Lusina
Lesser glitches and automation capacity
The automated process of updating the designs on Revit is one of the biggest benefits of using this BIM software.
The database in Revit, which incorporates all the details, is updated automatically even when a professional alters a single element in the model.

This single modification is then transmitted across the structure model thus facilitating the streamlining and automation of the design process. It makes the revision process effortless on the massive project file which otherwise can take hours.

The automation capability using Autodesk Revit makes the interior design process, documentation process, and identifying clash detections a lot easier. This helps in delivering an exquisite and precise visualization of a construction project.

The glitches and errors are reduced to a large percentage. The 3D models allow the construction professions to tap into these errors and rectify them before the actual construction begins.
Enhanced sustainable analysis
Revit has evolved since it was first launched in 1997. Today it consists of multiple analytical tools and a surplus of energy optimization features.
These tools and features enable the stakeholders to consider the environmental impact on the structure design and building project.

Through 3D modeling in Revit addressing the changes to the design based on this analysis is a lot easier.

The professionals don't need to use another software or create a new model but can make modifications to the same 3D model.
Revit helps in tackling environmental concerns by reducing the amount of paperwork required. It supports the enablement of eco-friendly building designs.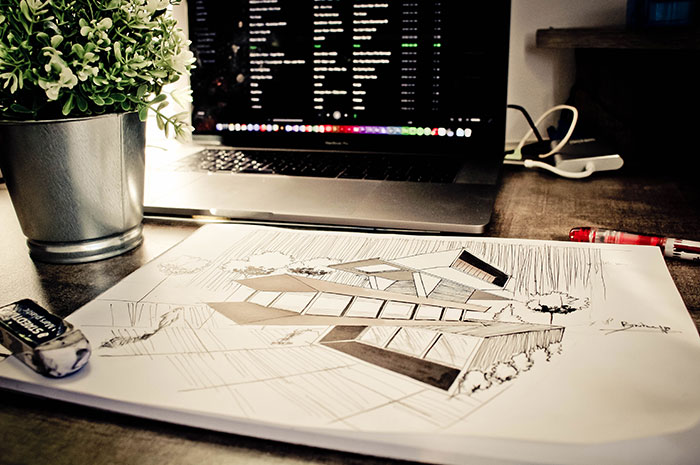 A house sketch of a project by Julien Bachelet
Effective planning and project accomplishment
3D modeling in Revit makes project management less complex. This BIM tool incorporates useful features that help in the effective planning and completion of a construction project.

It helps in tracking costs and projects, gathering details on permits, labor costing, and many more components of a construction project.

Revit is also used to generate reports and analyses on costs, layout, and materials.

The team uses the architectural outline as an ERP Enterprise Resource Planning system for the building project.

This facilitates seamless stakeholder communication and streamlines facilities and supplies management.
Revit aids in enhancing profitability by saving relevant resources like time and money spent on the entire construction project.
Conclusion
Setting yourself apart in the AEC industry can be an unnerving task. Several companies are working on developing the most innovative solutions and structures to attract potential customers.
With the brick-and-mortar competition being this aggressive, the requirement to develop an identity for your brand and organization is paramount. With 3D modeling in Revit, you can demonstrate stunning Revit house models to help you gain a competitive edge.
If you are still on the fence about Revit design services, talk to our experts to find out more about it. Companies even outsource their services to focus more on creating innovative building designs with immense precision.
Browse our portfolio to see how we've supported construction businesses and used cutting-edge technologies to offer 3D BIM model in Revit services around the globe.
Our team can offer a virtual yet realistic feel to your construction plan for a project through 3D Revit modeling services. Our experts use Revit to develop high-quality Revit house models and 3D objects with unparalleled accuracy.
Ready to change the construction game with our top-notch 3D Revit modeling services? Contact us now!