US +1(832) 476 8459
|
Canada +1(647) 478 5230
Architectural Visualization vs Architectural Illustration: What You Need to Know
Architectural plans are older than you think.
The earliest ones were created over 4,000 years ago, by the ancient Egyptians and Mesopotamians.
That their concept has lasted so long is a testament to their value.
For architects, general contractors, engineers, or, really, anyone interested in dipping their toes into the AEC industry, two key elements to get familiar with are architectural visualization and architectural illustration. Whatever your project, whether it's a big building or an HVAC system, you can't do without 3D architectural rendering services and illustration services.
The two, however, are different, and you need to know their unique benefits so you can choose which one will serve your business best.
What are Architectural Visualization and Illustration?
You're looking at the difference between a skeletal structure and a fleshed out body.
2D architectural illustration, also known as an artist impression, is the practice of depicting architecture and interiors in stylistic images. Images are typically made by hand, using tools such as pens, paper, and watercolor.
Architectural visualization is the practice of creating 3D models of a structure with the use of computer software.
It represents the structure in a clean, accurate way and is thought of as the "language" between the designer and the client. Generally, it takes place before the process of building begins.
Clients can view a 3D model from any angle they wish. Additional elements such as paintings, carpets, and lights can be added.
How Are They Different?
Ah, the satisfaction of looking at clean, geometric lines, all coming together to form a crisp image.

Credit:ArtTower, Pixabay

Architectural illustration has an almost quaint hand-drawn look. While it portrays the product accurately, it does not give the client the more "complete" impression they would get with 3D visualization.

"Time is money. Hop along."

Nick Wilde was right.

3D visualization is more elaborate – so it takes more time than illustration.

Minor adjustments can be applied to architectural illustration fairly quickly, which is why it is often employed in concept development, in the first stages of a project.
Got artist's cramp?

Architectural illustrations are created by hand, sometimes based on a 3D model, and then colored or textured in software such as Photoshop.

3D visualizations are made with rendering software such as 3Ds Max, IRay, AutoCAD, Sunflow, and so on.

Because 3D visualization offers features such as rotating perspectives and walkthroughs, it requires a lot of skill, time, and energy. It is hence more expensive than its alternative.

Credit: David East, Unsplash

Don't gnash those teeth, now. It is usually easier to make changes in architectural illustration.

Depending on how far into the project you are, making changes in 3D concepts can be challenging or even impossible.

Picture this: You're flipping through brochures and your eye is drawn to a gorgeous beach house with teak wood panels and sleek furniture. You can almost smell the sea foam.

Chances are, it's not a photograph.

You're looking at the wizardry of 3D visualization.

3D architectural rendering services will offer you stunning realism, which means an excellent idea of what your product will actually look like.

Credit: Pixabay,Pexels

While illustrations are eye-catching and attractive, they cannot capture the essence of your product in the same way.
Why You Will Need Them Both
Say you work for a ritzy hotel. They want a new ballroom that can host everything from parties to weddings.
Your artists are ready. They take as many details as possible – elevations, materials, floor plans, fine details, the works.
After formalities are done and the budget decided, the artists create a block-out sketch and send it for approval to the client. Changes may be requested. Post this, a detailed line drawing is created and then rendered with color, texture, shadow and light in Photoshop.
It looks great! Except you have no idea what it will look like in real life.
Here's where 3D architectural rendering services come in.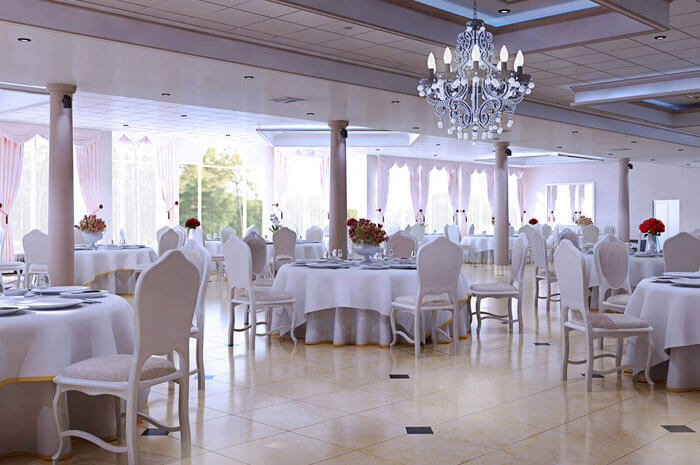 Credit: BluEntCAD
You get a photorealistic, rotatable image that can be used for marketing (think e-stores and brochures) and presentations so you can put your best foot forward.
It's used in a vast array of fields, including but not limited to commercial buildings, MEP engineering, civil engineering, HVAC, mechanical and electrical subtrade, and fire subtrade.
Conclusion
Does your property marketing need a bit of sparkle? Maybe you'd like to blow your client away at your next presentation?
Whatever it is, BluEntCAD can be your trusted partner. We take pride in our clients' successes.
Our expertise does not stop at static exteriors. You can get the full benefits of our interior design rendering and 3D architectural animation services, too.
The best in computer-generated graphics can transform your profits from good to excellent.
Contact us today to get your vibrant, photorealistic 3D visualizations!
Maximum Value. Achieved.
Architectural Visualization & Illustration
Architectural Visualization & Illustration
Architectural visualization, or 3D architectural illustration, is the process of converting a design plan into a 3D structure before construction begins.
Architectural illustrations are produced by feeding CAD drawings and textures into computer software. The result is a virtual 3D image or 3D movie.
An architectural illustration integrates dimensions and building textures to virtually produce a 3D visualization of how the building would appear after construction.
3D architectural visualization is a computer generated image (CGI) that is made with 3D design softwares like 3Ds Max, Maya, Light Wave, Soft Image, etc.
Equipped with advance lighting techniques, 3D Architectural illustration provides the opportunity to preview a design idea.
Advantages of Architectural Visualization
Obtaining Planning Permission from Regulatory Authority
3D architectural visualization is gradually gaining favor from regulatory authorities. Planning officers now urge architects to submit 3D architectural illustrations.
Saving Time and Labor
As 3D construction illustrations are easier to review, they save a large amount of time and labor. Advanced softwares now produce interactive 3D visualizations for easier reviews of building phases.
Design Development Support for Architects
Architects too are increasingly depending on 3D building illustrations for better assistance during the design development stage. They can easily make modifications and integrate changes to the construction illustration.
Interior designers, too, benefit from 3D architectural visualizations. They can preview what building materials, colors, and fabrics will look like when finalizing the choice of resources. Thus, architectural illustrations allow greater freedom for experimentation.
"3D visualization has made property marketing more appealing because realistic renditions allow clients to preview buildings before making a purchase. It also helps clients, builders and developers to obtain planning permission from regulatory authorities."
Appealing Tool for Property Marketing
3D visualization has made property marketing more appealing because realistic renditions allow clients to preview buildings before making a purchase. It also helps clients, builders and developers to obtain planning permission from regulatory authorities. Real estate developers provide building illustrations to show their prospective clients how their buildings will look on completion. 3D illustration also helps in generating attractive marketing brochures, sales pamphlets, posters, display stands, and other presentation materials.
The BluEntCAD Way
BluEntCAD employs the best in computer-generated graphics to create architectural visualizations. Having penetrated into all segments of architecture, 3D architectural visualization is here to stay. The 3D architectural illustration is indispensable for design development and also business development. The architecture will get more refined with the increased use of technology, and BluEntCAD stands at the forefront of using these developments for the AEC industry.
If you have any queries, please contact us!
Enquiry
We are happy to assist you in any way we can.