Have you ever noticed that a little thing such as repositioning your couch, hanging new curtains, or changing the cushion covers brightens up your entire room? That's the power of interior design. You can transform any room into an impeccably styled space without knocking down walls or redoing the kitchen sink – provided you avoid some common interior design mistakes.
What are these?
Sometimes, there's just one theme across all rooms that makes the entire house seem monotonous. Other times, homemakers buy furnishing articles without thinking about how to showcase them.
They thus, end up messing with the overall design of the rooms. Our expert designers here at BluEntCAD walked us through common pitfalls that many DIY designers overlook.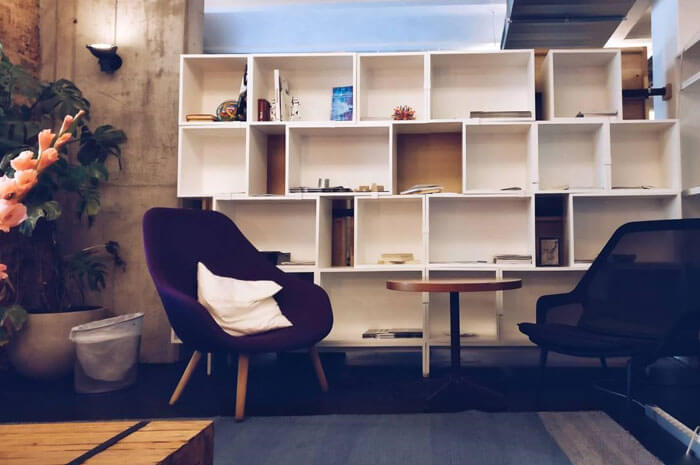 Mistake #1: Overlooking easy storage.
Our homes are our reflections. You store souvenirs, buy furniture, and hang drapes to create a world of your own. But without the right interior design, most of us miss out on storage spaces, bookshelves, and racks we didn't know could exist.
There are plenty of ways to increase storage capacity in an already built room.
Pick out multifunctional furniture to make your life easier and your home bustle with ample storage.

If your bed has space underneath, get drawers built. You can even design a bed underneath your own bed for your pets.

Create window seats that come with built-in spaces to store comforters, books, shawls, or toys.

You can also install floating storage on unused wall spaces – such as your kitchen backsplash, wall above your bathtub, and walls next to your stairs.
Want to give your old room a makeover? Plan it with interior design drawings first. Ask us how!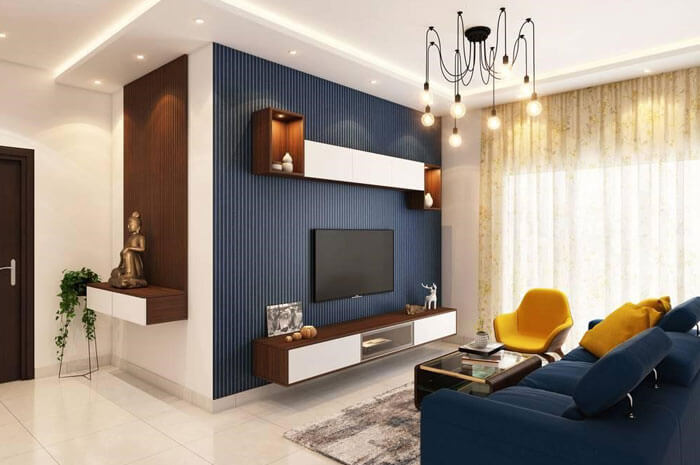 Mistake #2: Not choosing the right color palette.
The easiest way to find out what colors will best suit your house is to start with those that you love. This way, you will not be bound by traditional color palettes. Keep your favorite color as the base and create a new color scheme around it.
Below are some other ideas to help you come up with the right color scheme for your home.
Turn to magazines and catalogs if you feel that your favorite color might not be right for your walls. Retailer sites also offer inspiration with their room vignettes. Some paint companies can also guide you to use your favorite color in your home. We've got a handy guide on a choice of trending colors. Check it out!

A color wheel is another inexpensive, handy tool that you can use for generating color schemes quickly.

Another nifty hack is to pull up a color scheme from a print. Most designers and homemakers pick up their furnishing based on the color of the walls. This isn't set in stone though. Bedding, throw pillows, and even table linens can provide you with an amazing color scheme – especially if you're thinking of creating an accent wall. But make sure to do a swatch test before painting the entire wall.
Did you know that you can pick and choose your favorite color schemes, accents, or textures from BluEntCAD's design drawings? Talk to our experts right away.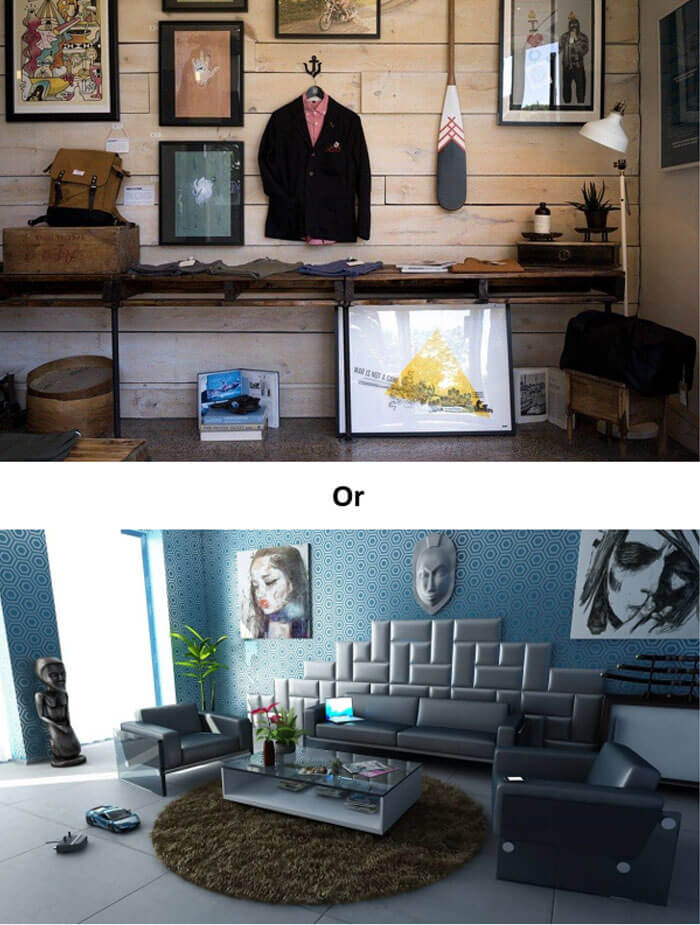 Which do you like better?
Mistake #3: Missing the scale.
Linda Floyd, a California certified designer explains scale and proportion in interior design:
"When you enter into a room, it should be like a cityscape…a combination of different heights. You never want everything in a room to be at the same level or the same size. Accomplish this with different heights/sizes in your furnishings, art placement, and window treatments."
Missing scale is among the most common interior design mistakes. Some decorators put too many small articles in a room, cluttering it and not allowing the eye to land on one place. A few decorators, on the other hand, add too many large, bulky items that stuff a room and make it appear small.
In fact, scale is the hardest interior design element to accomplish. But interior design drawings make this easy. You can adjust the scale of things inside a room by making changes in design drawings of that room – and only then proceed to buy those articles.
Sounds good? Ask our designers to create an interior design drawing for one of your rooms so you can feel the difference!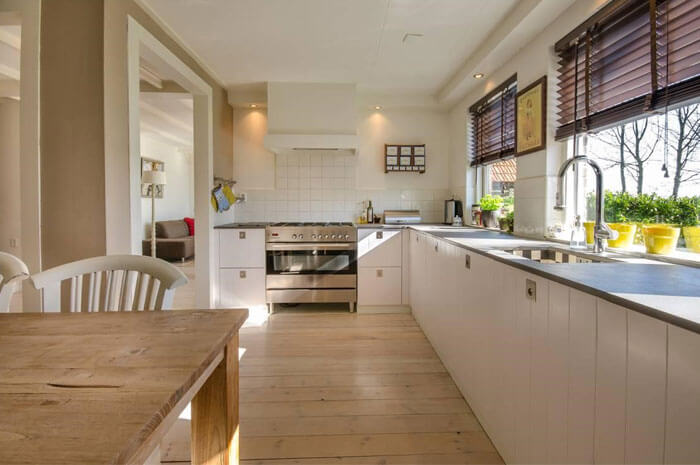 Mistake #4: Not letting the natural light in.
Humans are wired to be outdoors, unfortunately, most people today spend 90% of their days indoors.
So, what happens when so much time is spent indoors? There is lesser fresh air, lower interaction with nature, and reduced exposure to sunlight. Additionally, the lack of properly ventilated and window-less rooms prevents natural light from coming inside.
Natural light is essential for our physical and mental well-being. It boosts vitamin D, wards off seasonal depression, reduces health risks from fluorescent lighting and improves sleep. Plus, natural light really affects our perception of spaces.
Achieve a balance between natural outdoors and indoors with these tips.
Add a combination of floor lighting, windows, and recessed lamps to bring out central parts of your room.

Make sure to add broad corner windows to let natural light in. Hang sheer curtains or simple blinds to enhance the effect.

Consider modifying windows in older houses. Not only does a bigger window offer panoramic views of the outdoors, it also makes inner spaces appear bigger by bringing in natural light.

For rooms such as attics where you cannot add windows, consider adding a skylight to bring natural light inside.
Learn about our 3D Rendering Services.
Adding larger windows might appear costly, but as long as you make only non-structural alterations, it shouldn't bust your budget. Our experts can help you in creating larger windows for your home with interior design drawings.
Mistake #5: Having the same theme throughout your home.
Maybe you love Victorian interiors, but this doesn't mean that your entire home should take people back to the Victorian era. The same applies to other themes like the 60s, Art Deco, or coastal.
Pick out pieces that hold their own individuality. This will add more personality to every room.

Don't be afraid to experiment, although we recommend experimenting over design drawings first. For instance, if your bedroom has a wooden floor, you can choose serene white marble for your bathroom. The kitchen could have tiles, while the living room can be carpeted.

Gather influence from all around the world. There are several styles that you can explore. Some of the popular ones include Minimalist, Contemporary, Industrialist, Scandinavian, French Country, Swedish, Tuscan, or Paris Apartment styles. Getting the details right creates a world of difference.
So, you see, there are so many interior design mistakes that can easily be made. Right planning and expert guidance are essential to prevent buyer's remorse later.
Luckily for you, BluEntCAD's expert interior design drawings can help you design your dream home and bypass costly purchases and expensive reworks. These drawings portray the layout of various rooms inside your house and the relationship of various elements within viz. wall colors, showpieces, furniture, and drapes.
With the right design drawings, you can experience lighting, furnishing, decorations, and fixtures as they would appear in a room. Browse our portfolio or request our services right away!
Maximum Value. Achieved.