Round wooden tables and chairs by Nikola Jovanovic
Great bar design is essential to your bar's success, since it sets the stage for the guest – and worker – experience.
A bar is often the visual fulcrum of any space: it draws the customer's eye and livens up the room. Hence, it is in your best interests to ensure that your bar interior design makes a positive impact.
Whether you are building or renovating a bar for a golf clubhouse, fine dining restaurant, or any other space, here are some top tips to keep in mind.
Introduction to Bar Design
In addition to being the focal point of any eating or drinking area, the bar is often one of the biggest financial outlays. It is crucial to get the design right so your business can remain profitable.
Before you decide to construct or renovate any bar, consult your head of waiting staff or head barperson to ensure that the bar will function well for the staff. Happy, comfortable staff do their jobs more efficiently and lead to happier customers. So give the staff enough space and make sure that the layout behind the bar is optimized.
The average bar requires c. 700 mm for the front bar, 900–1,200 mm for the space between, and c. 600 mm for the back bar. This comes to a total of about 2.2–2.5 m depth that has to be allocated to the bar's interior design.
With that, let's get started on the essentials of good bar design.
Top Bar Design Tips
1.

The Correct Equipment

Having the right bar equipment will improve the efficiency of the staff and help make your space look well put together. In addition to this equipment, you should ensure that your flooring is not slippery, so it is best to opt for a rubber mat flooring.

There are some commonly used pieces of equipment that you need to have.
Sink: The three-compartment sink should be front-and-center. You should also have a hand sink close by.

Glassware: Glassware on your back-bar shelf should not be higher than 6′ or 72″. Shelves higher than 6′ will use functionality, though they can be higher if used for stocking. Furthermore, the glassware should be easily accessible to the bartenders. Also consider investing in an ice-chiller, since customers appreciate frosty pints.

Ice bin: Possibly the most used piece of equipment. Go for an under-bar ice bin placed at the ideal height for scooping. If it's too low it will actually be painful to use repeatedly. The ice bin should also have a soda gun and condiment tray next to it. (Generally, the drink prep station should be across from the register.)

Speed rail: This is filled with basic spirits and also popular ones; you'll need to include at least vodka, gin, rum, triple sec and tequila. You may want to place the rail in front of the three-compartment sink. Ideally, speed rails will be double wells; that is, they should feature two rows able to accommodate about twenty bottles.

Dedicated registers: If you have a lot of orders, your bartenders will have to queue up to use the same register. This is going to result in delays and frustrated customers.

Cleaning supplies: Keep a cleaning supply caddy with brushes, sanitizer and towels.

Garnish station: This should be the same height as the tops of the bottles in the speed rail – about hand level.
2.

Tap Placement
Do not place your large beer tap right in the customers' line of sight. It makes for awkward conversation and also more difficult to service guests. Beer taps should be positioned below eye-level.

If you have to place them on the bar, install them in a way that the handles and brands are visible, but they're not high enough to interfere with conversation or service.

If you have the budget and space, we recommend using back-beer taps.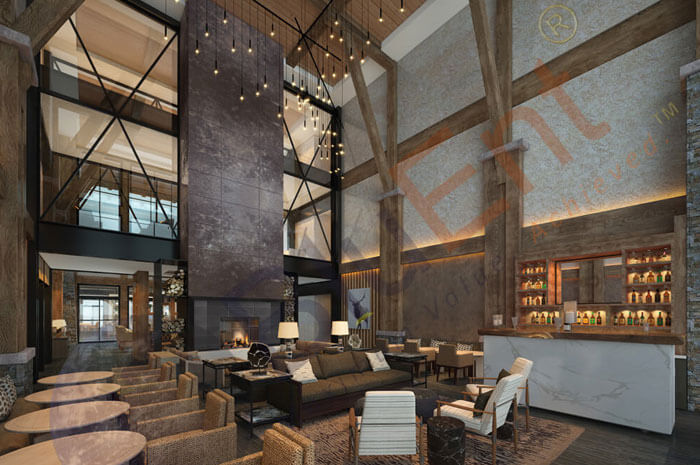 Interior rendering of hotel lobby with bar by BluEntCAD
3.

Glass Management

Efficient bar interior design will have slop sinks and glass racks easily accessible, as well as high-speed commercial dishwashers behind the bar or in the dish room.
4.

Troughs

A trough is a four-to-five inch well where you usually find branded bar mats. It is designed to catch and drain spills properly.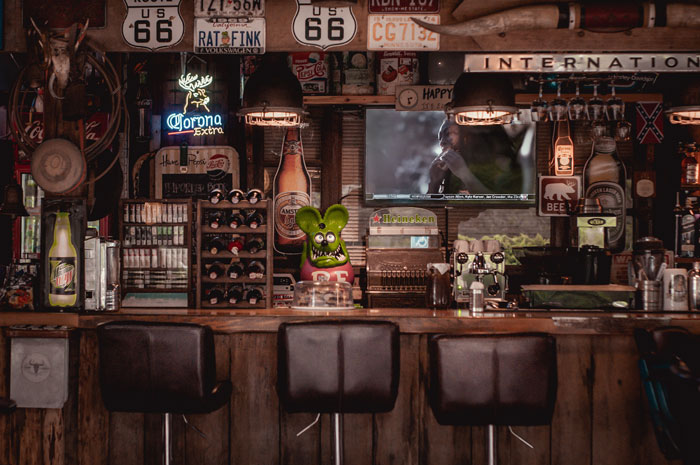 Photograph of a bar by Percival Ian Muico
5.

Creative Bar Tops

Here's the fun bit: Many bar owners get creative with their bar tops. Many are designed of traditional wood, brass and tile, but others are done with copper, stones and stainless steel.

Note that if you use something other than wood, you won't have as much give. Stone tops may look nice, but they break glasses and are easy to crack themselves. Copper and brass require periodical maintenance.
6.

A Bar Layout With Enough Space
There is about 3′ of space behind a commercial bar. The width of this aisle should be between 31″ and 37″. If your bar uses barbacks, you it should be on the wider side of that scale.

Home bars are between 12″ and 20″ wide, while commercial bars are between 20″ and 30″ wide, including the drink rail.

A commercial bar is between 42″ and 45″ high.
If you want to see what your bar layout will look like before it is built, we recommend using product rendering.
7.

Bar Seating

Do you want traditional backless bar stools, or bar-height chairs with backs? The latter are more comfortable, so your customers will likely stay longer and order more drinks. Backless stools will get you faster turnover so you can serve more guests.

Generally speaking, if you want your guests to stay (this applies especially to fine dining areas), make the furniture as comfortable as you can.

For inspiration, here are some of the best furniture companies.
8.

Bar Decor

Your bar design will benefit from some visual intrigue!
Consider creative back bar displays, countertop decorations, and fine bar cabinet design.

Floral arrangements with seasonal touches are a classic option for bar tops.

Candles can create a cozy, intimate mood, but be sure to keep them out of reach of the customers to avoid a fire hazard.

Consider mirrors lining the back of your bar; they can make a space feel bigger.

Shelving can be used to display gorgeous liquor bottles.

The right type of lighting can help create a specific mood.
Conclusion
With the right bar design, you'll attract the customers you want and boost your staff's efficiency. We hope this article has given you some insight into the basics of bar design.
However, designing a bar only to find that the finished space is not what you imagined or contains errors is costly and time-consuming. That's why we recommend using photorealistic 3D rendering services.
Luckily for you, BluEntCAD is just a click away. We serve architectural companies, interior design companies, homebuilders, real estate developers, remodelers and design build contractors. Browse our portfolio to see how we've helped businesses like yours.
Ready to make your project a success with 3D rendering services? Contact us now!