Image by Expect Best
There are many considerations you will need to make when purchasing or constructing a window, whether it is for renovation or a new building. The types of windows best for you will depend on the energy efficiency, operating style, frame materials, glazing options and more.
Use this guide to help make the best choice!
Introduction
Most homes, whether town homes, luxury villas, multi-family, custom made, etc., feature two or more types of windows. However, it is inadvisable to use too many different styles of window in one home, because it can create a messy or disjointed appearance.
If you're replacing a single window, it may be best to stick to the same style. However, if you're building from scratching or replacing all windows at the same time, you get the option of changing things up a bit.
The house style will also influence the window styles, since certain windows tend to be associated with particular home architectural styles. For instance, multi-pane windows are often found in Cape Cod style homes.
As a general rule, one of the best ways to ensure you get the kind of windows you want is through shop drawings. These can be metal shop drawings, millwork shop drawings, or something else, depending on the type of window you choose.
Window manufacturers, as well as curtain manufacturers, railing manufacturers, and millwork companies all use shop drawings to make sure they deliver the highest quality product to their clients.
There is a vast array of types of windows that suit various kinds of properties. We're about to dive into some of the most popular styles so you can make an informed decision.
Top 6 Types of Windows to Choose From
These types of windows can suit not only residential projects, including high-rises and condos, but also commercial buildings, government infrastructure, and more, depending on your purposes.
1.

Bay Windows & Bow Windows
Image by Abenteuer Albanien
If a charming impression is what you want to give to your guests, bay or bow windows are an excellent choice. They can span more than one story, as is evident in many Edwardian and Victorian houses.
One could consider bow windows a subset of bay windows, depending on who you ask. Aside from other, other types of bay windows include canted (angled sides and straight front) and oriel (supported by brackets or corbels).
Both bay windows and bow windows (also called compass windows) include a combination of windows that form a unit. This unit protrudes outward from the building.

Bay windows can create a shelf or "bay" on the inside.

In general, the shape of bay windows is more or less square or blocky, while the shape of bow windows is more or less curved.

Bow windows comprise of four to six windows and lends itself well to the Victorian style.

Traditionally, both bay and bow windows are developed with a fixed center, flanked by casement or double-hung windows.

The great thing about bay and bow windows is that they can be an architecturally interesting visual centerpiece, whether in parlors, living rooms, or family rooms. Often, they will look out onto attractive architectural landscaping, such as a front or back yard.

Inside the rooms, the windows can offer shelf space or a seating area.

Smaller windows can potentially act as greenhouse windows for plants.

Bay and bow windows tend to expensive. This is because installing them requires professional framing work, including roof coverings and headers.

Heat loss can be an issue if the windows lack proper air sealing.
2.

Picture Windows

Picture windows can provide you with stunning outside views. They are also economical, since there are no mechanical elements, costing 150 to 750 USD on average. This, of course, will depend on the size and shape of the windows you want.
Picture windows have a weathertight seal.

Upkeep is simple.

On the flipside, there is no airflow and the outside is hard to clean.

They are not energy-efficient compared to walls. Rooms with picture windows can be prone to overheating or losing too much heat, which can be uncomfortable.
3.

Casement Windows

Casement windows are also called crank windows and swing from a hinge, like a door.
Casement windows are generally airtight, thanks to a strong seal. Hence, they keep out drafts well.

Airflow can be allowed with the swing function.

Generally, individual casement windows cost between 300 and 750 USD for installation.

Do bear in mind the style and design of your home to make sure that your open windows match. Casement windows have a more modern look to them.

They are not ideal for securing window AC units – hence, caution is advised if you rely on this type of cooling.

Relatively secure in the unlikely case of intruders – when the windows are open, the open space is rather narrow.

Can be broken off by strong winds when fully extended.

Cranking mechanisms have a high failure rate and are subject to wear and tear.

Do not qualify as egress windows unless they are very big.
4.

Slider Windows

Slider windows comprise of side-by-side windows that slide horizontally along tracks. Depending on the style, both windows can slide, or one can be fixed while the other slides.
An excellent choice for elongated wall space, and also if you want to frequently open and close windows.

Highly durable due to lack of mechanisms or cranks.

Because slider windows tend to come in large sizes, an installation can cost between 415 and 890 USD on average.

They are popular in mid-century modern style homes.

Often used for basement egress windows.

May lack the sophistication for curb appeal.

Can require frequent cleaning, since tracks can fill with debris and dirt.

Limited options of shapes and styles.
5.

Roof Windows or Skylights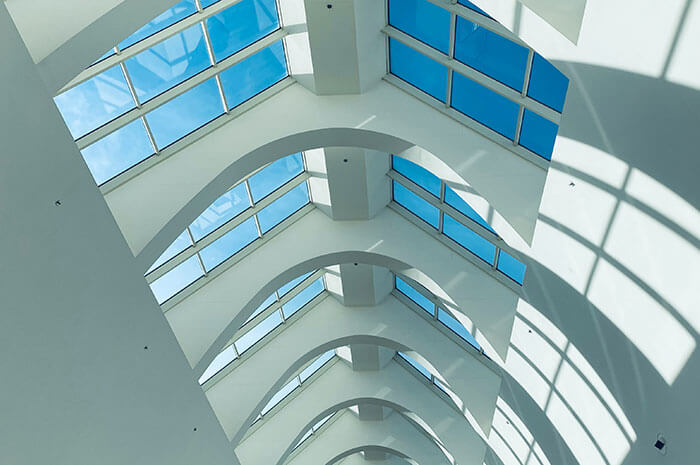 Image by Sargis Chilingaryan
While the terms skylight and roof window are at times used interchangeably, they are traditionally different.
A roof window can be opened and closed for ventilation. A skylight, on the other hand, is a fixed window.
Both roof windows and skylights are useful for adding light into spaces where the space to add windows is limited, such as in attics or other upstairs spaces.

They can be used to provide ventilation and light in open-concept spaces. This can be done through chases or framed shafts.

In summer, venting roof windows can aid in exhausting hot air.

In winter, direct exposure to sunlight can help heat up spaces.

Can get heavily damaged by rain, sun, and extreme weather. Hence, skylights and roof windows tend to have shorter lifespans than other windows.

Installation requires a professional – cutting open a roof is usually not in the skillset of DIYers.
6.

Awning Windows

Live in a wet climate? Awning windows might be ideal for you, since you can open them even during rainfall. The hinges go at the top. Often, awning windows are installed below, above or to the side of a picture window.
Tight seal when closed.

Crank mechanism is simple to operate.

Decent airflow when opened.

Easy to clean.

Usually installed higher up on walls or on the second floor, since they can obstruct walkways when opened.

Installation per window usually falls between 350 and 900 USD, depending on materials and size.

Mechanical parts may require maintenance, as they can wear and break.
Conclusion
We hope this article has given you an idea of the kind of windows you might prefer!
Any secure window installation, especially for a new construction project, requires shop drawing service experts.
BluEntCAD offers metal shop drawing services to window manufacturers, curtain wall manufacturers, railing manufacturers, concrete subcontractors, and excavating subcontractors. Browse our portfolio!
Ready to make your next project a success with an experienced shop drawing company? Contact us now for metal shop drawings!