Exterior rendering by BluEntCAD
This blog has been updated on – March 25, 2022
Your home can say a lot about you, from the color scheme to the cabinetry to the furniture. We influence our spaces, and our spaces influence us. For crafting a space that both reflects you and brings out the best in you, custom home design is something to consider.
A Guide to Custom Home Design: Before You Begin
Custom residential design is not easy; there are many factors that you or your client will have to take into account to balance uniqueness with practicality, from the best furniture companies to ideal types of wood for furniture to space saving ideas.
Before embarking on any project involving home designs, you need to ask yourself: Why? Why would you make the effort to plan kitchen millwork cabinets, bathroom renovation, and more instead of leaving it to an interior designer or having a cookie-cutter space? There's also the question of what style you want. Sleek minimalism? Funky mid-century modern? The currently trendy cottagecore? The choices are virtually endless.
Furthermore, every individual's reason can be different. Some people want to build a house specifically to sell later, while others want to create a safe and happy environment for their children. You will have to bear these reasons in mind as you plan your custom home design.
Your residential design will also depend on whether you are building a place from scratch or simply renovating or redecorating an existing one. If you are constructing a new building, you will have to take into account accurate interior drafting services and perhaps BIM clash detection to eliminate safety hazards and minimize mistakes and costly rework. 
1.

Consider the House Placement

Your custom home design's interior will be affected by the location and orientation of your house. For instance, the amount of natural light in certain areas might influence where you want certain rooms.
Before you do anything, get familiar with local building codes. You may be restricted from building a house in certain locations or in certain ways.

Consider energy use and cost. If you live in a warmer climate, it would be advantageous to place your house in a shady area. Conversely, in a cooler climate, you may want to place it in an area with direct sunlight to reduce heating costs. Tall hedges and trees can help provide a barrier to wind, but also block sunlight.

Hilly or mountainous areas can affect sewage and drainage. If you are in a valley or the bottom of a hill, rainwater runoff needs to be directed away from the foundation of your house. On the other hand, if your house is at the top of a hill, you might have to get a sewage pump. In both circumstances, your costs can increase.

Consider accessibility. If someone uses a wheelchair or has trouble walking, it is best to avoid stairs leading up to the house and add ramps where appropriate. Plus, make sure all the doors are wide enough for a wheelchair to pass through easily.

Long driveways or grading can add to costs.

Ask yourself if you may want additional buildings such as a shed in future. You'll need to plan the space accordingly.
2.

What's Your Lifestyle?

Any custom home design and corresponding interior drafting will depend heavily on your lifestyle.
Where does your family like to congregate? Do you need a separate living room or play area?

How much storage do you require and where? Is it sufficient to have closets in the bedroom, or do you need a shed or separate room for things like equipment, laundry, etc.?

Does anyone work from home? If so, do you need a separate office area, or would it be acceptable to work from a bedroom, living room, etc?

Is it important for certain rooms to be quiet?

Do you want ensuite facilities?
3.

Documentation and Details

If you're working with an architect, they will need a budget and timeframe. You will also require a floor plan. It is possible to create this on your own with software such as Room Sketcher, but for best results, it is recommended that you get them done by professionals like BluEntCAD.
4.

Budget

Factor in the following: 
Local taxes and fees

Land cost

Engineering and design fees

Construction cost

Interior decorating and furnishing cost

Landscaping cost

Contingency budget
According to Forbes, the average cost to build a house in the US is $300,00, excluding the land cost. The range starts from $30,000 and goes up to several million.
For remodels, the average cost is $46,755. Having said that, if you want to remodel a whole home, you can end up spending between $100,000 and $200,000.
Once you've made your decisions (and jotted them down – don't lose them), you can dive into actual custom home design ideas. Let's get started on that guide.
Custom Residential Design Ideas
1.

The Kitchen

Your kitchen doesn't have to be just for cooking. Kitchens are often used for social gatherings, where people gather around to talk and dine with their friends and family. Hence, the kitchen has become the focal point for a lot of homes.

Many architects have started to merge the kitchen space with the dining space – this is called an open floor plan. For clients owning private houses with a garden, many designers link this indoor and outdoor spaces. This becomes a great place for cosy dinners, casual get-togethers, and more. 
2.

Versatile Spaces

As the years go by, many people appreciate the ability of spaces to be used for multiple purposes. This is because needs often change with time, and you might want to use, say, your bedroom as a workspace, or your family room as a children's play room. Versatile rooms help to maximize your use of your space.

Some ways you can do this include:
"Zoning" larger spaces into smaller spaces using carpets, colors, lighting or furniture

Using multifunctional furniture such as sofa-cum-beds, modular sofas, shelves that turn into tables, tables with storage space, and storage ottomans

Using bifold doors at the back of your home to allow for more sunlight and make your space seem bigger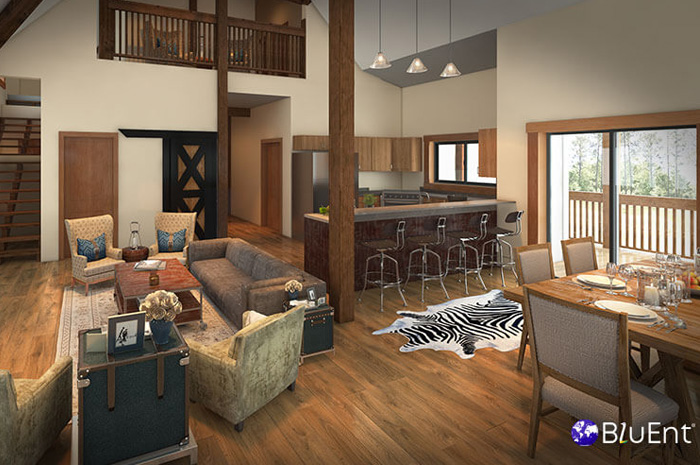 Interior rendering of open floor plan by BluEntCAD
3.

Connecting the Outside With the Inside

This is connected to versatile spaces. We have already talked about combining the kitchen with other spaces, but you can also combine other rooms with outdoor spaces.

Many people today look for a seamless, aesthetically pleasing transition between interior areas and outdoor spaces. These are often connected by sliding doors, bifold doors, etc., whether it is for the bedroom and balcony or the living room and garden.

If you are on a tighter budget, you can blur the lines between the outdoors and indoors by:
Painting your fences and garden walls in the same palette as the interiors

Extending flooring or tiling from your kitchen to your patio

Using elements of interior design in outdoor spaces, like outdoor rugs that complement your interior decor or waterproof pendant lights above outdoor dining spaces
4.

A Retreat from the Mundane Chaos of Daily Life

It's a fast life.

Many people find it difficult to switch off and relax. When they finish a tough day at work (whether at the office or at home), they want a space where they can put up their feet. 

If you have the space and the budget, consider creating an area for undisturbed "me time". It could be a reading room, a music room, a gym, or anything else. It's all about what makes you feel good and peaceful.
5.

Storage Solutions

Everybody likes a clean and organized home – both the inhabitants and the guests! Hence, it's a good idea to invest in proper storage if you have the resources. These could be cabinets, drawers, or actual rooms dedicated to ironing, washing, garbage, etc. 

If you're constructing a custom home, you might want to know what these storage solutions will look like. A good way to go about this is through 3D interior rendering – you'll be able to get an accurate "preview" of your house before it is even built. 
Conclusion
We hope we have given you a good starting point for creating your unique custom home.
If you've got your design ready, you'll need residential design drafting. Luckily for you, BluEntCAD is just a click away. We cater to interior design firms, architectural firms, and retail chains for large to medium projects. Browse our portfolio to see how we've helped businesses like yours.
Write to us about how your client wants their house to fit around their lifestyle. We'll help make it a reality with residential drafting.
Maximum Value. Achieved.