Are you thinking of remodeling your kitchen? Or in the middle of constructing a new one? Then this article is for you. A custom island is the best way to upgrade your kitchen.
Kitchen islands have replaced the traditional dining tables in today's homes. They offer plentiful seating, ample storage and add a classy vibe to your kitchen. Adding an island to your kitchen gives you numerous possibilities – both functionally and aesthetically. You can expand seating, introduce more preparation space and increase storage capacity.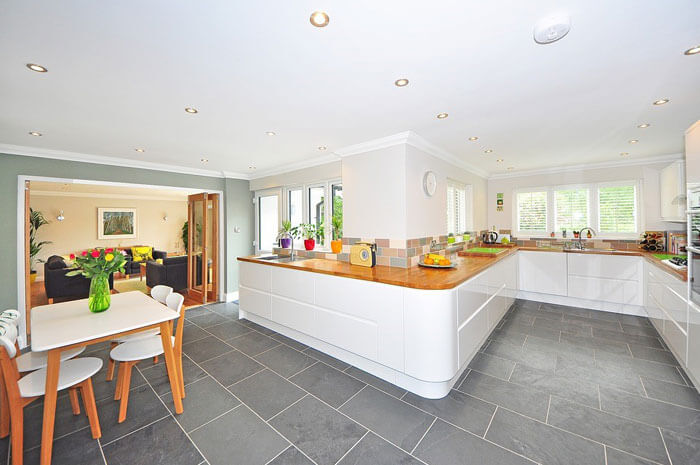 Here's why kitchen islands are hot commodities for buyers today:
A seat for everyone

Kitchens are the liveliest spaces in any household. Families and friends get together to cook, eat, socialize, celebrate happiness and share sorrows here. Kitchen is rightfully the heart of a home – offering sanctuary from the morose, harsh and monotonous outside world.

With built-in islands, you can have plentiful space and ample seating. Your kitchen can double up as a homework and snack area, a place to gossip and play bingo with friends and of course, provide more space to cook, clean and store.

There are several kitchen island designs which you can choose from. Add a bar seating style to eat, complete with bar stools and hanging lights. If you have a large kitchen, you can also go for custom kitchen islands with seating so that there is ample space for both sitting and standing.

Professional interior designers can help you out if you are looking for inspiration. Just share your requirements and home blueprints with BluEntCAD's team and we'll prepare a custom kitchen design for your house.

Pick, lock, pack!

Whoever in the world can say no to more storage? With custom kitchen islands, you can add drawers, cabinets, shelves – anything you want to create spacious storage.

You can also add custom cabinetry so that you have custom kitchen islands that look like furniture to store cutlery, big utensils, cooking supplies and garbage. Whether you want to show off your glass collection or prefer minimalistic, clutter-free kitchens, you can discuss exciting kitchen island designs from BluEntCAD's expert team.

Pro tip: You can create a bookshelf for your cookbooks in one of these cabinets!

Room for more amenities

With kitchen islands, you have more space, so you can buy that additional stove you've been thinking about since the last thanksgiving. Or, how about putting the wine cooler on the island? A preparation sink would also look great next to your new stove.

The point is; there is scope to add more amenities in your cooking space with a kitchen island. You have more space to peel, chop, knead and bake without having to shift unnecessary appliances off the counter first.

Pro tip: Utilize the spare space on the island to create a dining buffet after cooking!

Workstation and Cooking junction – all in one!

If you're anything like me, then your kitchen also becomes your writing den once the breakfast is done and the kids are off to school. I'm a messy worker, so I will have my laptop, my notebooks, my pens and of course my phone next to me while I work. There will always be coffee and some snacks within reach.

And all of this is possible because of my kitchen island which saves with several trips from my bedroom to the kitchen throughout the day. In the morning, my island becomes a cooking station and breakfast joint. In the afternoon, I use it as my writing desk and in the evening, we have dinner together here.

If you too are going to spend a lot of time in your kitchen, get a custom kitchen island for yourself. Some of the common ideas that you can begin designing your island include built-in cabinetry, chopping and cutting boards, pre-installed sinks, baking station, cooking racks and additional power outlets for plugging in chargers, coffee makers and espresso machines. Depending on what you need, the possibilities are endless.

Contact kitchen designers for customized plans for your home.

Focus in style

Kitchen islands naturally pivot the kitchen area. In a space which demands the highest engagement, a kitchen island will be your style statement as well as a multi-tasking all-rounder. Look for waterfall kitchen islands, rolling kitchen islands, tiered kitchen islands or get your own custom design.

In addition to being pragmatic, your kitchen island will accentuate the overall style of your kitchen. Shift the focus from a cabinet on your kitchen wall to an elegant and ergonomic kitchen island. Hang fancy lights, add your favorite books, potted plants or show off your child's art – to your heart's content.

Better ROI

Adding Kitchen Island as a design element in your house will fetch you better resale value too.

According to Remodeling Magazine, you can recoup 60 percent of your investment with a major kitchen project remodel. "Update outmoded 200-square-foot kitchen with functional layout of 30 linear feet of semi-custom wood cabinets, including 3×5-foot island; laminate countertops; and standard double-tub stainless steel sink with standard single-lever faucet. Include energy efficient range, vented range hood, built-in microwave, dishwasher, garbage disposal, and custom lighting. Add new resilient flooring. Finish with painted walls, trim, and ceiling."
How to choose the right kitchen island?
Before you decide to install a kitchen island, it's important to take the following factors into consideration:
What will you do with your kitchen island?

There are five things you can do with a kitchen island – store, prepare, cook, serve and wash up. Depending on what YOU want, you can determine the width and depth of your island, especially if you have limited space available.

Can my island be TOO BIG or TOO SMALL?

Depends.

If you have a larger kitchen, a wide island will nicely complement the overall space. For smaller spaces, goodly islands will make your kitchen stuffy. For kitchens less than 13 feet wide, islands are a big no-no. Your island should be installed far enough away for smooth movement between stove, sink and fridge – otherwise called as The Working Triangle.

Pro tip: Keep at least 42-48 inches of open space around your kitchen island.

You need an island with a minimum of 2 feet in length and 4 feet deep to at least be functional. If you plan to have a breakfast bar, you will need 12-18 inches of overhang and these dimensions are minus space you will require for any trim.

Decide carefully or let a professional do it for you.

How many seats are too many?

Perhaps the biggest appeal behind kitchen islands is being able to add a breakfast bar. However, trying to accommodate too many seats will clutter the space and reduce the overall appeal of your kitchen. We don't want elbowing contests now, do we?

Pro tip: Keep at least 24 inches of space between each seat.

Let there be light!

What good will a fancy kitchen island do when you cannot see properly? Set some budget apart for illuminating the kitchen island well. Pale lighting doesn't go well in kitchen and neither do lights that are too bright.

Pro tip: Go for adjustable lighting that brightens up when you're preparing food and dims when you begin eating.

Odd one out

As much as you'd like your kitchen island to stand out, it should integrate seamlessly into your kitchen. Consult a professional designer for better results. When in doubt, go for a tailor-made kitchen island. Professionals will design a space that includes both seating and storage, with safety precautions in place.
There are so many ideas that you can select for your kitchen island design. There's waterfall design, the breakfast bar is hugely popular, dramatic designs such as curved islands are also appealing as do kitchen peninsulas if your kitchen isn't large enough to fit an island. There are so many sources you can take help from – Pinterest, Instagram, Home Design Magazines and Interior Décor forums.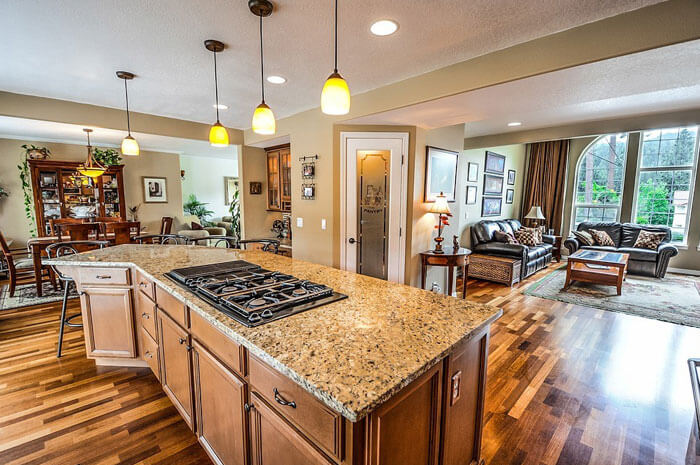 Or you can reach out to our expert team here at BluEntCAD. Let our interior drafting team help you build the perfect island for your kitchen. Based on your lifestyle, requirement and personal style, our team will create custom designs which will uplift your kitchen drastically. Ask for a demo today.
Maximum Value. Achieved.