After looming in uncertainty for the first quarter of 2020, the millwork woodworking industry is finally getting a grip. The novel coronavirus pandemic was the catalyst for this change.
Homes are sanctuaries. But being stuck there permanently has brought on a paradigm shift in our shopping habits. It has also highlighted the need for creating living spaces that are more comfortable and productive.
The COVID-19 pandemic that uprooted the furniture industry
WHO announced a global pandemic in the beginning of March 2020. It has been over 200 days since the first known case of COVID-19 was confirmed in the US on January 20th. Initially, people stockpiled essentials and food. However, as soon as the panic buying ended, online orders started coming through for all sorts of products – including but not limited to toys, sweatpants, scented candles and furniture.
The bubble of 'not everything can be sold online' burst long ago.
Being stuck at home too long motivated people to redecorate their homes, skyrocketing the sale of furniture and woodwork cabinets.
Learn more about Solidworks 3D Modeling Services.
Non-essential goods saw large digital spikes in revenue. The home décor and crafts industry's digital revenue grew by 51%.
Furnishing and home décor platforms have seen a 7% increase in global traffic from January to March 2020. Home décor and furniture product websites generated 1.7 billion visits in March, up from 1.56 billion in January.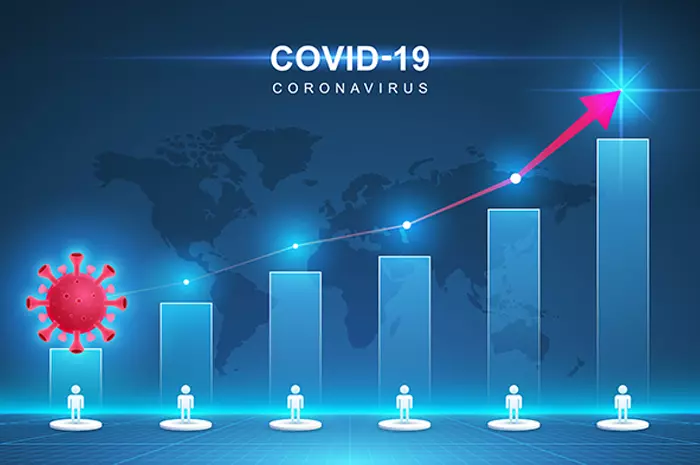 Salesforce's graph representing the 2020 Q1 digital revenue and daily COVID-19 cases globally
Naturally, businesses that were native to the digital marketplace saw their revenues grow manifold. Unfortunately, businesses that were delaying digital transition were caught off-guard. They were unable to deliver a positive online shopping experience to their customers.
Despite economic uncertainty, why people are willing to spend on non-essential goods like furniture is clear. They want to be as comfortable as they can, wherever they are, so as to maintain the balance between their work and personal life. Whether it's décor to upgrade interiors or office furniture to work from home, consumers are spending beyond essential goods.
This surge in digital expenditure comes with a price. Retailers and brands turned to high discounts for driving demand and liquidating inventory. In fact, mid-March saw discount rates in US surge to 34%, even more than Cyber Week. This trend was mirrored globally as March became critical in containing coronavirus infections across the world.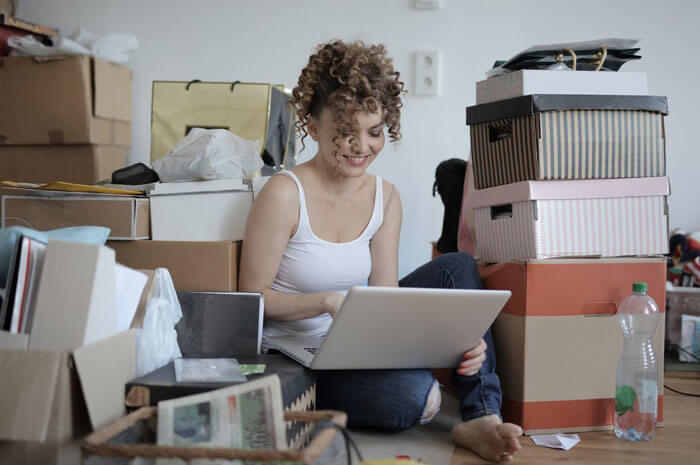 Credit: Andrea Piacquadio, Pexels
The office furniture industry has not been so lucky. Prior to the pandemic, its growth was projected to be consistent across demands from all sectors and industry verticals. Since the onset of world-wide lockdown, revenues of top players have been dipping steeply.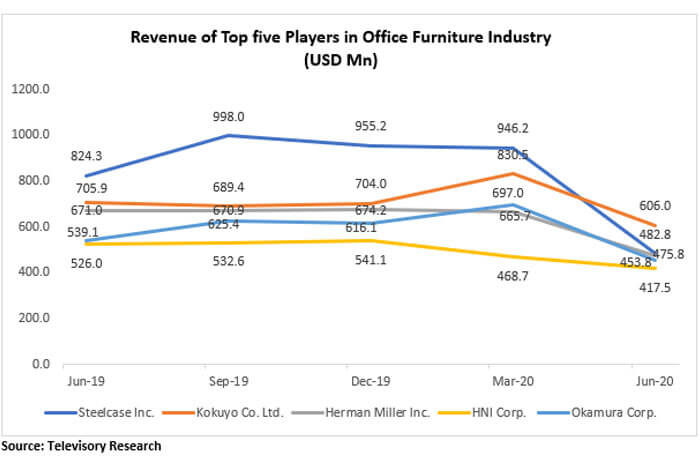 Plunging revenues of USA's top 5 office furniture businesses
Steelcase Inc. and Herman Miller Inc. have targeted global sales through their own agents and dealers for over a century – to businesses that requested a truckload of office desks and chairs. They also commissioned teams of technicians and designers for delivery and installation of these furnishings.
Neither of them was, however, ready for a wave of orders for a single adjustable work desk from professionals suddenly trying to conduct video meetings from their bedrooms. While these companies initially faced postponement of orders or even cancellations, the demand for home office furniture has rapidly picked up.
The NEW NORMAL: What can the custom woodworking and furniture industry expect in a post-COVID world?
Think of this pandemic as a data and security breach. A virus disrupts an entire computer network and endangers the server health.
Instinctively, the first step that security analysts take is deploying measures for a more robust firewall in the future. Similarly, architectural woodworking and furniture businesses must focus on tactics that make them resilient and more than prepared for something like this in the future.
Flexible supply chain.

In the pre-corona era, furniture businesses focused on minimizing costs of supply chains. Several businesses relied on Italy and China for materials or finished products – two countries that suffered severely due to the virus. Many businesses had to shut down as a consequence, since they could not function with a disrupted supply chain, with no alternative to turn to.

The takeaway?

Risk management in supply chains has become essential. The emphasis should now be on flexible supply networks that can absorb disruptions for prolonged periods of time.

This means diversification across geographical regions, rather than dependence on one country or region. An inventory strategy that can act as a buffer lest the supply chain is disrupted should also be in effect.

Stellar product websites.

Even before the pandemic, the battleground for customer attention had shifted to online marketplaces. In fact, a furniture purchase journey, right from requesting woodworking plans and millwork shop drawings to delivery, was the norm for more than 70% customers. All that this pandemic did was stress upon the need for good websites for the remaining 30% of sellers.

In fact, with furniture fairs and tradeshows being cancelled, a smooth B2B digital experience has become a table stake for bigger brands too.

The takeaway?

Investing in exceptional online presence is no longer optional. Think detail shots, product renders, videos, 360-degree architectural walkthroughs, and room scenes – anything that will entice buyers to purchase from your website or your physical store.

Omnichannel is victory.

Gone are the times when you could woo customers with personalized in-store service, even if they had a bad experience online. Post-COVID customers won't think in terms of channels. They'd expect the same expertise everywhere – whether it's your physical store, website, or social media.

The takeaway?

Retail isn't dead. But the future must be a balanced blend of physical and digital worlds. One that combines the convenience of online shopping with the haptic product experience of stores. A frictionless eCommerce experience is going to be a necessity, moving forward.

Streamlined last-mile deliveries and returns.

In the Amazon era, where customers are used to instant gratification, improving the last-mile delivery is critical if you want to outpace competition. More importantly, returns are as vital as orders.

The return rate for eCommerce is three to four times higher than that for physical stores. Nevertheless, having the right process in place can significantly decrease returns.

One way to achieve this is through architectural visualization – photorealistic images and videos that help customers envision what they are planning to buy.

The takeaway?

The returns policies should be flexible with improved last-mile delivery. To bring down customer anxiety, the return window can also be prolonged. This will encourage them to place an order online with peace of mind.

Customer experience is the crux.

COVID-19 or no COVID-19, customer experiences and reviews can make or break businesses anytime, anywhere. No amount of visualization, automation, or chatbots can soothe an unhappy customer than a polite executive on the other end.

…and this is the core of every successful custom woodworking and furniture e-business.

The takeaway?

Businesses must realize the importance of positive customer experiences. Those willing to go the extra mile to meet and exceed consumer expectations will turn their customers to brand ambassadors. Businesses that always kept their operations customer-centric emerged as leaders in handling the coronavirus crisis.
Furniture industry trends for 2020 and beyond
Furniture businesses have traditionally existed in physical stores where buyers could visit and explore. Shoppers will buy in these stores, but digital sales will rise rapidly.

In 2020, free shipping is no longer a 'let's sweeten the deal' perk. A whopping 43% buyers expect free shipping on every purchase that they make. Wayfair and Allmodern are already leading the trend – expect this to become the norm pretty soon.

Millennials have reshaped furniture-buying process. No more waiting for weeks on end for getting that expensive sofa upholstered, assembled, and delivered. Young shoppers want instant gratification and favor cash-and-carry models, even if they have limited choices. Pre-assembled pieces will therefore be on the rise.

"Let me check in the back." How many times have you heard this on the store floor? No more. The sales staff are getting tech-savvy with each passing day. You can often find them holding tablets to pull up relevant product information and visuals.

Both Facebook and Instagram have become eCommerce platforms with their personalized services, streamlined purchase processes, and the ability to buy right from the feed. This trend is only expected to grow further – with more and more influencers being engaged for user-generated content.

Augmented reality is already creating ripples across the construction industry. The natural progression would be for AR to trickle down as a common marketing tool in the furniture industry. Your customers will be able to visualize how a product will look inside their room before they decide to visit the store. And with the COVID pandemic still looming over our heads, expect AR to go full-frontal.
The furniture market is being forced to evolve quickly in these exceptional times. Businesses that were early adapters of architectural woodwork standards within technology, or are willing to adapt immediately, are the ones that can expect a smooth transition.
The best way to begin your digital journey is to start with millwork shop drawings and woodworking plans. Get them designed from the experts at BluEntCAD and then request product renders to show off on your website – and let the leads pour through.
Maximum Value. Achieved.