Constructing a commercial complex is different to constructing a residential project. While energy production and consumption are not big deals when designing houses, they're key components in commercial projects
Architects and builders emphasize having a façade in 3D exterior rendering for this reason.
What is a façade?
A façade is the face of a building. It is the outer wall, and usually involves elements like windows and doors. This exterior protects the interior, keeps the temperature contained during summer and winter, and provides a barrier against natural elements.
Façades can be as minimalistic or as ornate as one wishes. The design usually depends on the commercial rendering of the building. Architects use façades to display rhythm, balance, and proportion while maintaining the performance and aesthetics of the design.
A façade should be able to provide vertical and lateral assistance to wind and other conditions. It must also possess acoustic, thermal, and fire-retardant properties.
When designing a façade, architects consider many elements. For example, how will the entrance appear? What kind of building materials should be used? How does one work around fenestration – the placement and proportion of windows?
Designing a façade depends on several factors, such as:
Type of commercial complex and its scale;

Local planning requirements;

Building ventilation;

Degree of sunlight entry;

Window to wall ratio;

Height of the building (number of stories), etc.
Façade designs
Throughout history, architectural styles have changed – so have the façades.
In the twelfth century, Gothic architecture was prominent, and featured massive, imposing façades. The western façade of the Notre Dame cathedral in Paris is an example of this style – featuring two tall towers and multiple window levels.
In the nineteenth century, the Greek revival style rose to prominence in the United States. The façades designed during this time emphasized proportion, order, and symmetry – resulting in both sides of the façade being balanced and equal.
Present-day architects use several façade systems and materials, each with their own merits and demerits. We decided to break down some of the most common façades used in commercial 3D Rendering projects.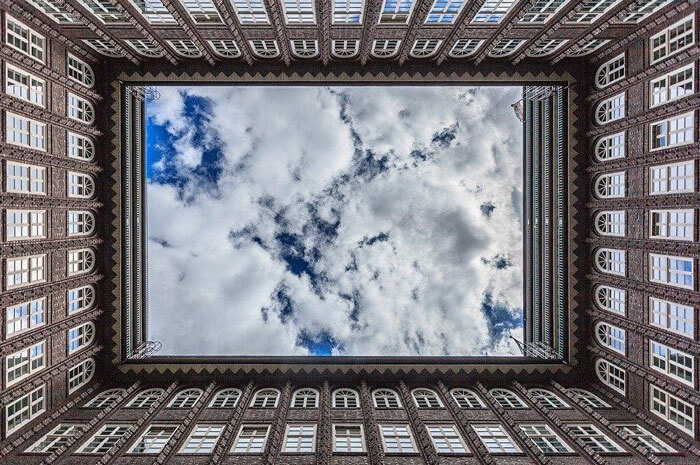 Maximum Value. Achieved.