Bedroom with black and white linen by Carlos Montelara
The furniture business has been evolving in an extensive way with the use of 3D rendering. Success in this industry is all about staying up to date with unique designs, manufacturing processes, and presentation of products to your customers.
Furniture rendering is one of the most dominant trends and is becoming a great way of presenting furniture online. We will discuss how such product modeling can be a practical and impactful solution for your business.
Furniture Rendering: What We Know
3D furniture rendering consists of software-created images and pictures of products installed in a virtual room or white background.
It allows your clients to get a holistic view of the furniture piece and understand the functions without the manufacturers or wholesalers spending hours on producing and explaining samples.
Furniture has many varieties and functionalities. 3D rendering aids in understanding which one works best for your customers.
The big players in the furniture industry like IKEA and Amazon have already hopped on a few amazing e-commerce trends. They have been allocating a substantial budget to social media promotions and have incorporated furniture rendering for their applications and websites.

The organizations save resources and time by using product rendering.

These renders are also aesthetically pleasing.

Several companies have been able to convert website or app visitors into potential customers.
The potential and capabilities of furniture rendering have a massive impact on both the design and sales of these products. It is a growing trend that is only going to gain more importance and momentum in the years ahead.
If you are still wondering how furniture rendering will impact your business, then look no further. We will explore what makes 3D furniture rendering such a fast-growing, popular trend.
Why 3D Furniture Rendering Should Be Your Next Big Step
Every business's success is dependent on how delighted consumers are with the products and shopping experience.
Before we illustrate the specific benefits of furniture rendering, let's understand your consumers some more.
The pandemic has made it increasingly difficult for people to visit the physical store to check out the products. Most consumers have been shopping online and the furniture e-commerce industry has seen substantial growth in the U.S.

Consumers are unable to touch the products in person and the pictures on the product catalogue do not offer a great shopping experience.
What are consumers looking for when shopping for furniture online? An immersive experience.
3D technology plays a crucial role today in enhancing the experience of an online shopper making it a game-changer for customers and manufacturers.

3D visualization delivers a more interactive interface, that can allow your potential clients to enjoy shopping for furniture online.
Let's further explore the 3 powerful benefits of furniture rendering and why both small and large companies are aggressively adopting it.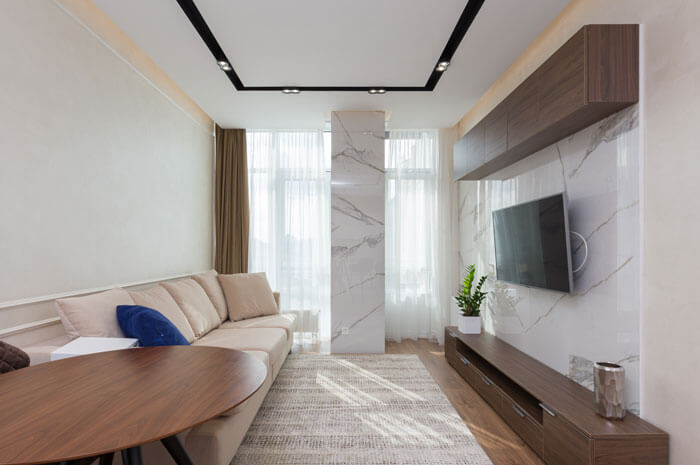 Modern living room with cosy couch and wooden furniture by Max Vakhtbovych
Top 3 Benefits of Furniture Rendering
1.

Photorealistic Rendering: More Interactive and Purposeful

Traditional methods such as hiring a photographer, and using printed or digital catalogues, have lost the capacity to attract consumers.

Today, clients look for more in-depth specifications of the products before purchasing them. The manufacturers and retailers use 3D rendering to create product visuals that are more interactive, attractive and powerful.
The clients can see the products from different angles and understand every functionality. They can zoom in on these 3D rendered products and examine every minute detail from the fabric to the folds.

The manufacturers can easily make iterations to the product including size, colour and other specifications as per customer requirements.

This allows the clients to play around with the product and finalise it before the production process begins.

3D artists incorporate 360 views, bird's eye views, augmented reality (AR) and virtual reality (VR) into their renders giving them a stronger competitive edge.

These 3D renders can be repurposed for multiple marketing campaigns. It can be used on different backgrounds for various occasions.

The team can create attractive advertisements for occasions like New Year or Thanksgiving. They can use the existing 3D furniture renders on occasion-specific related backgrounds, without wasting both time and money on it.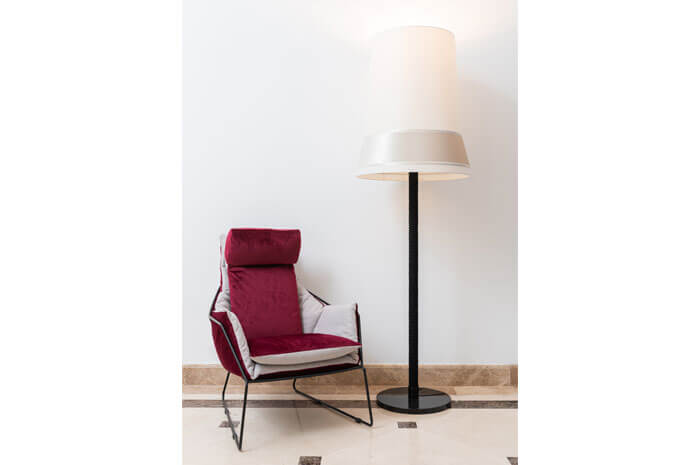 More Interactive and Purposeful: Comfortable armchair and lamp near white wall by Max Vakhtbovych
2.

Delivers a Smoother Design and Manufacturing Process

An in-depth understanding of the product through 3D renders makes it an indispensable alternative for designers and manufacturers.
Seeing what the furniture looks like before designing it ensures the process of designing and manufacturing is quick and easy.

Furniture rendering aids in developing a product with accurate dimensions making the production process and quality control effortless and precise.

Being able to see the product on the computer screen and in a simulated room gives a clearer understanding of how it will look in actual use.
3.

Saves Time and Money

The manufacturing and design process of a product wasn't always without faults or issues. The sketches and vintage blueprints were at times inaccurate and would only be noticed after the physical prototype was designed or produced.

This meant several iterations on the drawing board and developing new prototypes every time.
3D product rendering allows designers and artists to include edits and changes to the design prior to the development of a prototype.

This saves both time and money by ensuring that inaccuracies or changes in features are resolved on the computer screen before going ahead with the manufacturing process.

Furniture businesses building countless products for the masses get critical feedback through furniture renders. This enables them to gather enough feedback and work on the changes before mass-producing the products.

Whether you are aiming to make different furniture styles or changes to a new product idea or create the product and digital catalogues for marketing, furniture rendering can help you save a lot of time and money.
Furniture rendering can assist you in creating high-quality, eye-catching customized 3D furniture renders taking your eCommerce business growth a notch higher. It can assist you in both selling and marketing your furniture items.
Conclusion
Setting yourself apart in the furniture business can be a daunting task. Several companies are working on developing fresh and innovative furniture ideas and products to grab customers' attention.
This means the brick and mortar competition is quite aggressive and developing an identity for your company is significant. With 3D product visualization, you can demonstrate stunning images of your product line helping you stand out by catering to your customer's demands.
If you are still on the fence about using 3D product rendering services for your business, talk to our experts to know more about it.
Organizations even outsource their 3D rendering and visualization services in order to focus more on innovating unique furniture styles and smoother production processes.
Browse our portfolio to see how we've supported other furniture businesses around the globe. Our team has the capacity to offer a realistic feel to your ideas and products through 3D furniture rendering services.
Our experts use dynamic 3D rendering tools to develop high-quality furniture renders with unparalleled accuracy.
Ready to market your business and create high-quality furniture renders with our top-notch 3D rendering and VR services? Contact us now!
Maximum Value. Achieved.