Hotel lobby design is an advantage that traditional hotels have over institutions like Airbnb. This lies largely in the guests' unique experience.
To help you get ahead of the curve, here's what you kneed to know about custom millwork for hotel lobbies.
Introduction
Guests are spending less time in their hotel rooms and more time in communal spaces.
This has led to communal spaces being expanded to include additional amenities for comfort and revenue opportunities. They can include cafes and even shops, which architectural millwork would be ideal for.
One way to do this is to turn your average lobby into a chic hub for guests to mingle and work in.
What is the difference between a lobby and a foyer?
A lobby is a reception area or entryway. "Foyer" is a broader term that encompasses lobbies, waiting rooms, or corridors.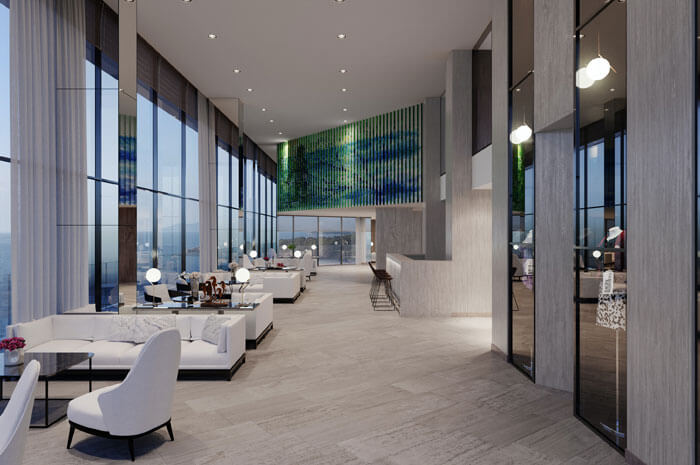 Credit: Quark Studio, Pexels
What is a lobby's function?
For the majority of their existence, hotel lobbies were just the first step to checking in and the last step to checking out.
But in recent years, there has been a movement towards incorporating interior design trends that embrace a wider functionality.
Now lobbies can serve as stylish lounges where creatives and business professionals can meet and work, preferably with a fresh cup of coffee and some biscotti.
Virtuoso, the international network of luxury travel agencies, had a few examples to share from their Best of the Best directory:
"The Palace Hotel in San Francisco offers a stunning historic court, with people on laptops gathering in a bar equipped with Wi-Fi and outlets," they remarked in a press release. "The new Four Seasons in downtown Manhattan offers lobby-specific amenities, such as laptops and interpreters for business meetings."
What millwork providers need to know: Expect requests for more seating areas and bars, and for fewer reception desks.
Furthermore, start thinking about ways to design millwork detailing that lend themselves to being worked in and lived in.
How can groups congregate around a table? Is it the right height for typing away at a laptop for hours on end? Does your hotel lobby design encourage collaboration and teamwork?
More than ever, there will be a demand for hotel lobby furniture that emphasizes socializing and working, rather than just an organized flow from one space to the next.
Examples of custom hotel furniture include custom tabletops, custom booth seating, architectural woodwork, and more. These can be created with the help of millwork detail drawings.
To see what a large-scale hotel design and development project might look like, read this case study on the Hilton Hotel and K&G Architects.
Keep in mind:
Each hotel's lobby design will have to cater to the guests' requirements.
Are you looking to attract businesspeople who want printing facilities, high-speed Internet and coffee strong enough to knock a horse flat? Or do you want couples lounging around and basking in each other's company with mimosas?
Make sure you specify these details to the custom millwork services you hire so you stay on track.
Recommended Reading:
Lobbies aren't just a place to stay – they're something to experience.
"We're seeing that traditional check-in desk really go out, especially in the boutique market," stated Stephanie Tyler, president of International Design Concepts, in an interview with Hotel News Now.
"We've gone from stand-up counters to sit-down, comfortable concierge desks to now we're really seeing a sort of sofa side kind of check-in with things being done on iPads…It's a little more welcoming, where you might sit down, be offered a cocktail…And check in that way."
Here, Ms. Tyler not only confirms the idea of creative spaces, but also introduces a new point of interest: The boutique market.
Boutique hotels are small, 40–50 room hotels that specialize in providing a unique and luxurious experience for their guests.
This hospitality trend has been a hit with millennial travellers looking for personalized travel memories that photograph well for social media.
For example, Autograph Collection Hotels is a chain of boutiques operating under the Marriott where guests are treated to stunning architecture and interior design bursting with local aesthetics and extravagance.
What millwork providers need to know: Just as Stephanie Tyler pointed out, millwork shop drawing services need to adapt to modern, informal reception.
This means finding ways of incorporating concierge activities and functionalities into social spaces in a way that's inviting, but also intuitive for guests checking in for the first time.
Prepare for crafting custom casework and woodwork installations that capture the distinctive experience your clients are looking for.
The element of comfort
Whether guests are after the indulgence of the Autograph Collection Hotels or a cozy inn, there's a trend towards hotels that are warm and inviting.
Hotel furniture design is also mimicking that of residential design. Taking inspiration from extended-stay hotels, hospitality interior designers are adding residential amenities such as kitchenettes and comfortable living areas.
Of course, this notion should extend far beyond the hotel room and permeate a guest's entire experience from check in to check out.
This means that lobbies shouldn't just be a place for business meetings, but for casual lounging and intimate conversations.
People should be able to plug in their devices, enjoy a drink or two, and just take in the atmosphere of comfort and ease.
What millwork providers need to know: Architectural millwork for hospitality has a new goal: combining functionality and comfort. Both are equally important. They can partially be addressed with furniture design.
The lobby should reflect this through social zones and secluded zones that are instantly recognizable and, of course, supremely comfortable.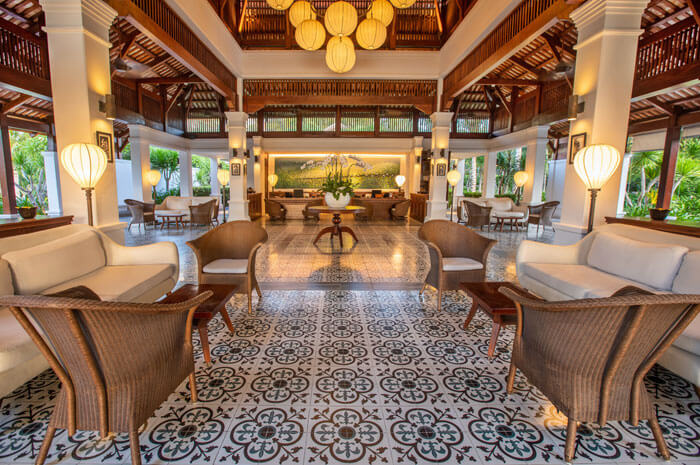 Credit: The Anam, Unsplash
Top tip:
According to a study by Oliver Health Design, Guests are willing to pay up to 23% more for rooms that offer biophilic elements, such as a view of the ocean.
Biophilia is thought to improve wellbeing and overall experiences, and it's worth incorporating it into your interior design drafting for your lobby.
Some good examples of hotels that have successfully used biophilia would be the Westin Buffalo, the Hudson in New York, and the Dentin's Embassy Suites Hotel. The lobby contains a lush green canopy, adding an air of tranquility amid the urban bustle.
Conclusion
You've been equipped with a basic introduction to hotel lobby design. Congratulations! We wish you the best of luck in your endeavour.
And if you need custom millwork near you, you need not look further. BluEntCAD's millwork drafters are up to date on the latest hospitality trends and have worked on a wide array of projects.
Our CAD Studio enables our clients to be certain about every detail before the manufacturing process begins, leading to smoother installations.
We work with woodworking companies, casework companies, interior designers and furniture manufacturers to bring leading technological innovation to modern hotel design.
Ready for a great hotel lobby design? Contact us now!