3D floor plan by BluEntCAD
This blog has been updated on – May 06, 2022
No one said selling real estate was easy, but it can be made easier with interactive floor plans. They are a great tool to pitch ideas, wow clients, and attract investors.
In a recent publication by the National Association of Realtors, about 51% of buyers found new homes online – not going digital at this point would just be losing out on a great opportunity.
Here's what to know before you get started. 
Introduction: What are Interactive Floor Plans?
Interactive floor plans offer real-time views using 3D graphics, allowing clients to more easily customize new buildings. As the term suggests, you can make changes to the floor plans according to your personal preferences.
With an interactive floor plan, you can extend rooms, add or remove extensions, experiment with the best furniture, and indulge in a variety of other options. You can even plan around the screen or move the map, seeing more of the finer details or bigger picture as per your manipulations. This isn't limited to homes – you can use this software for industrial warehouses, commercial buildings, and more.
If you're dealing with a site map, you can bring up a floor plan by tapping on the associated room. For example, if you tap the boiler room on a site map of a manufacturing plant, you can see the floor plan for that room. (Note the difference between a site map and a floor plan: It is generally a matter of scale. Floor plans cover smaller, more specific areas, while site maps cover larger ones.)
It's great for new construction projects, since it's less likely the client will want renovations later – it's all about choosing between a custom home and a ready-made home. Ultimately, picking what they like right at the start will save both time and costs in the long run.
Some features you might find in interactive floor plan software include:
Interactive maps (of events, zoos, fairs, etc.)

Camera pins

PHP source code customization

Smart image gallery

Information boxes with details

Multiple users

Elevation exterior options

Flip plans

Customizable drag and drop icons
Visualizing Spaces: Your Options
Interactive floor plans give you a number of options to modify floor plans to suit your client's liking. Virtually anything is possible with this kind of 3D rendering, including making a room smaller, incorporating a play area, adding more space to a master bedroom, and much more.
It all depends on what the space is meant for and how it will be used. Let's take the example of a home. How does the family live? Do they spend more time in the kitchen or the family room? If it's the kitchen, do they want a custom kitchen island, millwork cabinets, or specific light fixtures? 
Then there's the question of style and decor. When you visualize a space, it doesn't have to be devoid of personality. With 3D visualization, you can play around with minimalism, cottagecore, mid-century modern, or anything else your client desires. This will not only help you sell the project, but help your client determine what they really want.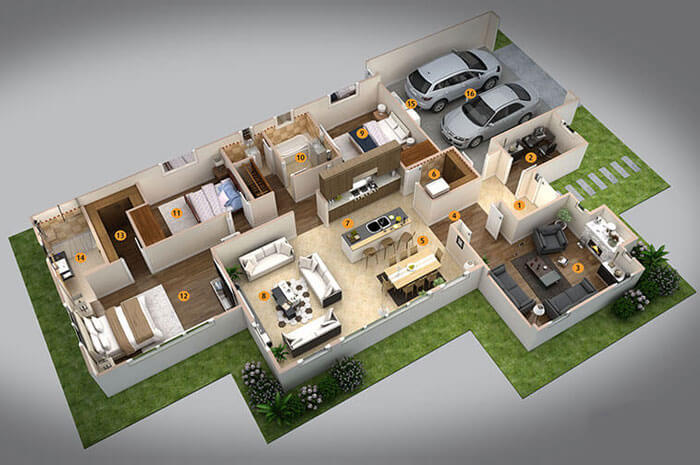 3D floor plan of home by BluEntCAD
Benefits of Interactive Floor Plans and Visualizer Features
Plan interiors: Your client won't have to wait to step into their new space to determine the interiors they want. 

Preorder furniture: By preordering your furniture, you can have it all ready by the time you move into your new home. Avoid delays and the usual time lags associated with getting a new space set up.

Work on interior decoration: You can plan color schemes and room themes. The visualizer features will enable you to envision how your ideas will look once they are incorporated. 

Work within the budget: Your client can plan their space according to their budget, instead of going over or unnecessarily under.

Get rid of the stress: Choosing options for a space can be stressful. Interactive floor plans help to ease  this stress. If there is anything your client dislikes in the space, it can be changed.
Things to Bear in Mind Before Going for 3D Floor Plans
Before you hire a company that offers developing interactive floor plans, make sure of the following:
If you upload floor plans to your website, the load time can slow down. This may deter some customers, so make sure the company you hire is tech-savvy enough to avoid compromising your website performance.

Interactive tools may require technical expertise to implement and maintain, so make sure your partner has the requisite experience and qualifications and will stick around to help after the project is done.

Pay attention to SEO – it can be negatively affected due to keywords not being embedded correctly.

Interactive content might not work on all devices or browsers unless they are configured correctly. Hence, it is critical to implement a sound testing and QA plan.

Many interactive floor plans come with a lot of fancy but largely unnecessary tools and overlook the most useful features: a simple, clean UX, and printable e-brochures.
Conclusion
Interactive floor plans empower your clients and help you sell and market your properties. However, they can be time-consuming to develop and may require technical expertise for the more complex features.
That's why so many businesses approach BluEntCAD, a 3D modeling company that has worked for most of the US' biggest homebuilders. We serve homebuilders, real estate developers, architectural and engineering companies, interior designers, home renovators, design build contractors and remodelers. Browse our portfolio to see how we've helped businesses like yours.
Ready to boost your business with 3D interactive floor plans? Contact us now!
Maximum Value. Achieved.