Millwork shop drawing by BluEntCAD
Hospitality, institutional, and government infrastructure are among the largest consumers of millwork drafting.
Irrespective of the complexity or magnitude of a project, the success of the manufacturing heavily depends on millwork engineering and the detailed information provided by millwork drafters.
When a company, institute, or organization wants to embark on a project for cabinetry, woodwork or casework, having millwork detail drawings puts them at an advantage.
Introduction
Custom architectural millwork is part of everything from hotel lobby design to dining interiors to commercial kitchens. Millwork itself has a long history and is a big part of what makes spaces luxurious, warm, elegant, or convenient.
As with any field, millwork drafting and manufacturing faces its own problems. The custom furniture industry, for example, is tackling unique challenges due to the COVID-19 pandemic. For this reason, it's important to know how to hire the correct millwork drafters.
With that, let's get started.
1. Hospitality Millwork Drafting
Meeting global standards in hospitality requires quite the competitive edge. Millwork projects, especially more elaborate ones, can help provide this to hoteliers and restaurateurs.
The right commercial millwork will be both aesthetically pleasing and functional, and crafted with the help of custom and modular millwork drafting.
Some millwork options for hospitality include:
Furniture for waiting areas

Dipping cabinets

Casework for high-pressure thermofuse

Wall paneling

Banquettes

Barn and sliding doors

Topping stations

Exotic hardwoods

Decorative wood furniture (including metal, glass, acrylic and more)

Booth seating

Plastic laminate countertops
If you want to know how good these products can look, check out these 5 millwork projects by F&R General Interiors.
Significant factors when designing for hospitality include unique architectural design, types of furniture, color of the furniture and the building, and manufacturing finish.
Everything should complement one another to create a fantastic unified view and deliver the best customer experience possible.
The millwork drafting, cabinetry, and woodwork needed in the hotels and restaurants is distinct from those required in institutions and other establishments.
For example, the coffee table would differ from a bakery table. Also, there are differences between the design of a POS counter and hand-off counters. These should not be interchanged.
2. Institutional Millwork Drafting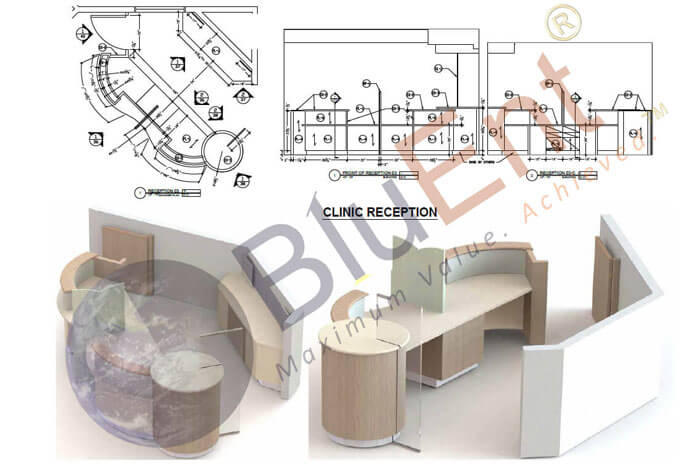 Clinic reception area shop drawings by BluEntCAD
Institutes include places like hospitals, university complexes, public libraries, and offices. Millwork in this regard can, for example, include laboratory casework and countertops.
The custom millwork drawings must be developed based on the institution's architectural plans and unique needs. This is why the contractors and the millwork CAD specialists must survey the institution to make an informed decision.
Millwork engineers must provide modular millwork and casework characterized by a high level of flexibility, functionality, low-cost maintenance, and portability (in case the institution relocates).
The available floor area should also be considered to develop assembly and installation drawings for hassle-free installation.
Institutional millwork can include: 
Display counters

Mural walls

Ribbon walls

Case tables

Display cases

Fireplace mantels

Elevation cases

Copy center areas

AV tables
3. Government Millwork Drafting
Government infrastructure will experience massive traffic and use. Hence, they require durable, high-quality, and aesthetically pleasing millwork. Think city halls, town halls, political establishments, courthouses, museums, police stations, fire stations, and post offices.
Government infrastructure projects are always subject to extreme scrutiny to ensure compliance with standards for public use. Most government buildings require an attention to detail that many contractors have a hard time managing.
Of course, any millwork, whether for a commercial kitchen or town hall, requires maintenance, and it is important to know how to do that properly.
Conclusion
We hope this article has given you an insight into how various organizations and businesses use custom architectural millwork.
A way to help ensure the correct manufacture and assembly of millwork is through millwork shop drawings. These provide necessary details for high-quality millwork.
BluEntCAD offers custom millwork services to suit your hospitality, institutional or government project needs.
We serve casework companies, woodworking companies, custom furniture manufacturers, signage manufacturers, interior design companies, decks/fencing manufacturers, and prefabricated home designers. Take a look at our past projects to gain a better understanding of how we can help you.
Ready to make your project a success with millwork shop drawing services? Contact us now!
Maximum Value. Achieved.