The AEC industry faces a lot of backlash when it comes to sustainability and green building standards. Whether its office millwork or pharmacy casework, modern architects focus a lot on designing optimum building enclosures for sustainability and efficiency.
Industry leaders like SierraPine and Collins have already begun manufacturing sustainable modular millwork such as harvested hardwoods, medium-density fiberboard and particleboard. These are manufactured without urea formaldehyde, notoriously known as the largest source of carcinogenic gas emitter. At BluEntCAD, when offering millwork drafting services, we always advise our clients to go for eco-friendly materials and discuss 'green attributes' with them for their buildings and millwork CAD drafting.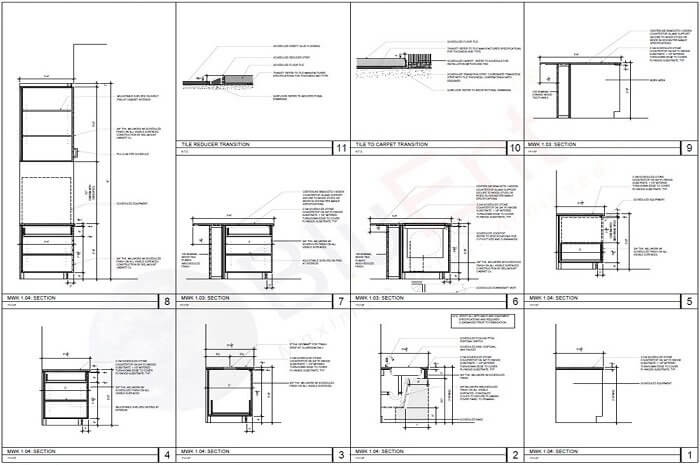 So what are the 'green attributes' of modular millwork?
Before you decide to go for sustainable millwork CAD drafting, it is essential to know the various attributes which will make your office modular casework and residential millwork green. We'd like to especially emphasize on what important sustainable millwork practices we follow to give our esteemed clients the best-possible eco-friendly casework.
Let's look at these:
Sustainable Manufacturing

We often suggest clients to partner with manufacturers and suppliers who share our holistic commitment towards environment. As such modular millwork promotes economical, practical and environmentally sustainable fabrication and with green practices, we aim to provide a healthier, more durable, flexible and efficient interiors for both residential and commercial properties.

If you want to partner with green suppliers and manufacturers,

drop us a line

or give us a call.

Recyclable Components

A crucial green attribute of sustainable millwork is its recyclability. Maximum recyclable content conserves environmental resources.

Certifications for Environmental Friendly Millwork

There are several certifications available for finding out if your modular casework components are green and sustainable. Look for Environmental certifications and stickers on your products, just as you would look at energy stars when buying a new refrigerator or a new air-conditioner.

Blue Angel Certification is a German certification which is given to services and products which are environmental friendly. It is world's oldest ecolabel.

Another rating system is LEED – Leadership in Energy and Environmental Design. LEED evaluates the environmental performance of buildings and encourages sustainable designs. LEED certified components possess unsurpassed ergonomics, offer increased workflow productivity and flexibility.
So, what all sustainable options are available in the market right now?
Let's see what kind of sustainable casework you can get designed with architectural millwork drafting services.
Sustainable Cabinets and Millwork

Eco-friendly millwork prominently showcases sustainable cabinetry. The origin of wooden panels for such products includes responsibly harvested hardwood which is manufactured using traditional craftsmanship and conventional cabinet joinery. Moreover, the assembly of various parts is done with formaldehyde free adhesives and glues while the finishing is done with water based stains. Towards the wood waste is recycled completely, or the material disposal is stringently monitored to be environmentally safe with cut-offs salvaged for reuse later.

Green plywood panels and interior veneers

Another trend that is up and coming among several of our casework, USA clients include sustainable hardwood plywood and decorative veneer. The upgraded interiors are manufactured using special adhesives which are soy-based and formaldehyde free. These adhesives are versatile, non-toxic and moisture resistant; great for both commercial and residential applications. As an added bonus, these adhesives come with LEED certification, are cost-effective when compared with their traditional counterparts of core veneer hardwood plywood and are aesthetically satisfying.

Options in sustainable composites

Several clients including those from the hospitality vertical have contacted BluEntCAD with specific demands for custom casework designs, artistic elements and custom wall panel designs; with special focus on utilizing sustainable composites. These are again made from recycled woods and are formaldehyde free.

Now that you are well-versed with the know-how of sustainable modular millwork, let's walk you through cabinet cleaning and care.

Caring for your sustainable millwork

Maintaining sustainable millwork is similar to maintaining custom millwork. Frequent cleaning and polishing will make your millwork components last longer and look new.

Dusting

Clean the dust off your cabinets frequently with a soft, lint-free cloth. For minute dust particles, you can dampen the cloth with a cleaner or water.

Taking care of spills

Wash spills immediately. Use a clean cloth and soap if required.

Polishing

BluEntCAD recommends its clients that they polish their millwork cabinetry, windows and doors at least once annually. Use a premium furniture polish to cover components with a light coat.
Who are we?
We're BluEntCAD, your friendly, next-door millwork service provider. With over 2 decades of hands-on experience in providing CAD design services, our expertise lies in creating sustainable designs which suit individual project needs, mass-produced casework and custom millwork. Our team of 30+ expert drafters is fluent in AutoCAD, Revit, Vectorworks and Chief Architect. We're available round the clock over phone; mail or chat and we'd love to hear from you!
Maximum Value. Achieved.