A while ago, near our infamous water cooler, one of my colleagues exclaimed, "I'm all in with innovation in construction but what's a room without some beauty, texture and space?" It got me thinking. She was right. A home, without a personal sense of style is well… just a house.
Your place must be the right mix of function and style. Whether it's your apartment or your corporate office or your industrial plant, it is important to maintain the atmosphere of your space.
This is where the phases of interior design come into play, of which interior construction drawings form a crucial part. Let's understand how different phases of interior design help lead to excellent interiors.
When you begin working with an interior drafting company like BluEntCAD, you can expect them to take your project through 5 major phases. These collectively form the interior design process.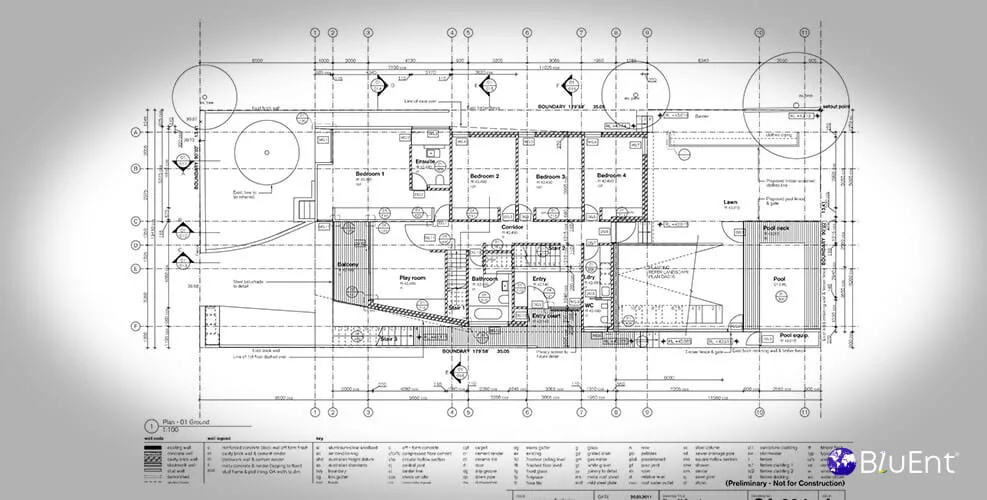 Interior construction drawing by BluEntCAD
These processes are:
Strategic Planning Phase

Conceptual Development Phase

Design Development Phase

Construction Documentation Phase

Construction Maintenance & Administration Phase
Strategic Planning Phase
Our first step when we take up an interior design drafting services project is to inspect the job site and do a walkthrough. Unlike construction, interior design a very personal affair. To get into the shoes of your client, it is imperative that you get to know them.
Our experts learn about your family, your pets, the kind of things you like doing, the surroundings of your house, and the way you like things in your house.
In order for us to create a personal design for you and your family, we need to learn as much as we can about you.
Don't take it the wrong way. We only care so much to give you a beautiful living space, not too much to creep you out! *No eerie music in the background*
And this is the essence of the Strategic Planning Phase. Mutually deciding on ideas which bring your vision to life!
Other than this, your budget and goals are key features in deciding which design to go with. In a nutshell, we aspire to give you a design that is per your taste without burning a hole in your pocket.
Salient Features of the Strategic Design Phase
Gathering client brief – Getting to know the client better

Deciding on a budget for the project

Finalizing a timeframe for the entire process
During the strategic planning phase, there are several site visits, rigorous research, and surveys to better understand what you require as output.
Professional design and drafting companies are mindful of various key deciding factors such as overall space utilization, number of inhabitants, furnishing, fixtures, HVAC and lighting areas.
Conceptual Development Phase
Conceptual development is a crucial part of the phases of interior design.
During conceptual development, we add functionality to your space. Note that the era of the 90's and 80's property is gone – most properties built during this time have either been renovated or have been brought down to create new structures in their place.
The modern client often favors open spaces (that is, open floor plans) – meaning there's going to be several awkward open spaces left for drafting experts to resolve.
During the conceptual development phase, spaces are made functional so that they blend in well with the overall style.
To facilitate this, new sketches are created that transform the space planning. These drawings are drawn to scale and sent for you to approve. Once you approve the spacing, most of the heavy lifting is done!
Salient Features of the Conceptual Development Phase
Ideas are converted into sketches

The illustrations include basic site plans, simple elevations, new floor plans to make use of blank spaces, and rough sections

These are sent to the client for review

The design is finalized after approval
Design Development Phase
Once you approve the design, we're all set to let our creative juices flow. The design development phase is all about adding details to your design.
The idea is to create a fusion of your approved design with your architectural style. Say your house is mid-century modern. What kind of style details would accentuate the furnishing? How would you hide the HVAC better?
There are multiple questions that need a lot of thought, and our designers are experts in tackling such challenges. The same goes for other architectural styles, such as transitional styles, Pacific-Northwest styles, modern-rustic or minimalistic structures.
Everything that we select, from finishes to flooring & tile to wooden pieces, is in sync with the design theme you approve.
And these are illustrated via new proposed floor plans, detailed drawings, wall elevations and other visual aids. Apart from this, room layouts, fabrics, wall coverings, color selection, millwork and cabinetry, textiles and lighting are taken care of.
Salient Features of the Design Development Phase
The approved schematic design finalized in this phase is further developed

Sections, floor plans and elevations are accentuated with accurate dimensions

Additional details of colors, material, location of doors and windows, finishes, furnishing, etc. is also included in the design

The final design is converted into 3D and sent to the client for approval
In a nutshell, the design development phase plans out everything for your space.
Construction Documentation Phase
Ooh, this is the part we love! Once you approve the design, we begin working on the construction documentation.
These documents are essential for various contractors who will follow our lead, including but not limited to carpenters, plumbers, tile-setters, electricians, etc. Interior construction documentation sets will give them everything they need to execute the design flawlessly.
Construction documents also help while obtaining construction permits from the city municipality.
Depending on the size of your project, you might need to submit site plans, which show scope, elevations and material schedules. Our construction drawings services are among the best in the industry.
"Speak to us and you will know yourself!"
Salient Features of the Construction Documentation Phase
Approved design is translated into construction documents for contractors

All specifications for executing interior design projects are included

Approved construction documents are processed for cost estimation
All construction documents and drawings by BluEntCAD are developed by keeping interior design drafting standards in mind.
Construction Maintenance & Administration Phase
At BluEntCAD, we have stringent procedures in place to ascertain that the actual construction is in tandem with the specifications of the design development (DD) set.
Our experts moderate the execution to ensure its compliance with the design intent. After all, precision is key!
Salient Features of the Construction Maintenance & Administration Phase
Construction begins with compliance of specifications in the documentation set

The design intent is ensured in tandem with the on-site manufacture or construction
And the part that we love the most? Seeing you break into a million-dollar smile when you see everything come together! We always urge our clients to send us the after photos.
At BluEntCAD we put passion in everything that we do. Our team is backed by industry experience, skills and technical expertise. With skilled designers, drafters and architects at our disposal, we're here to help you bring your next project to life. We serve interior design firms, architectural firms and retail chains (apparel, food, restaurants, etc.) for large to medium sized projects.
Ready to make your next project a success with interior construction documents? Contact us now!
Maximum Value. Achieved.