Exterior rendering of home by BluEntCAD
While the real estate market has been unstable due to the Covid-19 pandemic, the demand for housing is still increasing. This is in part because many people are leaving cities for more peaceful and spacious suburban settings.
Having said that, supply chain and labor shortages have made the future of the construction industry more uncertain. AEC professionals need to be aware of how these uncertainties will affect their businesses.
In today's article, we'll be covering the current real estate trends in the US.
Introduction
Major trends such as work from home and eCommerce have partly driven the narrative of the real estate industry over the last year and a half. Concurrently, lockdowns and health crises have pushed us to rethink our build environment.
Nevertheless, industry expects are hopeful of an economic recovery led by consumer spending. Furthermore, interest rates are expected to remain low for the time being. Lenders, compared to equity investors, might take a more cautious approach to real estate.
With that, let's dive into the current real estate trends and predictions.
Real Estate Market Trends and Predictions
1. Home prices are still rising
Competition may be dwindling, but homes are still selling, often at a premium. According to the House Price Index from the FHFA, national home prices increased by 1.4% between June and July alone.
Twelve-month changes ranged from 15.6% all the way to 25.6% in the mountain division of the census, that is, Arizona, New Mexico, Colorado, Idaho, Utah, Nevada, Wyoming and Montana.
2. Mortgages are becoming easier to attain
Mortgage credit availability has risen, according to the MBA. It increased by 3.9% between July and August, which indicates that lending standards are slackening. Conventional loans have also seen a considerable rise.
3. Rents are increasing
Rents are at record highs. Between August 2020 and August 2021, they leaped by 11.5%. In many cities, rents are more expensive than starter homes, with the average rent at 1,633 USD per month. Rents for two-bedroom apartments shot up by 12.3% over the year, averaging $1,830 per month.
4. Slower buying activity
Home sales went down by 2% in August – the first decline in over a year. Furthermore, the bidding war rate is low.
Recommended Reading:
5. Rising foreclosures
Over the past year, foreclosures have risen by 60%. August alone saw a jump of 27% compared to July.
Foreclosure starts were highest in New York, Illinois, Texas, Florida and California. As for metros, Chicago, Los Angeles, Dallas, Houston and New York topped the list.
6. Collaboration will be required across sectors
The pandemic has intensified material shortages, labor issues and rising construction costs. This has thrown a wrench into the affordable housing industry.
However, by working with public sector partners and industry peers, one will be able to provide the urgently needed affordable homes.
7. Changing standards of housing
According to Steven Minchen of the Minchen Team, the market might slow down due to high prices and slow interest rates. Furthermore, buyers may place more importance and emphasis on the home as an all-in-one space due to the work from home phenomenon.
Demand is predicted to decline as inflation increases, wages do not keep up, and the economy slows.
8. More flexibility for buyers
With many companies being more open to remote work, buyers will likely have more flexibility in terms of the distance between their home and their office.
9. Continuing surge in markets
Housing construction hasn't caught up with demand, the government and FED are keeping interest rates low, and many attractive neighborhoods do not have the space to develop more housing because of regulations. Hence, the real estate market could continue to grow for the foreseeable future.
10. We may see construction growth
With a general focus on infrastructure, we might also see growth in construction.
Is It a Good Time to Sell? It's Not So Straightforward
Due to housing market trends such as the high demand for homes and the inventory shortage in most regions of the US, many suburban and rural homeowners are receiving high returns on their properties.
Hence, homeowners have good reasons to sell at this time. However, assuming you do not own another home, finding a new home may be expensive and difficult, especially if you are not planning to downsize or shift to a market that is not suffering shortages.
In short, it is a good time to sell if you are prepared to drastically change your own living situation. If you hope to find a fair deal on a larger or similarly sized home in the same community, it may be prudent to not sell.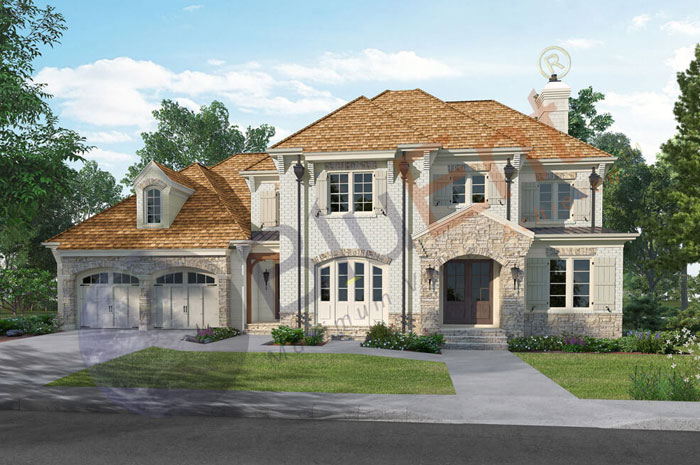 Exterior rendering of spacious bungalow by BluEntCAD
On the buyer side, there are reasons to be wary of buying at present due to costs, competition, and low inventory. Having said that, it could still be a good time to buy for people who were already planning to do and have the funds.
Furthermore, in terms of home buying trends, buyers are looking increasingly at resale options, since the ability of developers to finish projects has been hampered by supply chain problems.
What are the Current Top 5 Cities for Real Estate Investment?
According to the PWC, in the US, Raleigh/Durham, Austin, Nashville, Dallas and Charlotte.
In Europe, Berlin, London, Paris, Frankfurt and Amsterdam.
In Asia Pacific, Ho Chi Minh City, Singapore, Shenzhen, Tokyo and Seoul.
Conclusion
The real estate market is likely to continue to surge, but also adjust to become friendlier to buyers. Having said that, the real estate industry is always changing, and one should remain up to date on the latest property market trends.
If you are looking to improve your real estate sales, BluEntCAD is just a click away. We are an architectural rendering company that offers architectural flythroughs, 3D product rendering, and exterior and interior rendering.
Ready to boost your real estate sales with photorealistic 3D rendering services? Contact us now!
Maximum Value. Achieved.