Shaker style furniture is having a moment.
You may have heard the buzz about Shaker doors, Shaker dining tables, white Shaker kitchen cabinets…the list goes on.
If you're a furniture manufacturer or furniture retailer, you can capitalize on this buzz and give your customers what they want. After all, even the best millwork shop drawings and 3D furniture modeling need great ideas first.
But what is the Shaker style? In this article, we'll cover that.
Introduction to Shaker Style Furniture
The Shaker style is an American style of furniture that sprung in the 18th century from the religious movement of the United Society of Believers in Christ's Second Appearing, commonly called the Shakers.
Shaker style was based on the principles of form following function and truth to materials. This contributed to the long-lasting appeal of the style. The Shakers, as a group, were known for their simple lifestyle, original crafts, and work ethic.
One could call Shaker style furniture "minimalist", but the integrity and simplicity of the early Shaker furniture was due to the belief that lavish decoration or ornamentation was a sin of pride.
Originally, the Shakers used harvested wood to build their furniture, including but not limited to pine, ash, cherry, birch, hickory, and poplar. Today, popular types of wood for Shaker furniture include cherry, maple, oak, and walnut – one is certainly not limited in choices.
Decorating With the Shaker Style
Shaker furniture is fairly easy to incorporate into a wide range of interior decorating and architectural styles, right from modern farmhouse to contemporary style.
The great thing is that Shaker furniture complements contemporary pieces, adding warmth and coziness to modern interiors.
Some popular Shaker pieces and spaces include:
Shaker kitchens

White Shaker kitchen cabinets

Shaker doors

Ladder back rocking chairs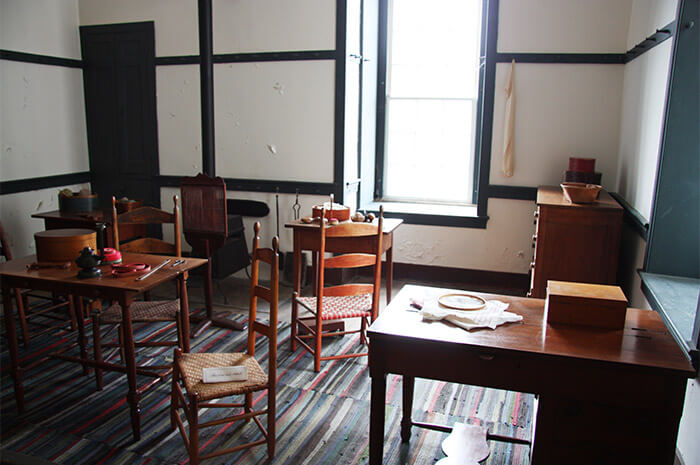 Shaker furniture by Doug Coldwell. Image shared under the Attribution-Share A like 3.0 Unported (CC BY-SA 3.0) license. No changes were made to this image.
Elements of Shaker Furniture Design
The defining characteristics of Shaker furniture is simplicity, attention to detail, and high quality. Whether it's a rocking chair, dresser, table, or wicker basket, it will have a timeless, well-made appearance.
Lightweight Chairs
Originally, Shaker wooden chairs were made to be lightweight enough to hang on wall pegs. While today it may seem like a whimsical choice, back then, it served a practical purpose: making it easier to clean floors, and maximizing floor space when not in use.
Tapered Legs
To reduce tables' weight, the Shakers used tapered legs wherever possible. This was so that the furniture could be easily shifted during cleaning or storing.
Whenever possible, turned pulls on a lathe were used, instead of metal pulls, which would have been considered ostentatious. Furthermore, these were often made with the same kind of wood – also to avoid drawing attention.
Plain Woodwork
Shaker woodwork is simple, with gently beveled or rounded edges and mushroom-shaped wood knobs. Highly figured wood is avoided, as is veneer. For best results, use woodwork shop drawings.
Wood Turning
Wood turning is the process of shaping wooden blocks or pieces into various forms with a lathe. Like tapering, turning is a good way to maintain structural integrity while reducing mass. Think turned legs, spindles and stretchers.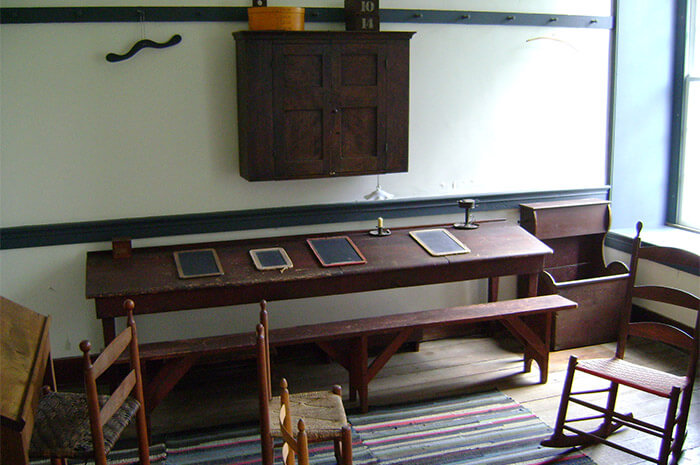 Shaker student furniture by Doug Coldwell. Image shared under the Attribution-ShareAlike 3.0 Unported (CC BY-SA 3.0) license. No changes were made to this image.
Prioritizing Daylight
The Shaker style incorporates a lot of light, to replicate heaven in the home.
Install windows in interior walls between spaces, such as a dividing wall between a kitchen and a living room. This way, you can direct daylight into dimmer rooms.

To create a halo-like effect, you can use a single large window that radiates light into the room.

Use skylights to direct light downwards. (These were originally used for staircases, removing the need for lamps and candles during the day).
For more ideas about how to incorporate light into a space, check out the various types of lighting.
Concealed Joinery
Think dovetail joints, as well as mortise and tenon joinery.

For drawers, you can use half-blind dovetails.

Use pegs to fortify tenons, particularly on legs of tables.
Conclusion
We hope this article has given you an insight into Shaker furniture.
If you plan to incorporate Shaker style furniture into your work, we can make the process much smoother with our accurate millwork drafting and product modeling services.
We cater to casework companies, woodworking companies, custom furniture manufacturers, millwork manufacturing companies, signage manufacturers, interior designers, cabinet makers, prefabricated home designers, and decks and fencing manufacturers. Browse our portfolio to see how we've helped companies like yours!
Ready to make your next project a success with millwork shop drawings and furniture modeling? Contact us now!