3D rendering of chair gliders by BluEntCAD
All types of chairs embody many things: practicality, imagination, engineering and more. Many successful chairs will do more than marry form and function – they will be works of art.
The 20th century saw the golden age of the modern chair. Designers re-invented this piece of furniture with creativity and the technological innovations available.
In this article, we'll be covering different types of chairs to suit various spaces, from hotel lobbies to offices to living rooms. So whether you're selling chairs on an eCommerce platform or looking to buy, this piece is meant for you.
Introduction
There are n number of types of chairs across various price points and it would take a thick textbook to cover only some of them in sufficient detail. Hence, we have selected the most iconic, popular or practical styles of chairs for this article.
Fit them into a lobby, outdoor dining set, conference room, or even just your bedroom, according to your needs, whether you prioritize style or comfort. Even if you want custom furniture, it's good to know the types of chairs available in the market to get inspiration from – or save you costs.
(Pro tip: If you're selling chairs rather than buying them, we recommend 3D furniture rendering to show off your products.)
Recommended Reading:
Top 11 Types of Chairs
Chairs can be part of luxury outdoor furniture, hotel lobby furniture, or anything else. The types of chairs listed below come in various price ranges, and it's best to get a good idea of your budget and what you require before you consider buying one.
1.

Chesterfield Chair

This chair is considered an adaptation of the Chesterfield soda. However, historians are divided over the Chesterfield chair's origins. It is possible that the name was inspired by the Earl of Chesterfield; some say that the chair was commissioned by Lord Philip Stanhope, who was the fourth Earl of Chesterfield (1694­–1773).

The quintessential Chesterfield chair has a low club style and thick scroll arms the same height as the chair back. It is typically made of leather and tufted or studded with buttons; however, you can find them covered in textiles, velvet or even mink.

Since it is a formal, somewhat conservative style, it is well suited to formal homes, upscale offices, or any space that is meant to look sophisticated and elegant. It may not lend itself well to most modern, clean-lined interiors.
2.

Adirondack Chair

The design is credited to Thomas Lee. He took three years to perfect the Adirondack chair's armrests, slanted seat, and high-backed silhouette. The result was a chair that was comfortable, sturdy and balanced, and shoppers lapped it up.

This chair is versatile and fits on hilly terrain, flat surfaces and beaches. It is the quintessential lawn chair and can be made of wood, molded materials or plastic.
3.

Accent Chair

The accent chair, or side chair, adapts seamlessly to any space. It is a single-seat chair meant to create an eye-catching focal point as well as provide extra seating. Spaces that are cleverly designed use accent chairs to invite people farther into the area.

They don't just have to accentuate the whole room – they can accentuate a bed or other furniture pieces too. At other times, they match the pieces of a room.

Accent chairs can be small or large, but either way they're sure to add a touch of drama.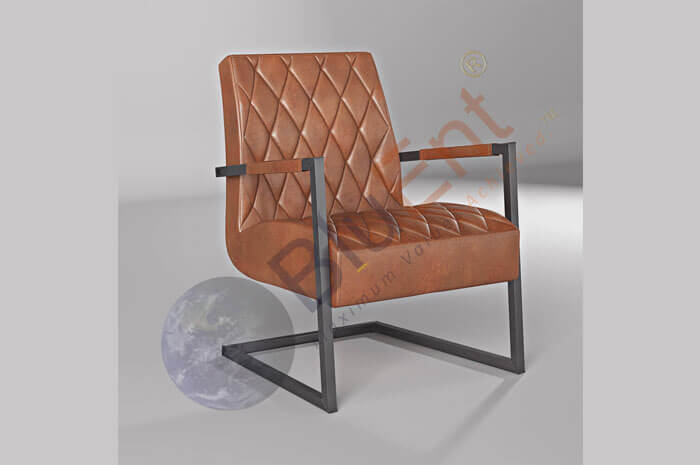 Furniture rendering of accent chair by BluEntCAD
4.

Chaise Lounge

A chaise lounge is basically a sofa with a backrest at one end. It is about the same length as a loveseat.

Chaise lounges are often used around pools, on patios and in other outdoor settings. They are designed for a single person to stretch out on and are perfect for napping, reading or generally relaxing.

You'd be forgiven for confusing a chaise lounge with a deck chair. Indeed, furniture historians say there is little difference, save that deck chairs are meant for boat decks.
5.

Recliner

A recliner is an upholstered chair with a mechanism by which the back can be pushed out and a footrest rises up. Most recliners include arms and can hence be categorized as armchairs.

Recliners are very comfortable, and called "motion" or "action" furniture because they change shape or move. Some of them are activated with a lever, while others are activated by being pushed back.

One of the earliest designs for a recliner was published in Ackennann's Repository of Arts in 1813. Having said that, historians believe that the first recliner was the Morris Chair in 1883, which was designed by William Watt. It was manufactured by Morris and Company (founded by William Morris) – hence the name.

These days, there are specialized recliners for people with mobility problems to help them stand up and sit down. Hence, they are especially suited to senior living community centers.
6.

Wing Chair

One of the most immediately recognizable chairs, the wing chair has a distinct backrest and "wings". They are and have been known by many names, including fireside chairs, grandfather chairs, easy chairs, and wingback chairs. Often, they form part of a set or "suite".

Wing chairs date back to the 17th century. They were meant to sit beside fireplaces; their wings and tall backs protected people from drafts.
7.

Bar Stool

What's a modern bar without bar stools? Kind of sad, that's what. Bar stools offer seating for bars, pub tables, counter areas and even dining rooms. They are often tall and narrow, and have a footrest to support the feet.

Bar stools are usually made with metal, wood or both. They can be with or without backs, armrests, adjustable height, and padding. In commercial settings, floor mounted and swivel stools are not uncommon.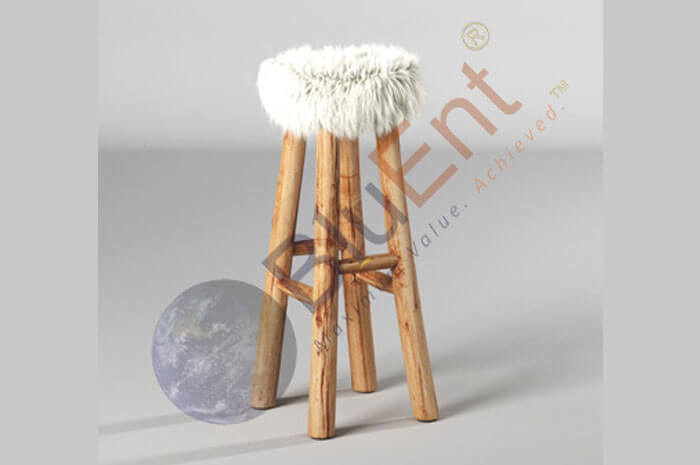 Furniture rendering of bar stool by BluEntCAD
8.

Grand Confort

A grand confort is a cube-shaped armchair, ideal for clubs and modern lounges. It was designed by Le Corbusier, Charlotte Perriand and Pierre Jeanneret as a modernist response to traditional club chairs.
9.

Egg Chair

The egg chair was designed for the SAS Royal Hotel in Copenhagen by Arne Jacobsen. It emphasizes fluidity, curves and softness, and creates cozy privacy. Great for dramatically swiveling away from someone you no longer wish to talk to. (We personally do not endorse this.)
Recommended Reading:
10.

B32/Cesca

The famous Cesca B32 was designed by Marcel Breuer in 1928. It is well suited to office areas. Originally, the chairs were made of cane, black lacquered bentwood and chrome-plated tubular steel. In 1968, the chair was bought by Knoll Associates (now called the Knoll Group).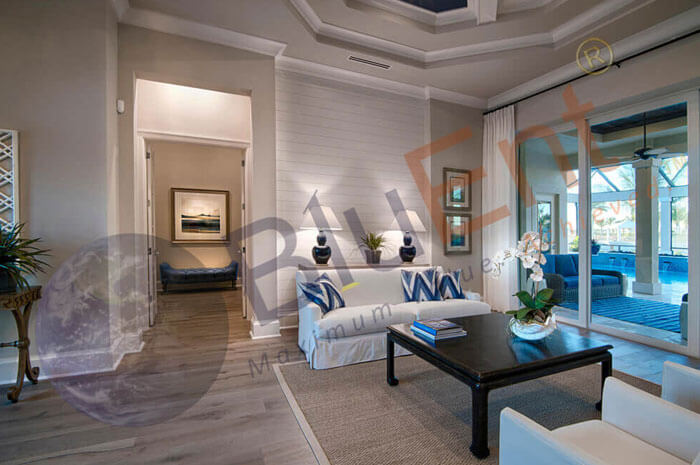 Interior rendering by BluEntCAD
11.

Transat Chair

The transat chair is based on steamship deck chairs and gets its name from "transatlantic". It was designed by Eileen Gray in the 1920s and part of a huge cultural shift away from ornate and highly decorated styles and towards a more functional, minimalist look. The seat is a sling, with a pivoting head support section.

All of Gray's designs were exceptional and even worthy of collecting. For example, her Dragons armchair was sold in 2009 at an auction for 27.8 million USD – it is still the most expensive chair ever sold. That particular chair had belonged to Pierre Bergé and Yves Saint Laurent.
Conclusion
Whether you're selling or buying high-end furniture or something from a garage sale, we hope this article has given you a good starting point. If you're selling, however, then furniture rendering is the way to go if you want to maximize your profits.
BluEntCAD offers product rendering to eCommerce platforms, furniture manufacturers, kitchen and bath installers, lighting manufacturers and furniture retailers. Browse our portfolio to see what we've done for other companies like yours.
Ready to make your business a success with 3D furniture rendering services? Contact us now!
Maximum Value. Achieved.