Image by 12019
If you want to provide a home for a client that is elegant and understated, wood molding is a great option for you. Falling under the millwork and molding category, a decorative wood trim may be just what your client needs.
From crown molding to door and window casings, there are many options available in the market. Let's get started.
Introduction to Wood Molding
You're spoilt for choice when it comes to wood moldings. There are many times with various purposes, from scotia to decorative to coving to quadrants.
Scotia: Can act as the finishing touch to wooden flooring. Can also disguise gaps or rough joins, if any.

Decorative: Many people go for decorative molding, as it can add a classic charm to any space. There are various types of decorative moldings, such as broken ogee, panel molding, dado, cover mold, and reed mold.

Coving: Great for concealing medium-density fiberboard (MDF), sheet materials, and chipboard edges. Also useful for worktops and shelves.

Quadrants: Can cover up expansion gaps or act as decorative molding. Popular types of wood for this include oak, light hardwood, pine and red hardwood. Quadrants can be stained, painted or varnished to suit the desired or existing interior decoration.
Wood moldings are generally manufactured using oak, MDF, or pine. Non-wooden moldings often contain polyvinylchloride (PVC) or aluminium.
Like any other woodwork, wood molding will require proper care and maintenance. However, the benefits can be well worth it, including a higher resale value. To help ensure this, millwork shop drawings (like the one pictured below) are used. These help streamline the process and ensure accuracy.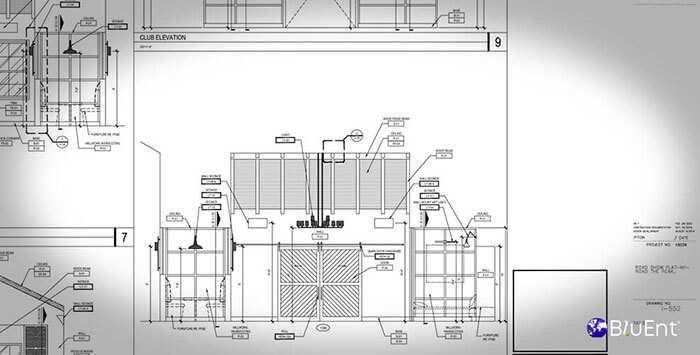 Millwork shop drawing by BluEntCAD
The 5 Best Types of Wood Molding
1.

Window & Door Casings (Trim)
This molding is used on door frames and windows to cover up gaps.

There are many types of casings, but the width is usually two or three inches.

Casings or trim can also protect plaster walls, particularly around interior doorways.

Historically, casings were made of marble or other stone, but today wood is the most popular material.

Well-crafted trim or casing will offer a sense of enclosure and comfort.

You can use casing in a "picture frame" style if you do not want sills.
2.

Corbels

Corbels are architectural elements that can be used for both exteriors and interiors. They are both embellished and load-bearing.

For interiors, corbels can support kitchen counters, wall shelves, mantelpieces, etc. they can also add subtle decorative touches. For example, in a minimalist kitchen, a corbel call provide a sense of warmth.
3.

Skirting Boards or Baseboards

Baseboards hide the gaps between the walls and the floor. They are molding that runs along the bottoms of walls.

Note that the skirting and walls do not have to match. Baseboards can be used as design tools to draw the eye.

Crown molding and skirting do not have to match in width, but should carry similar visual weight. Bear proportions in mind. For example, very slim skirtings would look awkward with large crown moldings.
Baseboard styles can include flat, rounded, or ornate.

Styles can also differ based on the country. For instance, in the UK, there is a large number of styles and profiles available. However, in China, it is usually made of redwood or plastic and measures relatively low in height. Its design is also usually unprofiled or simple.

Skirting profiles tend to be named after the period or era in which they were developed, like Edwardian or Victorian.

Baseboards can be varnished, painted or stained to suit your clients tastes or existing décor. Some styles you can consider are chamfered, ogee, torus, and pencil round.
4.

Wainscoting

Wainscotting covers a large portion of the lower part of the walls. Hence, it acts not only as protection, but also a style statement. They can be particularly useful in areas prone to scraping or scratches, such as corridors.
Much like baseboards, the wainscotting finish does not have to match the wall. With proper color combination and design sense, it can make a sophisticated statement.

If you want to make your wainscoting more functional, you can add a shelf on the top, which can hold knick-knacks and add character.
5.

Chair or Dado Rails

Chair rails prevent furniture from damaging walls. They can also serve a purely decorative function, such as acting as a divider between wallpaper and paint. Additionally, they can provide visual relief to single-color walls.

while chair rails can be installed at any height, they are usually installed roughly 36 inches from the floor. (Traditionally, they were fixed 24 inches from the floor.)
Other Popular Types of Wooden Molding
The previous 5 types of wood molding are the most popular, but you can also take your pick from the following:
Picture rail: Often used in tandem with crown molding. It is usually 1 or 2 inches wide and placed 7 to 9 feet above the floor. Picture rails allow picture frames to be hung without the need for nails being driven into the wall.

Decorative molding: If sophistication is what your client wants, these delicate moldings are ideal. They provide ceiling surfaces with an embellished look, and are especially well-suited to a more classical or formal interior. If a feature wall is also desired, similar molding trims can be used on the wall.

Bead molding:  A charming row of little symmetrical spheres, usually paired with dart, spindle or leaf designs. It can be combined with crown molding or dado rail for decoration.

Dentil molding: These include small, evenly spaced block patterns. They are often found in historic homes and buildings, and tend to be paired with crown molding.
Conclusion
We hope this article has given you an insight into the types of wooden molding you can use for your clients. from wood trim accent walls to good old crown molding.
Like any woodwork, molding is best when paired with woodwork shop drawings. Luckily for you, BluEntCAD provides millwork shop drawing services to casework companies, woodworking companies, custom furniture manufacturers, millwork manufacturing companies, signage manufacturers, interior designers, prefabricated home designer, and decks/fencing manufacturers.
Browse our portfolio to see the breadth of the solutions other companies have already taken advantage of. If you're ready for a successful millwork project with millwork shop drawing services, contact us now!