According to GlobeNewswire, the disruption brought on by the coronavirus and the ensuing lockdown measures has had a significant impact on the UK construction industry.
The UK construction market was expected to bounce back and expand by 8% in 2021. According to the study, the industry is anticipated to grow by 6.5% in 2022, returning to pre-pandemic levels.
Statista reports that there has also been a significant rebound, with growth rates in the UK's construction production every month since March 2021. Technology is being used by the construction sector to improve site operations and construction management efficiency.
In this blog, we will be discussing the top building trends in the UK, including the utilization of innovative building materials, Building Information Modeling (BIM), and construction robotics.
Building Trends: An Overview
Due to the Covid-19 pandemic, the construction business faced issues in 2020 and 2021, just like every other industry.
On the plus side, the pandemic spurred the development of advancements in prefabrication, worker safety, and construction robots by creating a need for novel methods of construction.
In parallel, the damaging effects of construction on the environment are also being greatly reduced by major developments in green building techniques and 3D printing.
The pace of change in the technology world is accelerating. This also applies to the AEC sector, where construction industry technology trends are continuing to advance at a rapid rate to make the sector safer, less expensive, and speedier.
The issue for businesses is no more to do with will they digitize their construction projects and personnel, but rather when and how they will adopt these home builder trends to keep up with and adjust to rapidly changing and advancing technology.
Here, we'll examine the construction trends influencing the UK construction landscape and the strategies used by leading organizations to remain ahead of the competition.
Top 6 Construction Industry Trends In The UK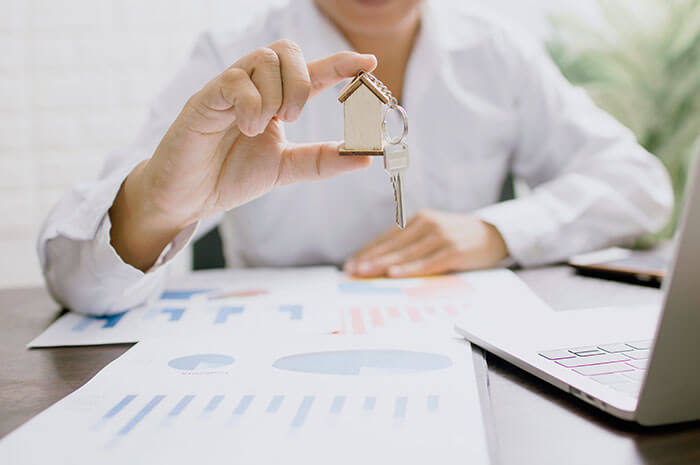 Woman Holding A House Key Chain and has Spreadsheets with Graphs on the Table
In addition to Covid-19, the industry has been responding to several additional problems, all of which need for the sector to move quickly and be adaptive.
These include a lack of qualified workers, new sustainability, relaxed pollution rules, improvements in software and information technology, and ongoing health and safety issues.
Let's take you through the 6 key building trends already affecting the UK market in 2022.
Advanced BIM tools
When using the conventional approach, it is challenging to see changes as they happen in real-time as each person works on their individual files. This creates confusion by producing many copies of the same plan.
Engineering, architecture, builders, and clients are just a few of the several stakeholders who contribute to the collaborative planning and designing of a building.

This issue is resolved by modern BIM solutions. BIM provides everyone access to a single shared model and a central database.

5D BIM permits budget and time overlays. 6D BIM additionally takes energy budgeting into consideration. These technologies enhance overall process effectiveness by detecting conflicts early on.

Building information modeling offers quick testing in virtual settings when combined with Augmented Reality (AR) and Virtual Reality (VR).
Construction Robots reduce human-induced errors
There is increasing worry regarding talented workers who are aging and departing the field, as well as a dearth of new recruitment and stagnant productivity.
This makes it necessary to identify novel approaches to conventional construction techniques; automation and robots will be two of the biggest themes in 2022.
Robotic construction workers eliminate human mistakes and fatigue-related losses. Collaborative robots automate repetitive processes like painting, rebar tying, welding, and bricklaying.

Robotics systems automate fleets of heavy machinery and tools for demolition, load lifting, concrete work, and excavation. This improves safety for construction workers while also accelerating operating speed.
Robotic construction automation boosts project efficiency overall, lowers the need for manpower, and offers safety for risky activities.
Modular construction
There is a clear and evident need to do something new to address challenges in the construction sector.
These difficulties include the skills gap, the requirement to increase sustainability in construction, and the yearly number of accidents and injuries reported in the sector.
We have the ideal chance to address some of the most pressing problems affecting the building sector thanks to modular construction. It facilitates the faster and safer delivery of sustainable buildings of the highest quality.

The modular building now makes up around 10% of UK construction production, but over the next three years, it is expected to grow to 20%, making it one of the prominent building trends for 2022.
Innovative and sustainable materials
Sustainability was one of the most prominent 2021 building trends. It should come as no surprise that sustainability would be included on a list of building trends in 2022 given the increased public awareness of sustainability and the fact that the global construction marketplace for roughly 40% of carbon emissions.
The carbon footprint of a building, including its embedded, operational, and end-of-life carbon, will be given more attention moving forward.
As a part of the builder trends, we anticipate increased public scrutiny and discernment of purchasing decisions in 2022 and beyond, from household buyers to business entities.
Modern building materials are supporting the transition of the construction sector to modular and green methods.

Older materials are being replaced by a variety of cutting-edge and eco-friendly ones, such as basalt and concrete that can be 3D printed.

The use of bacteria in self-healing concrete is one example of the rise in the popularity of materials derived from living organisms.

Additionally, sustainable materials including bioplastics, mycelium composites, and bio-foam are included in the building trends.

Aluminum foam, bamboo, transparent wood, and cross-laminated wood are examples of modern hardwood and aluminum materials with improved strength and biodegradability.

Spider silk, carbon composites, Aerogel, nanomaterials, hydro ceramics, and graphene make up the following category of novel materials. These substances have the potential to store more water while being lighter.
3D Printing
Construction with 3D printing, sometimes referred to as additive construction, is an effective and sustainable process.
Construction printers have the capacity to produce prefabricated building parts or full structures. In conjunction with BIM, 3D printing is a robotic process that builds out the design layer by layer using high-tech building materials.

With the exclusion of formwork, it provides a great degree of freedom to designers. Power bonding, additive welding, and extrusion are a few printing techniques.

Compared to conventional brick construction techniques, 3D construction printing generates less waste and uses fewer labor resources. It is a completely automated, programmed procedure that boosts production and does away with human errors.
Drones
According to a study, the usage of drones in construction has surged by about 239 percent in the last two years, and it is simple to understand why when considering the list of applications.

We forecast that drones will continue to accelerate as one of the biggest building trends in 2022 because of the additional productivity and security benefits that drones provide.
The above-mentioned top 6 building trends considerably increase productivity, worker security, the pace of constructing structures, and the use of sustainable techniques.
The construction industry trends that are covered in this blog are only the tip of the iceberg. Among other things, enhanced operations and green construction are likely to change industries massively.
Robotic teams that work together, autonomous machinery, drone-based inspection, and laser-based terrain mapping improve accuracy while lowering labor expenses.
Conclusion
We might not have understood how swiftly technology, like robot laborers and 3D-printed homes, has advanced. It is sometimes difficult to keep up with all the improvements since they become a part of the industry so rapidly.
It might be intimidating to try to stand out in the AEC market. Several businesses are attempting to embrace the most cutting-edge techniques and building trends to draw in potential clients.
With the brick-and-mortar competition being as fierce as it is, creating an identity for your company and brand is essential.
Browse our portfolio to see how we've supported construction businesses and used cutting-edge technologies and the latest building trends to offer BIM drafting and modeling services around the globe.
Our team can offer a virtual yet realistic feel to your construction plan for a project through 3D rendering services. Our team uses BIM and Revit to build high-quality house models and 3D objects with unmatched accuracy.
Ready to revolutionize the construction game with our exceptional BIM services? Contact us now!