This blog has been updated on – May 25, 2022
You might love it. It's more likely you don't. Either way, you can't escape it entirely. Brutalist architecture is found all over the world, especially eastern Europe (the former Soviet bloc). It was a popular style for university campuses, high-rise flats, shopping and leisure centres, and government projects.
Exposed, daunting, and expressive structures with unpretentious visuals define brutalist architecture design. Its most basic features can be chalked into four divisions:
Rough surfaces

Small windows

Monochromatic palette

Modular elements

Massive forms

Unusual shapes

Use of materials such as steel, stone, glass and gabions

Expression of structures
Introduction: The History of Brutalist Architecture
Brutalist architecture, a controversial style, surfaced in the mid-20th century as a part of a quick, economical solution to the urban destruction shaped by World War II. Between 1950 and 1980, the style was all the rage.
Buildings of the brutalist style are characterized by their "blocky", monolithic appearance, as well as a rigid geometric style and liberal use of poured concrete. Having said that, the category of brutalism is, generally speaking, broad and relatively vague, and has sparked many debates about which designers qualify as brutalists. 
It is the Unité d'Habitation in Marseilles by Swiss-French architect Le Corbusier that many consider the birth of Brutalism. Completed in 1952, it was a mammoth complex mostly free of decorative elements that could house up to 1,600 people.
This laid the framework for future Brutalist projects.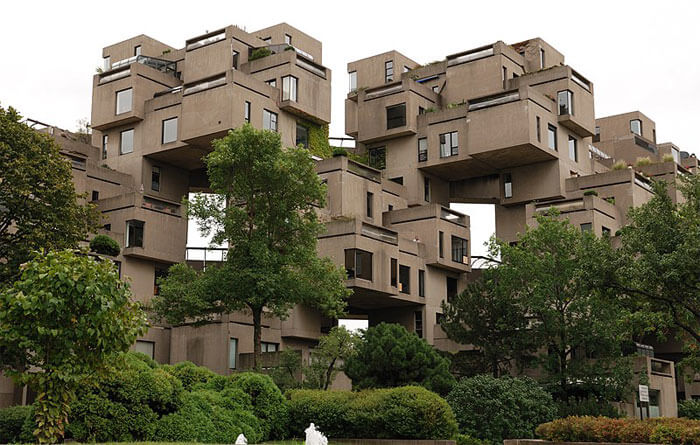 Montreal: Habitat 67 by Wladyslaw. No changes were made to the image. Shared under the license CC BY-SA 3.0
There are conflicting accounts as to who first used the term "brutalism". Some say it was Alison Smithson in 1953, for a house in Colville Place, Soho – a project that was never executed. Others claim that the word in relation to architecture was coined by Hans Asplund, a Swedish architect, in 1949.
No matter who first used the term, it is generally agreed upon that brutalist architecture as both a term and a movement was popularized in 1954 by architectural historian Reyner Banham. 
Brutalist architecture design emerged in response to an urgent requirement for affordable, large-scale residential buildings. The major cities of Europe had been heavily damaged by war, and large-scale re-housing projects were being implemented across the continent to improve the lives of citizens. Thanks to its emphasis on cheap building materials, brutalism was chosen as the style for many of these projects.
Furthermore, brutalist design was part of a broader movement of mid-century-modern functional design. While the modernism of the early 20th century was associated with ideas of complexity, mid-century modernism focused on simplicity, utility, and mass production. This aesthetic was rooted in the movements of Constructivism and the Bauhaus. 
Brutalist architecture came to be associated with socially progressive housing solutions, and became widespread across European communist countries such as the the Soviet Union, Czechoslovakia, Bulgaria and Yugoslavia. Indeed, one of the first images you think of when you hear the word "Soviet Union" might be Soviet brutalist architecture. 
Famous Brutalist Architecture
There is no shortage of brutalist buildings in the world, but some stand out as icons of the style. 
Trellick Tower in London (Ernő Goldfinger, 1972)

Boston City Hall in Boston (Kallmann, McKinnell & Knowles, 1969)

The Met Breuer in New York City (Marcel Breuer, 1966)

Palika Kendra in New Delhi (Mahendra Raj & Kuldip Singh, 1984)

The House of Soviets (Yulian L. Shvartsbreim, 1970)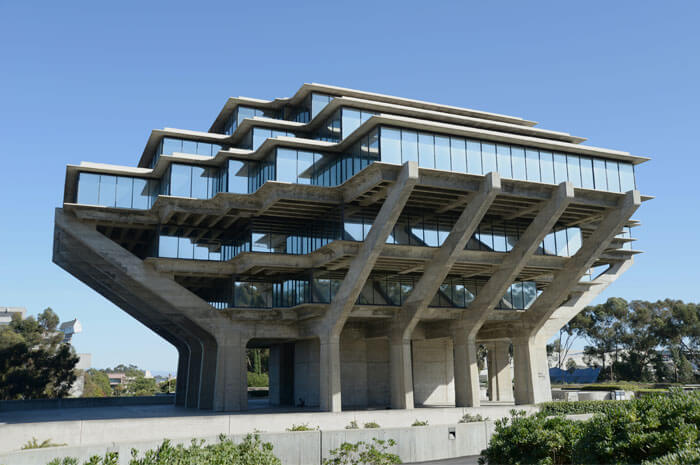 The Geisel Library, CA, by Laura Ockel
The Fall of Brutalist Architecture
As the 1980s rolled around, brutalism became an increasingly polarizing style, as high-rise buildings began to be associated with urban decay, totalitarianism, crime, and social deprivation. Furthermore, the raw concrete so iconic of the brutalist style didn't age well, and often displayed signs of decay and water damage. 
Author Anthony Daniels (pen name Theodore Dalrymple) called brutalist architecture design "monstrous" and stated that it could "ruin the harmony of an entire townscape". Indeed, many brutalist buildings have been torn down since the 1980s. 
Some people consider those buildings to have been eyesores. Others believe that their demolition means a loss of both a piece of history and significant, even attractive architecture. Having said that, many brutalist structures can still easily be found around the world. 
Within the 1980s, the brutalist style gave way to Deconstructivism and high-tech architecture. These further made way for post-modern architecture.
Brutalist Design: A Comeback?
A renewed appreciation for brutalist architecture design has emerged in the last few years. However, this revival is often dubbed "neo brutalism".
While brutalist buildings are not gaining popularity the way they did in the 1960s, existing structures are being retrofitted, refurbished and enhanced. They are also being given more interest. Several brutalist buildings have been saved from being torn down, while others have achieved UNESCO heritage or national heritage status.
In 2006, three architects from Boston embarked on a rebranding campaign to have brutalism renamed as "heroic architecture". It is an attempt to preserve the substance and scale of brutalism while removing the negative connotations of the original term. 
It is still something of a mystery as to why brutalism has become fashionable once more. Brad Dunning, celebrity home designer and contributing editor of GQ, in his article The 9 Brutalist Wonders of the Architecture World, has a theory:
"Brutalism is the techno music of architecture, stark and menacing. Brutalist buildings are expensive to maintain and difficult to destroy. They can't be easily remodeled or changed, so they tend to stay the way the architect intended. Maybe the movement has come roaring back into style because permanence is particularly attractive in our chaotic and crumbling world."
As for modern brutalist architecture, you need only to turn to American rapper Kanye West's Yeezy Studio in California. Local designer Willo Perron designed it bearing in mind brutalism and utilitarianism.
Architects have also been revisiting traditional brutalist architectural concepts to create cheerful, warm living spaces. 
Conclusion
No matter one's personal feelings about the brutalist style, there's no denying that the average brutalist structure is a show-stopping piece that looms over both people and other buildings, altering entire city skylines and commanding attention. For all its utilitarianism, it is bold and in-your-face. 
Due to their use of heavy poured concrete, brutalist buildings are hard to renovate and hard to tear down. This only fuels public debate about whether or not to preserve these hulking relics. 
What do you think? Is brutalist design something you would want to see more of? Or is it best relegated to history? Tell us in the comments!
Get in Touch
BluEntCAD provides architectural documentation, BIM services, 3D modeling, and more for large to medium sized construction, design and renovation projects. Contact us today for a free quote!