Hotel interior rendering in 3D by BluEntCAD
The hospitality business is competitive and running a business for hotel infrastructure services is cutthroat. As a hotelier, 3D interior rendering can help your stay ahead of your competitors. Here's how. 
Introduction
Many hotels use 3D architectural rendering to introduce themselves to clients. This helps hospitality businesses create virtual tours of the interior and exterior of their property. There can also be interactive visualizations and 3D animations.
Salient features, including any hotel design trends you're following, are often highlighted with 3D interior rendering.
To get a better understanding of what a virtual walkthrough looks like, you can take a look at the Golden Plaza Hotel.
How does a virtual walkthrough with 3D Rendering help increase sales?
Say you invest in interior rendering services for your hotel property. Would it be worth it? We think the statistics speak for themselves.
The Best Western Hotel conducted an independent study by asking visitors to take their hotel's virtual tours. They found that 360 degree virtual tours on their website could increase bookings by up to 48%
They concluded that websites with a feature of virtual walkthrough received 48% more bookings than those which did not have this feature.
E-Marketing Associates found that 73% of travelers research multiple hotels before choosing one.
If your hotel offers a stunning, accurate 3D rendering or architectural walkthrough, you gain a competitive edge. Your potential customers will be able to see your USPs, amenities, and other selling points, rather than only reading about them. In fact, 75% of potential customers consider a virtual tour a major factor in influencing their later purchase.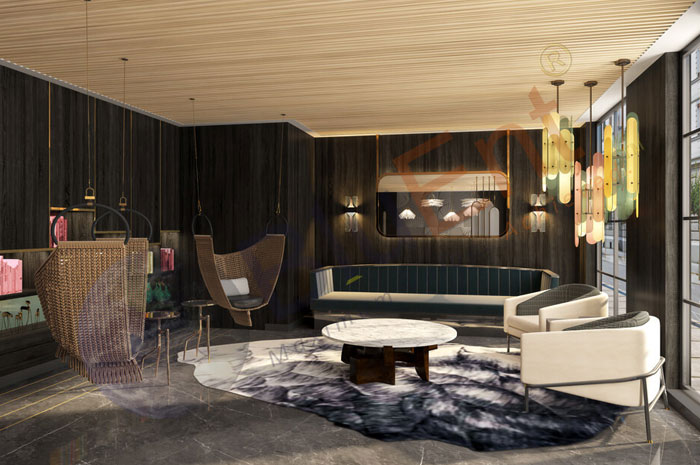 Lobby rendering by BluEntCAD
The rendering will showcase:
Gorgeous, comfortable hotel lobby millwork

Stylish room interiors

Efficient, classy and comfortable business spaces
And much more.
Benefits of 3D Interior Rendering
3D architectural rendering helps customers to see how you want to position your brand and your USPs.

When you create a 3D interior rendering for your hotel, you put the suspicions of your potential customers at rest and can focus on your hotel's outstanding features.

Virtual tours offer detailed views of hotel amenities, rooms and other facilities to guests. By giving them a feel of the surroundings, such as floor textures, window side views and custom hospitality millwork, you end up immersing them in a visual experience.

In this way, 3D renderings for interior designers can be more of a PR tool than a marketing strategy.

Improved Website Ranking For Greater Visibility

Renderings of hotel interior design are engaging and interactive, and encourage potential customers to remain on your website. This means that your bounce rates will be reduced and your site ranking will improve. This is crucial in search engine optimization.

Economical Marketing Strategy

3D rendering services for interior design is a one-time investment that will attract investors and customers alike. Companies like BluEntCAD provide a wide range of services and interactive features, all included in a single payment.

Still from architectural walkthrough by BluEntCAD
Conclusion
We hope this article has given you an insight into the benefits of 3D rendering for hotel architecture design.
If you've decided to gain a competitive edge, BluEntCAD is at your service. We are an architectural rendering company with a client-centric approach, and offer everything from interior renderings to furniture renderings to architectural walkthroughs and fly-throughs. See how we've helped other companies like yours.
Our clients include large homebuilders, real estate developers, interior designers, commercial and residential architects, design build contractors, and remodelers.
Ready to increase your sales with interior rendering services? Contact us now!
Maximum Value. Achieved.