Interior designing is defined to be an organized process that involves space planning, site inspections, conceptual development, research on the design, circulation patterns and a lot more.
We all believe that interior design is an art and has no definitive rules, yet most of us find it convenient to follow certain standards to bring out the commonly acceptable results. This helps in saving an interior designer's time and stakeholder's cost applied to the research and development of an interior plan.
It sounds so correct, isn't it?
Even if it is quite a logical thing to say, but we still can't evolve in this state until we try something more than usual. That's why we thought of talking about a practice called Snarkitecture.
Snarkitecture is a practice established by Daniel Arsham and Alex Mustonen in 2007 which revolves around the extraordinary designs. It is a New York-based collective design practice pushes the boundaries of the discipline. The Cooper Union created founders of Snarkitecture – Alex Mustonen is an architect and Daniel Arsham is the visual artist. Many say that both artist and designer inject fun and subtract color from their projects which somehow bring the unusual art piece. Snarkitecture is derived from the blend of words 'snark' and 'architecture', this clearly states the ideology of the people behind it who are trying to achieve the exceptional designs. A pure concoction of art and architecture displays this uncanny idea in a real-world and people amazingly like it.
What do you think is the reason for masses to like such architecture? Because it understands your psychology well: We firstly get astonished with this uncanny style of interior designing, though we might not understand it in one go but want to know more about it. Once curiosity increases, people usually try to solve the puzzle and if solved, one surely gets the sense of achievement in untangling the unusual. Snarkitecture's projects revolve around contemporary yet vintage style, subtle yet messy creativity, earthy yet digital inspiration, and addition or subtraction of elements.
This firm designed the grand entrance of the global forum at the art organization, Design Miami/ in 2012 using a bundle of white inflated tubes creating topographical suspension as a ceiling which looks like a white mountain and grotto-like structure below. This project is famously known as 'Drift'. The structure above has long cylindrical floating tubes vertically to attract visitors who can come and exit from the cavern like structure. Gaps between the vertical tubes allow Miami's light to filter through the frame and creating a soothing environment for interaction among visitors.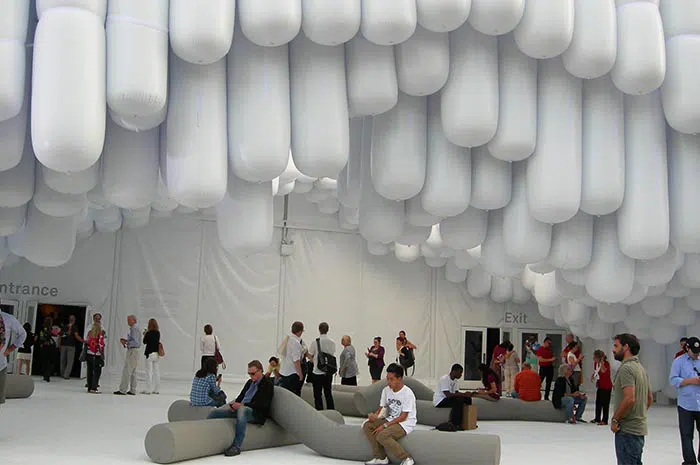 Another popular designing concept created by the team of Snarkitecture is 'The Beach' project. The team has used their sharp acumen and organic ideas to create this structure at the National Building Museum in D.C. This installation is a perfect blend of nature's inspiring elements and modern-age creative mind which successfully delivers a quintessential experience for art lovers. How often do you see that one can enjoy the beach like exposure without polluting the nature? Rarely. This temporary structure has been made using panels, scaffolding, mirrors and 1, 000,000 recyclable plastic balls to create a manmade ocean for all the ages to have an extraordinary time.
Look at the time-lapse of this idea.
The artists above definitely are aiming to achieve unexpected styles in the design industry by reusing or twisting the existing design ideas. After all, creativity is the heart of all designs.
We at BluEnt, encourage our team of designers and architects to stay motivated by providing the freedom and opportunity to fabricate innovative ideas. BluEnt is an outsourcing company which is constantly keeping its position in the architectural industry.
We cater services like interior drafting, architectural renderings, millwork shop drawings and much more. Contact us to know more.
Maximum Value. Achieved.