The Architectural documentation process serves as a roadmap for a building project. Architectural construction documentation includes a set of documents that need to be followed at each stage of construction and referred to in case of doubts.
Got a construction project underway? The first step is to get the architectural construction documentation in order to ensure that your project is legal and safe.
The architects, engineers and contractors will be the main overseers. Each one is an integral part of the project. Under them, you will have numerous people with various skill sets. 
Construction documentation ensures that everyone involved in the project is on the same platform, right from the start. It includes specifics pertaining to every detail of the building project and ensures that it proceeds smoothly.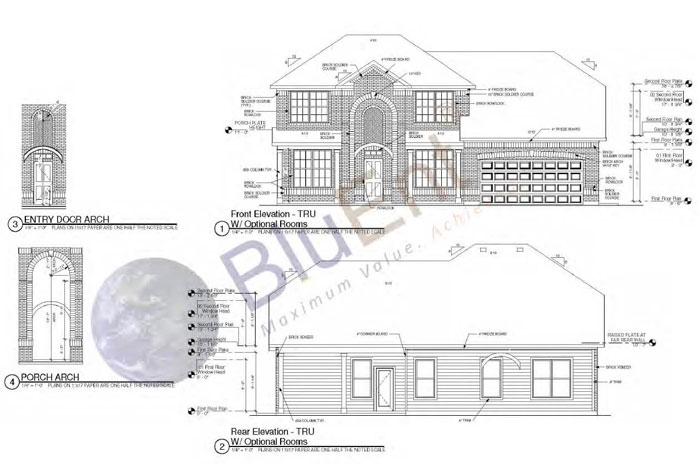 Architectural construction drawing by BluEntCAD
What are Architectural Construction Documents?
Architectural construction documents are a set of documents that covers in-depth details regarding the various aspects of the construction process.
It includes detailed drawings of the project with scale measurements, specifications of the type and quality of material to be used, floor plan and other particulars.
With a construction documents checklist, you can ensure that you have all the needed documents before embarking on the project.
The Construction Documentation Process
The general idea for an architectural project begins with the schematic design. Design development further refines and develops it. Construction documents add all the details and serve two primary purposes: to help construct the building, and to obtain a building permit from the local authority.
While the actual design does not change for the permit or construction, one nonetheless prepares two sets of drawings for them: The permit set and the issue for construction set. This is done so that unnecessary information is not provided to either party.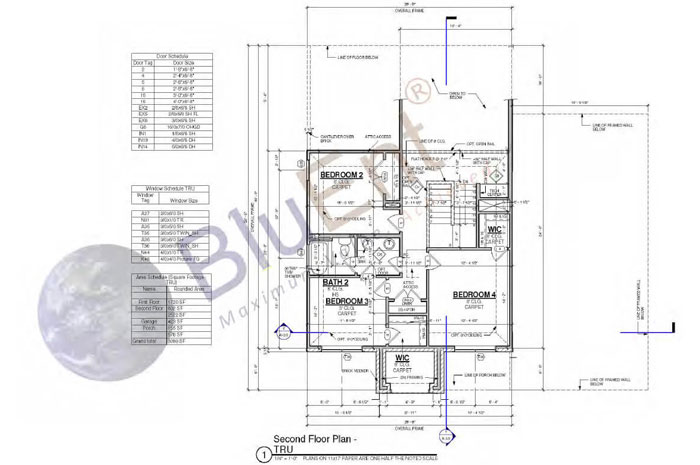 Another architectural construction drawing by BluEntCAD
Architectural construction documents consist of the following:
A0 Sheets: Cover sheet, accessibility notes and details, site plan, landscape plan (for more complex projects), life safety plan

A1 Sheets: Demolition plan

A2 Sheets: Floor plan

A3 Sheets: Sections and elevations

A4 Sheets: Reflected ceiling plan, power plan

A5 Sheets: Interior elevations

A6 Sheets: Schedules and wall types

AD Sheets: Details

S Sheets: Structural drawings

M Sheets: Mechanical drawings

E Sheets: Electrical drawings

P Sheets: Plumbing drawings

Other Drawings: Might include acoustic design or other specialty content
Other documents such as contract documents, bidding documents, cost estimates, interior design proposals, and so on, are not considered to be construction documents. They are not required for a construction set or building permit set.
Where to Get Architectural Construction Documents
The construction project management has a choice regarding the preparation of the construction documents.
One option is to contact a qualified person who specializes in making architectural construction documents. This person is hired as part of the construction team and given the responsibility of preparing the architectural drawings.
Another option is outsourcing. This entails giving the work of preparing the construction documents to a professional company. If you are unsure about opting for this process, you can read this piece on it to get a clearer idea. 
Why is the Architectural Documentation Process So Crucial?
Architectural construction documents ensure that there is good communication, and hence coordination, between the people working on the project.

Compliance to safety standards.

Using professionally drafted architectural construction documents to ensure accurate detailing and dimensioning.

Construction requires people with different skill sets to work together in coordinated unison. There are numerous different professional working on a construction project at the same time.

Their work needs to be well synchronized. Project coordination will ensure quality work and timely completion.

The architect needs to coordinate with the engineer and the contractor and they further need to coordinate with the electricians, plumbers, masons, carpenters and various other people who are working on the project.

The architectural construction documentation contains intricate details about each aspect regarding the construction. It allows each person to get clarity about their part in the project.

The fire regulations also need to be taken into consideration. Architectural construction documents prepared by experts ensure that these compliances are incorporated into the drawings.
Recommended Reading:
Conclusion
We hope this article has helped you understand the architectural documentation process a bit better!
It is important that you do not compromise on the quality of these documents. BluEntCAD, for example, has a stringent three-step quality check for all the documents we prepare. You can also get 3D rendering services with visualizations for your project. But don't take our word for it: go through our portfolio. 
We cater to large homebuilders, architectural companies, engineering companies, real estate developers, and custom home design companies.
Ready to make your project a success with construction documentation services? Contact us now!
Maximum Value. Achieved.