Interior rendering of lounge area by BluEntCAD
If you want to sell your project without words, an architectural flythrough or architectural walkthrough will serve your purposes. They immerse your viewer, help with place recognition, use visual storytelling, and provide an interactive experience.
But what's the difference between the two, and which one is better for your project?
Introduction
Compared with regular photorealistic 3D renderings, which are still shots, architectural walkthroughs and flythroughs are both animations. They can highlight many aspects of an exterior or interior space, including surfaces, textures, floors, roofing materials, light fittings and more.
In essence, they are virtual presentations of commercial, residential or governmental architectural projects. With them, businesses can showcase or describe their plans to investors, customers or financial specialists before the first brick of the construction is even laid.
Walkthroughs tend to focus on the interiors of buildings, while flythroughs often encompass both interiors and exteriors.
Architectural Walkthrough
In an architectural walkthrough, the viewer sees a space at eye level. Unlike with a regular exterior rendering or interior rendering, the camera "walks" through the space, giving the viewer the impression of being in that space. It provides details such as floor designs, lighting features, wall textures, and so on. It also shows you the general ambiance, the decor and the layout.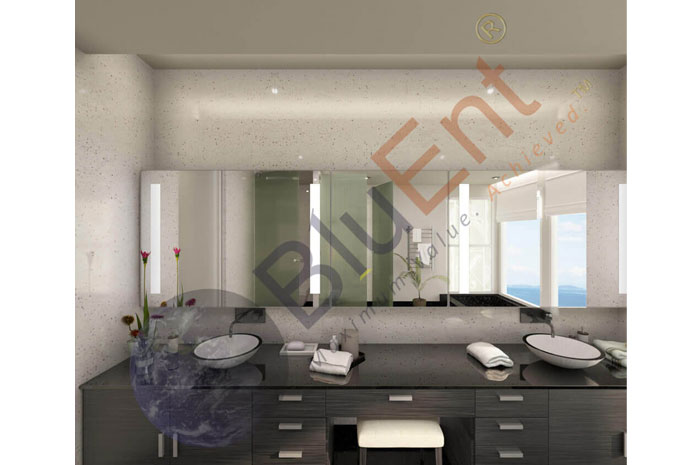 Still of bathroom counter from architectural walkthrough by BluEntCAD
Architectural Flythrough
Flythroughs tend to offer more comprehensive information about projects. The camera can "fly" into a township or other place from a far distance, zoom in and out, and offer a 720 degree view.
An architectural flythrough gives you a bird's eye view of the project, including both interiors and exteriors. You can also see the project from any distance and height, which means you get an idea of the surrounding environment, such as the street, pool, territory, parking lot, and even general area. Hence, you receive clarity on the general property map and its structural units.
Which Should You Choose? Architectural Walkthrough or Architectural Flythrough?
When you approach an architectural rendering company that provides architectural animation services, they can assist you in choosing the right service for your project.
However, it is always good to have an idea of which one you might prefer. Walkthroughs and flythroughs highlight different aspects of a structure.
3D architectural walkthroughs work well for:
Commercial projects, such as restaurants, resorts and hotels

Landscapes

Golf courses

Condominiums

Residential development
It is important to note that, while the camera itself moves, the objects and settings in a walkthrough are stationary. However, architectural walkthroughs are still excellent for closing deals, if you follow the right steps.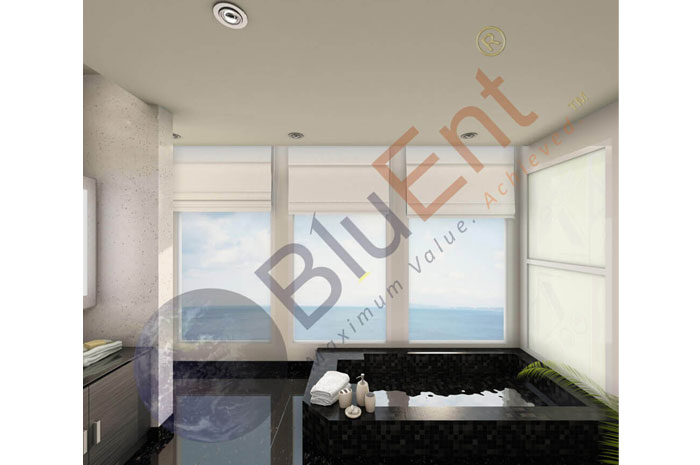 Still of black marble tub from architectural walkthrough by BluEntCAD
3D architectural flythroughs work well for:
Public projects

Mixed-use development

Commercial projects

Large-scale projects, including master plans
Flythroughs offer multiple perspectives in a short timeframe and allow the viewer to see the design intent in a holistic way. This might otherwise require many sketches, maps, pages of text, and CGIs.
However, flythrough videos work best when they are combined with 3D BIM models, CGIs, physical models, and various other multimedia presentations. This offers a more complete understanding to the client or investor.
What is the Cost of Architectural Walkthroughs and Flythroughs?
There is no one size fits all answer to this question, but you can get a rough idea depending on the scope of the work.
Some key points taken into consideration are:
Complexity of elements for 3D scenery

Type of space: property size, interior vs. exterior, surrounding environment

Use of photos or drone footage

Resolution (720p, Full HD 1080p, 4K 2160p)

Length (typically 1.5 to 2.5 minutes)

Timescale (typically 4 to 8 weeks, but can be done in 2 weeks if necessary)
Conclusion
We hope this article has shed some light on whether you should choose a walkthrough or flythrough. Whether you have a choice in mind or still need advice on the matter, BluEntCAD can make your idea a stunning reality.
We offer architectural flythroughs and walkthroughs to homebuilders, real estate developers, commercial architects, home renovators and designers, remodelers and design build contractors for large to medium commercial and residential projects. See how we've helped other businesses.
Ready to make your project a success with a flythrough or walkthrough? Contact us now!
Maximum Value. Achieved.