In the MEP industry, the progression of the M&E design into coordinated models and drawings is critical for a project's success. There will almost inevitably be challenges along the way. Luckily, these can be addressed with the BIM process.
In this article, we'll take you through the challenges of MEP and the advantages of BIM for your construction or architectural project. Whether you're a commercial architect, general contractor, or civil engineering company, this post is for you.
Introduction
MEP (Mechanical, Electrical and Plumbing) systems need to be integrated into a project in order to deliver a well constructed building.
However, efficient integration of MEP in a construction project is not easy and poses several challenges. BIM project management can address these challenges while ensuring the project is completed within the stipulated time and cost.
BIM is an increasingly valued process in construction, driven largely by growing infrastructure. There are even various government mandates for its usage. In 2019, the global market size for BIM was 5,205 million USD. It is expected to reach 15,892 USD by 2027.
MEP Challenges in Construction Projects
Management of Airflow & Illumination and Their Coordination With Aesthetics
One of the biggest MEP challenges faced by engineers is the ideal placement of illumination systems and their coordination with the aesthetics of the facility.
One has to determine how space will be acquired after construction and how to adjust the air flow and the lightings.
The biggest problem is that the receptacles, thermostats, and light switches can interfere with the wall coverings as well as the aesthetics.
Clashes Can Occur In the MEP Design
Coordinating the MEP disciplines during construction is challenging. It's very difficult to get these key areas in sync with the rest of the project.
Usually, the MEP design layouts run into several drafts because diverse spatial and functional clashes (interferences) occur.
How the BIM Process Addresses MEP Challenges
With BIM in construction, the MEP layout and the building plan can be designed simultaneously.
This approach is opposite of the conventional one, in which one has to change the MEP design if the layout of the building changes.
BIM techniques also enable the underlying structural and MEP elements to be first incorporated into the building plan.
The secondary elements related to MEP can be positioned around the core elements for optimizing the space.
BIM tools facilitate effective collaboration and visualization between MEP, structural and architectural components right from the outset, so that they integrate seamlessly with one another.
There are many BIM tools such as Autodesk Revit that can coordinate the designs prepared by different professionals and bring them together in an integrated format to accommodate the MEP layout. Revit modeling does this through design versatility, parametric data, and collaboration.
BIM clash detection also plays a role. This usually involves importing 3D models and running interference reports.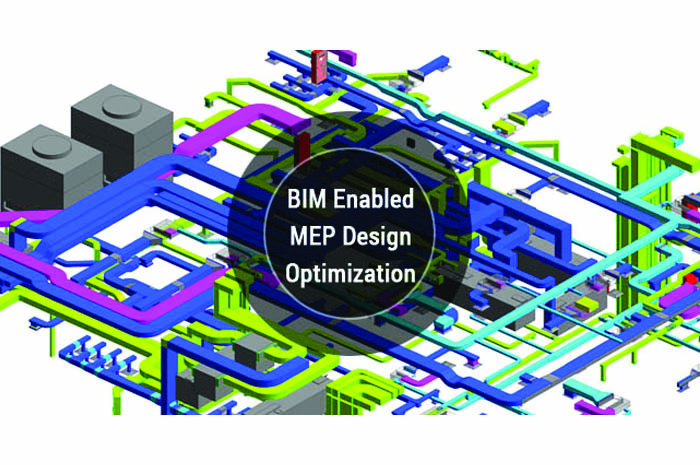 Conclusion
The BIM process increases collaboration and control while reducing coordination efforts and the requirement for rework. And if you need BIM modeling services, you're in luck.
BluEntCAD has a team of experienced and qualified BIM professionals who excel at managing large commercial and residential construction projects. They are familiar with MEP nuances and challenges and how to address them. Check our portfolio if you want to see how we've helped other companies like yours.
If you want to take your project to the next level with BIM services, contact us now! 
Maximum Value Achieved.