Modern apartment interior by Max Vakhtbovych
Ah, the age-old question. Condo vs apartment: Which is better? Condos and apartments may share many similarities, but there are actually several key differences.
Today, we'll outline these differences so you have an easier time choosing which one is better for yourself or your client.
Condo vs Apartment: An Introduction
The terms "condo" and "apartment" are often used interchangeably, and this can lead to confusion when it comes to buying, selling and renting. Condominiums (or condos) and apartments can in fact be identical units within one building. Confusingly, they often do look the same.
Even if you understand the condo vs apartment differences, there remains the question of which one is better for you or your client.
What are Condos and Apartments?
The primary difference between condo vs apartment is that a condo is owned by an individual, and is either rented out or owner-occupied. On the other hand, apartment units are leased out and owned by a single entity.
Typically, with condos, the renter and owner have one-on-one communication. Condo owners can, however, hire a management group to oversee the space.
What is a Condo?
A condo is a private residence in a community or building that is owned by an individual. That is, they act as a landlord.
Condo units typically have a clear structure and amenities that may include BBQ areas, pools, landscaping, tennis courts, fitness centers and other perks.

The owner has full say as to who gets to rent their unit, so renting a condo is a bit more personal than renting an apartment.

Landlords have an incentive in investing money and time in their property to add useful and exciting amenities.

The landlord will typically not be on site unless they live in the same building.

Since owners may have lived in the unit before renting it, the unit may carry a personal touch.

It might be possible to negotiate some items on your lease and add some modifications to the unit.

Although some condos are detached, in New York City, for example, many are part of a high-rise or larger building.

Condo owners can modify the inside of their unit as they please, including things such as remodeling the kitchen, painting the walls, or even changing the layout.

Condo housing is relatively common around the globe, particularly in urban areas where space is scarce.

The first condos in the US were built in Salt Lake City, Utah, in 1960.
Condo units first became popular in south Florida, particularly with retirees from northern areas, and quickly became more common throughout the US.
If you are constructing or renovating a condo or several condo units, it is a good idea to ensure you know what it looks like before it is actually built. You can do this with an architectural walkthrough.
Recommended Reading:
What is an Apartment?
An apartment is a rental property that is typically owned and managed by a property management company. They are usually located in complexes, communities or residential buildings.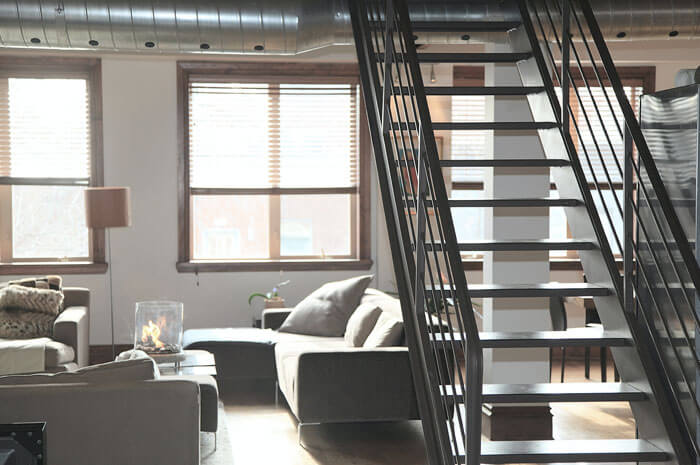 Credit: Life Of Pix, Pexels
Tenants follow the same guidelines for renting any unit within a building, complex or community.

All of the units in an apartment building are owned by the same company or organization.

Each tenant reports to the same property manager.

Property managers are usually seated in the leasing office within the complex or at the front of the community.

Apartments usually have more simplistic, "cookie-cutter" layouts than condos, since it is more cost-effective to update most units simultaneously.

Apartment units will typically contain more "basic" amenities, such as laminate counters instead of quartz, and linoleum floors instead of wood. However, it is still possible to make them look modern, chic and clean. Here are some tips if you're into minimalism or mid-century modern design!

The space will likely see more wear and tear than a condo, due to the materials chosen for amenities and decor.
Differences Between Condo and Apartment
There are several fronts on which condos and apartments differ.
1.

Maintenance

Condos

Maintenance is the responsibility of the owner.

The time taken for them to respond to your issue might vary. One the one hand, they are not handling an entire building of units. On the other, they have to seek out an independent vendor for repairs.

The homeowner's association is usually in charge of responding to issues in common areas. For these issues, they will have protocols in place, and you can contact them if you have something to report.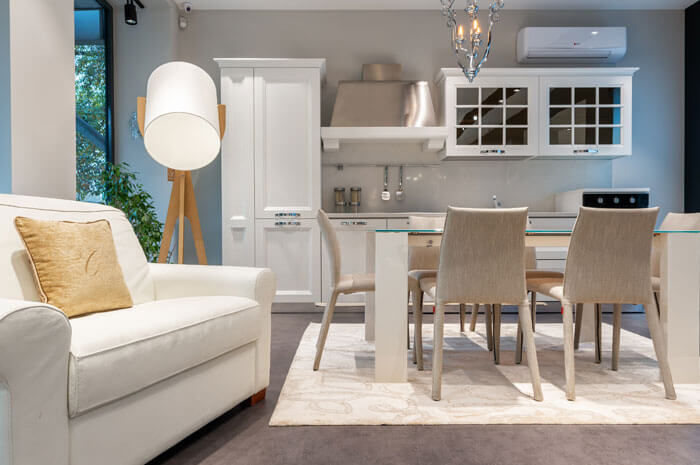 Credit: Max Vakhtbovych, Pexels
Apartments
There tend to be fewer regulations and rules, but the managing company may be less lenient about breaking them. Common rules include not hanging anything on walls (including shelving), not inserting anything other than small nails, and not painting the walls.
If there is a repair you cannot handle on your own, you need to contact the management company or property owner. They will usually be quick to respond, especially if the issue can impact other units within the building.
A big perk for apartment dwellers is ending up somewhere with a dedicated maintenance staff or on-call maintenance. In this situation, an issue can get resolved even faster.
However, the drawback is the number of rules for repairs. For example, if something breaks and needs a replacement, you will probably be unable to do it yourself. You may also have to report maintenance you could easily fix yourself, due to your property manager having to maintain a consistent look throughout the building.
1.

Fees

Condos
Condo fees depend on each unit's individual owner, and hence can vary greatly.

You might have to put down a security deposit.

It is sometimes possible to negotiate whether you put down first and last month's rent plus a security payment.

A unique fee you may have to pay relates to HOA fees (for common areas such as lobbies, landscaping, pools and elevators), due annually or monthly. Based on the level of service, they can range from 100 – 700 USD per month.

Payment is often done by check, not online. However, this can vary depending on the landlord, so be sure to ask them before you sign your lease.

In many parts of the US, the cost of renting an apartment is similar per month to buying a condo. However, in certain areas such as San Francisco and New York, the monthly cost of a mortgage can be far higher.

When it comes to buying a condo, upfront costs can be high, including closing costs and a down payment of up to 20%.

The longer you stay in your condo, the more the costs average out to something closer to costs of renting.

Your mortgage rate is locked in, but your HOA fees will increase to adjust for inflation.
Apartments
It is easier and more budget-friendly to move out of an apartment than to sell a condo.

Rent is usually paid on the apartment community's online portal. You can also pay by check if you prefer.

You will usually pay for utilities not included in rent (Internet, electricity, gas, etc.) separately to external providers on a monthly basis.
3.

Utilities

Variations between condos and apartments tend to exist based on how "high-end" the building is and when it was constructed. That said, you might expect a few differences.

Condos

A condo will probably have all the amenities available in apartments, and also include a few extras, such as:
Car wash

Park

Playground

Pet area with services such as dog washing
While some luxury apartments may have these kinds of amenities as well, they are generally more common in condos.
Apartments
There is not much consistency between apartment buildings. The type and quality of amenities will vary greatly, and they may or may not be free.
Some of the most common amenities in apartment buildings are:
On-site laundry

Gym

Community rooms

Pool

Free parking
Bear in mind that there is a chance that your apartment building may not have any amenities, or amenities that are poorly maintained. Certain amenities may also cost extra, outside of your rent price.
Whether looking for a condo or an apartment, make sure you check the spaces and ensure the utilities are up to your standards.
Condo vs Apartment: Which Should You Choose?
The correct option for you depends largely on how long you plan to live in one location, your finances, your preparation to take on a mortgage, and your inclinations towards building equity through property ownership.
Should You Buy a Condo?
Buying a condo might be a good choice if you:
Plan to stay in one place for several years or even the rest of your life.

Qualify for a mortgage (down payment, good credit score, etc.)

Want to start building equity in your home.

Want to rent out part of your space.

Are inclined to make some modifications to your space.
Should You Rent an Apartment?
Renting an apartment might be a good choice if you:
Are not sure where you want to live long-term.

Are struggling to qualify for a mortgage.

Are in a transitional period in your life.

Want to minimize your bills.
Conclusion
Choosing between an apartment and a condo is ultimately up to the individual or family. However, with a richer understanding of their differences, you will have an easier time of it.
If you are planning on constructing an apartment building or condo units, it is worth investing in a 3D architectural walkthrough. This will help you visualize the space before it is built so you can catch any errors, saving both time and money.
If you need an architectural walkthrough, BluEntCAD is just a click away. We serve homebuilders, real estate developers, interior design companies, architectural companies, home renovators, design build contractors, and remodelers for large to medium sized projects. Browse our portfolio to see how we've helped businesses like yours.
Ready to make your project a success with 3D walkthrough services? Contact us now!
Maximum Value. Achieved.