Exterior rendering of residence by BluEntCAD
This blog has been updated on – April 20, 2022
So, you're in the market for a new home. Perhaps you're dreaming of an airy, light-filled custom home you can move into with your beautiful family. Perhaps you need a practical, central place to stay for a few months with your dog. No matter your unique needs, we'll help you choose between a pre-built home and a custom home. 
What are Custom Homes?
As the term suggests, a custom home is a residential building that is specifically designed and constructed for a client. With this kind of personalized home, you should work with the builder each step of the way so you can bring your ideas to life as accurately as possible. This includes not just the interior design, but the floor plan.
One of the downsides of choosing a custom home is that there might a lot of back and forth between you, the architect and the home-builder than the average ready-made home.
However, with custom home design and drafting, you should be able to get exactly the place you always wanted. That can be worth the extra hassle if you're determined to live in your very own haven. 
Here are some examples of the kinds of decisions you will need to make if you choose to go for a custom home:
Exterior materials (stone, brick, board, etc.)

Building materials & finishes (lighting fixtures, plumbing fixtures, energy efficiency levels, floor style, etc.)

Home plan

Floor plan modifications, such as closets, vaulted ceilings, moving walls, windows & doors, etc.
If you need some help in deciding which materials, elements or finishes to use, you can check out the latest stone trends, tile trends and outdoor living trends.
Advantages of Custom Homes
Custom home plans are created from scratch, so you get the most flexible options. This means you can choose to not have any stairs in case you or someone else are generally unable to use them, have built-in storage, a custom kitchen island, or anything else you might need or want. 
The biggest advantage is that you can design it the way you want. It can be exhausting and difficult to find a ready-made home that fits your exact needs and aesthetic sense.

You can choose the highest quality materials if you wish. This means there will be a lower chance of things breaking down when you most need them or getting ruined by bad weather. It will also require less maintenance than the average pre-built home.

You can go for sustainable architecture. This way, you can reduce your carbon footprint and even grow some of your own food, so you won't have to rush to the market for fresh basil while making dinner.
What are Pre-Built Homes?
Pre-built homes or ready-made homes are homes that are ready to move into. They may be older or just constructed. They are generally easier to move into than custom homes, since you don't have to work on the design and construction.
If you're looking for a home fast, ready-made is the way to go. However, bear in mind that the materials may not be high-quality and it may not be quite as practical as you want it.
There can be many kinds of pre-built homes. One of them is the production home, also called the tract home or the "cookie cutter" home. Typically, you will find these in suburban locations or neighborhoods that were constructed by large-volume homebuilders. In such communities, all homes might be built by one homebuilder who owns all the lots.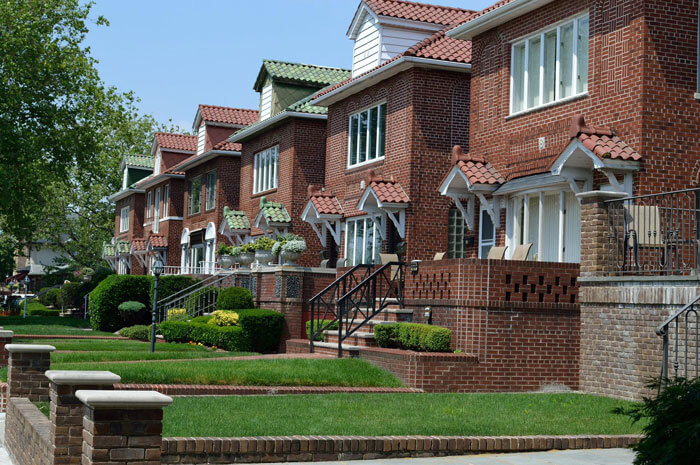 Residential dwellings by F. Muhammad
Advantages of Pre-Built Homes
You're going to save a lot of time and stress. While there will still be a number of steps before you can move in, it usually won't take more than a few months to finish the viewings, financing, offer, home inspection and closing.

So if you're relocating because of a job change or transfer and your kids need to go to school, we suggest keeping the custom home for another time.

It's generally less expensive than a custom home. However, bear in mind that this will depend on where you are planning to live. For example, in Toronto, prices have risen so steeply that some people have actually opted to tear down their old homes and construct new ones from scratch rather than hunting for a home they can afford in the city.

Furthermore, if you have the flexibility to live where you want, you might actually find it cheaper to buy land in a rural area or small town and construct a home there.
The Middle Ground
If you wish for a blend of custom and pre-built, there are a range of semi-custom homes you can go for. In many such cases, a basic design and building plan is made by the developer and architect, and you can add some personalization, such as more rooms, exterior materials, and paint colours. 
However, some elements like the ceiling height and kitchen size cannot be changed, because the homes need to feel and look consistent with other homes from the same plan. The selection number is also limited to curb costs and make sure that the construction is finished on schedule.
Prefabricated homes are an example of semi-custom homes, and can be broken down into two categories: modular homes and manufactured homes.
Modular homes are assembled on-site in sections ("modules"), which are pre-built in factories. While modular homes do allow for some home personalization, they are not considered "genuine" custom homes. This is because customizability is limited due to factory, time and cost constraints.

Like all other homes, modular homes need to conform to all applicable regional, local and state building codes.

Manufactured homes are a modern version of mobile homes. These can be moved from site to site with relative ease, and are available in various sizes, such as triple wide and single wide.
Conclusion
Therefore, there are three primary elements to choosing custom vs ready-made homes: budget, timeframe, and personal preferences.
If high-quality cabinetry and flooring is your thing, for example, then go for a custom home. For this, you will require accurate construction documentation.
BluEntCAD provides construction drawings services, including interior construction drawings, to real estate developers, home designers, homebuilders, and architectural and engineering companies. Browse our portfolio to see how we've helped businesses like yours.
Ready to construct a safe, aesthetically pleasing custom home with construction drawings? Contact us now!
Maximum Value. Achieved.