Interior rendering of dining space by BluEntCAD
Photorealistic 3D rendering isn't just about creating an architectural space. It's also about eliciting the right emotions so you can sell your work with a distinct competitive advantage. 3D artists are crucial to emotional marketing, and today, we'll go over the techniques they use to elicit specific emotions in clients and potential investors.
Introduction: What is Emotional Marketing?
Emotional marketing is a type of marketing that aims to elicit specific emotions in potential customers or investors to persuade them to buy goods, engage with the brand, or strengthen their loyalty. Such emotions can include happiness, sadness, or even anger, depending on the message or impression the company is trying to convey.
Companies that use emotional marketing usually have the goal of forming a deeper connection between their customers and their brand. Such marketing often, though not always, displays a company's response or reaction to relevant situations or current events.
A report by Fast Company suggests that advertising campaigns with purely emotional content perform roughly twice as well as those with only "rational" content. They also perform better than campaigns with a mix of emotional and rational content. It's a good idea to invest in 3D artists for emotional marketing, since consumers tend to feel comfortable when a company displays an emotion that they themselves share.
Here are some reasons why emotional marketing works:
It can elicit an instant reaction

It can inspire action

It can help customers decide on a purchase

It can be memorable
How 3D Artists Create Captivating Photorealistic Visuals
2D renders, site plans and floor plans are excellent to convey an idea clearly – there is a reason they are still in use.
However, for a "try before you buy" approach, photorealistic visuals, architectural walkthroughs and 360 virtual tours work best. It's a great way to give your client a "feel" of what they are purchasing. You create a defining moment to capture your client's imagination and close your deal when you activate their emotions.
Indeed, one of the great challenges for companies is convincing their clients of the more intangible aspects of building design: coziness, atmosphere, and the like. 3D artists tackle this problem by creating imagery that can send a shiver down your client's spine, instilling in them a sense of awe or wonder.
The best 3D renders will be authentic, detailed and impactful, as much a work of art as a technical achievement. They will highlight different perspective to the detailing of the project and tell a story. A good 3D renderer will know the right aspects to highlight in the interior and exterior renderings.
Let's see how it's done.
1.

The 'Rule of Thirds' for Balanced 3D Visuals

3D artists often follow the rule of thirds.

As per this rule, the rendering has 9 equal parts divided by 4 intersecting lines. An artist can focus easily on each part. The artist places the most crucial objects or highlights near the intersections of the lines, and the objects close to the intersections attracts more attention.

This rule helps in achieving the correct symmetry, highlighting the important parts of interiors and exteriors.
2.

The Impact of Light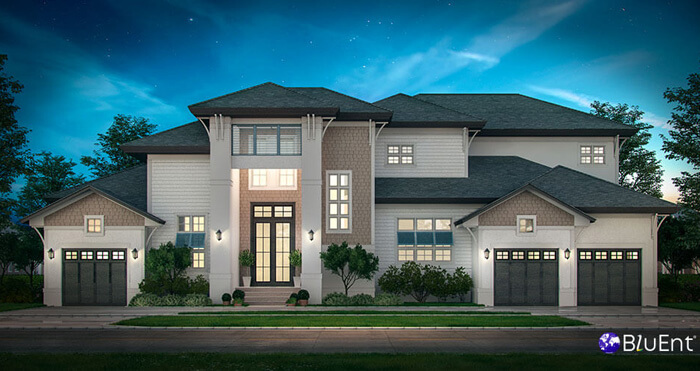 Exterior rendering of house in evening by BluEntCAD
Lights, camera, action!
Lighting plays a central role in bringing out details of both interiors and exteriors, whether of a large shopping mall, a small dentist's waiting room, or a quiet, spacious barn house.
Two photorealistic renders of the same room can evoke vastly different emotions depending on the lighting, the weather visible outside the window, and the time of the day implied. 3D renderers can also choose to provide a mix of natural and artificial light. If you want a perfect pitch, you need to let your architectural renderer know what details you want when requesting visuals.
The time of day, in particular, plays a crucial role in setting the mood of your render. Here's a quick overview:
Midday: Most 3D artists prefer setting their renders in midday due to the abundant lighting. All elements are shown with full clarity. The midday setting is great for showing off the interior detailing and color palette, as everything can be seen in fine detail. Since there is enough natural light during this time, the light fixtures in the rendering can be (and usually are) switched off.

Night: Nighttime is a good setting for showing off artificial illumination, that is, the types of lighting fixtures you have planned to use. This kind of render will display the interaction between the different lighting fixtures, indicating how they will work together both aesthetically and practically. It will also demonstrate whether the lighting is cool or warm and colored or white, as well as the types of shadows cast. Garden lights can also be shown.

Sunrise or sunset: This will bathe your interiors in soft, warm lighting and set a romantic, magical atmosphere. However, objects may not show all the details clearly, so it's usually a good idea to only use dawn and dusk visuals as additions to visuals set in bright daylight.
The weather will have an effect on the lighting and mood as well. For example, a sunny day will give your rendering an energized, warm and vibrant mood, and bring out all the details sharply. A cloudy background will provide more neutral lighting and a laid-back, relaxed ambience.
With the correct lighting, you'll be able to convey the atmosphere you want, whether that's cozy, professional, playful, romantic, or anything else.
3.

Photorealism in 3D Rendering

Realistic 3D visuals don't just serve to provide details such as layout and materials – they create atmosphere and mood. Sketches and drawings are capable of this, but it is much more difficult and time-consuming with them.

With 3D rendering, clients and investors can experience the feel of a space. 3D artists utilize software such as 3ds Max, Blender and Maya to add special effects and details, such as decor and food and drink.

Think of a steaming stew on a table while snow piles up outside, soft toys on the floor in a play room with summer sunlight, or a book left open on a sofa, as if the homeowner had left it there to go see who rung the doorbell.

Scenes like this help to emotionally engage your audience and allow them to imagine a beautiful future in their home. Of course, it also applies to commercial buildings, government infrastructure and hospitality areas. No matter the kind of architectural project, photorealistic images will always help you close the deal. 
4.

A Detailed Environment

Where will the building be set? A bustling metropolis? A mountainous wonderland? A quaint countryside? The building's environment plays a part in evoking moods. For instance, when your client sees their boutique hotel with the backdrop of lush hills and a tranquil lake, they'll probably be much more convinced that it will attract guests.

Details can also include human figures. This is especially useful for hospitality, government and commercial architectural projects. 3D artists can "populate" your locations with 3D models of human figures or even shots of actual humans from templates. This can make parts of a render hyper-realistic.

It's easier for clients to visualize themselves in a space when they see other humans in that space, working, relaxing, or engaging in a hobby.

The setting of your rendering can sway your client's final decision. Make sure your architectural rendering company understands that.
Conclusion
Flawless execution of a 3D render requires detailing, realism, aesthetic sense and technical knowledge. If you're putting your business deal in the hands of a 3D modeler, it is best to choose one with relevant experience. That's why so many companies approach BluEntCAD for 3D rendering services.
We cater to homebuilders, architectural companies, interior designers and decorators, remodelers, home renovators and real estate developers for large to medium sized construction and renovation projects. Browse our portfolio to see the work we've done for companies like yours.
Ready to make your project a success with architectural rendering services? Contact us now!
Maximum Value. Achieved.