Corrugated metal building by Jan van der Wolf
For long-term roofing solutions, metal can provide better energy efficiency and durability than tiles or shingles. When it comes to selecting the right metal roofing types for your needs, you need to understand the pros and cons of the options available in the market.
Let's get started.
Introduction to Types of Metal Roofs
Metal roofing can be a low-maintenance, long-lasting alternative to "traditional" roofing.
For example, while asphalt shingles might cost less, they are vulnerable to erosion, cracking, and shrinking, especially when exposed to extreme weather conditions. Even with proper maintenance and repair, the life expectancy of asphalt shingles is far shorter than that of metal.
Metal roofs can last over half a century with only minimal repairs and maintenance. If designed in a certain way, along with accurate metal shop drawings, they can withstand winds of up to 140 mph and not crack or corrode from seasonal weather conditions.
Furthermore, metal roofing is energy efficient and can reduce your cooling costs by 1o to 25%.
There are many types of metal roofs to choose from, with a wide range of materials, colors, and profiles that come with their own benefits.
Recommended Reading:
Top 5 Metal Roofing Types
The most popular metal roofing types are stainless steel, aluminium, lead, zinc and copper. Metal roofing materials offer different applications for residential, commercial and industrial buildings.
Primarily, there are two types of metal roofing systems:
Standing metal seam roof

Screw down panel roof
Standing metal seam roofs are generally the better choice for residential projects. Of course, your choice in modern roof designs will be made based on numerous factors such as budget, purpose, aesthetic, and so on.
1.

Steel Roofing

When it comes to popularity, steel roofing dominates the metal roofing market. Steel is an alloy made up of iron and low amounts of carbon, and can be rolled into differing widths, profiles and lengths. (Note that with a higher than 2% carbon content, the material is considered cast iron.)

Steel roofing is a great choice for residential, business, ecclesiastical and school usage.

There are three types of steel you can choose from:
Weathering steel: This type of steel is designed and manufactured for the heavy steel sector, and is often used for bridge construction and similar projects. The outer layer of the material is designed to rust and corrode, which projects the interior. However, this also makes it not right for structural buildings, since it will require regular maintenance.

Galvanised Steel: Galvanized steel is manufactured with a layer of zinc, which gives the metal extended life. In terms of steel metal roofing, galvanized roofing panels and sheet metal are the most common types.

Galvalume Steel: A layer of zinc metal with aluminium is used, which protects against a variety of environments and helps prevent corrosion and rust. However, the surface is easily marked and scratched, so care must be taken during installation.
For protection and color, you can use a coat of epoxy primer and a baked-on acrylic top coat. If a sheet system is meant for a commercial project, you can give it a highly durable paint finish, such as Kynar 500. Another finish you can apply is stone coating, which is a premium surface and can mimic tile roofing.
Pros of Steel Roofing
Easy to install & lightweight

Corrosion & rust-resistant

Affordable

Available in many different colors

Recyclable

Easy maintenance

Long-lasting & durable

Can be manufactured in a variety of profiles, including box profile and corrugated metal roofing
Cons of Steel Roofing
Might not last as long as more expensive metal roofing if not properly installed

Sheets can become damaged if not regularly cleaned of animal droppings or debris
2.

Copper Roofing

If it's a striking appearance you want, copper should be your choice. Copper roofing changes color over time, attaining its famous blue-green or brown patina. The patina can vary depending on the climate and environment.

Furthermore, copper can be formed into various materials, such as shingles, tiles, sheets and panels. Hence, no matter the style or size of your project, copper is versatile enough to form its roof.

However, copper is among the most expensive types of metal roofs, at about thrice the price of steel. Zinc is the only kind of roofing that costs roughly the same amount.
Pros of Copper Roofing
Lightweight & easy to install. In fact, the weight of copper reduces the pressure your structure will be subjected to over time. It is also lighter & less expensive than authentic slate and clay tiles

Corrosion & rust-resistant. This is thanks to the patina that develops

Attractive. Copper roofing lends personality, uniqueness and style to any building

Long-lasting. If installed correctly and maintained well, copper roofing can last over 80 years

Unlike other metals, can be soldered to make a watertight seal between gutters, flashings and roofs

Versatile & can be shaped into many forms
Cons of Copper Roofing
Among the most expensive metal roofing types. Four times the price of asphalt shingles

Dents relatively easily

Not as easily available as other metal roofing types. In many cases, will have to be ordered specifically for your project, which can delay the schedule

No assurance of patina color, whether green or brown or something else. Furthermore, patina coloration can take longer to occur in certain environments

Contraction & expansion can occur if not installed properly

Can cause run-off staining on cladding or walls. This can be prevented with adequate water drainage. Roofing contractors and fabrication drawings will help.
3.

Zinc Roofing

Zinc, similar to copper, can be used to create a variety of roofing types, including corrugated metal roofing, for a unique and striking look. The material has become popular among architects and builders because of its longevity and attractiveness.

This metal roofing type is suitable for residential, schooling, ecclesiastical and commercial buildings.
Pros of Zinc Roofing
Widely available

Lightweight and adds no structural stress to the building

Since it is naturally soft, constructors can utilize hand tools on it

Low energy consumption compared to other metal roofing types. It can also help you save energy costs since the metal absorbs heat

Can last for up to a century if properly installed and well maintained

Reacts to atmospheric moisture and carbon dioxide to form a layer of zinc carbonate, which protects it from corrosion. Hence, it can be used near the coast without worrying about negative impacts of moisture and salt.

Is not usually degraded or weathered by exposure to UV light
Cons of Zinc Roofing
Expensive to purchase and install

Requires regular maintenance and needs expert input if any shape changes are required

If conditions are not suitable for a patina to form, there can be issues of corrosion from the underside when exposed to moisture. This must be considered in the design. You can add an anti-corrosion coating on the underside.

Unattractive chalking and occur where water runs off the roof.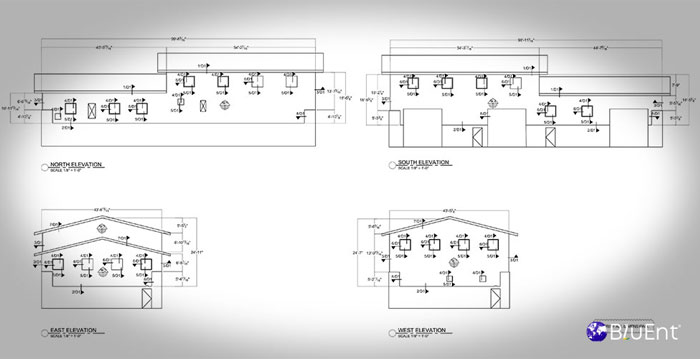 Metal shop drawing by BluEntCAD
4.

Lead Roofing

Lead is among the oldest materials used in the roofing industry and is still popular around the world today. Additionally, lead roof flashing (sealing where the roof meets a vertical surface like a wall) is a common way to protect a roof from leaks.

Roofing made of lead is suitable for residential, commercial, industrial and ecclesiastical buildings.
Pros of Lead Roofing
Durable

Recyclable

Can expand and contract in different temperatures, which helps to maintain the building's energy efficiency

Can be molded into various shapes for different designs

Resistant to atmospheric corrosion, so it lasts longer than other types of metal roofing

Resistant to sound and radiation
Cons of lead roofing
Can melt in extreme heat

Heavy

Expensive

Toxic when it breaks down with time

Can be subject to theft due to its high scrap value
5.

Aluminium Roofing

If your project will be near the coast, aluminium roofing is ideal. It's a great choice for a variety of building projects, whether commercial or residential. Because aluminium is one of the most abundant metals available, it is widely used in roofing.

It comes at a variety of price points and is affordable for businesses and home installation. Costs differ based on thickness, style, length and size.
Pros of Aluminium Roofing
Lightweight & easy to install

Energy efficient. Absorbs and retains heat, so your home can feel warmer

Resistant to rust and corrosion

Malleable. Can be easily formed to resemble clay, shingles, stone and tile

Recyclable
Cons of Aluminium Roofing:
Soft and dents easily.

Can be expensive due to its resistance to corrosion

Requires more maintenance than steel roofing

Can fade or become discolored without coating or treatment
Conclusion
We hope this article has given you an insight into type of metal roofing you should use for your next architectural project.
Metal roofing is done best when metal shop drawings are used. BluEntCAD provides metal shop drawing services to roofing contractors, window manufacturers, curtain wall manufacturers, railing manufacturers, concrete subcontractors, and excavating sub-contractors. Browse our portfolio to see our previous work.
Ready to make your next project a success with metal shop drawings services? Contact us today!
Maximum Value. Achieved.