Millwork shop drawing by BluEntCAD
This blog has been updated on – May 11, 2022
While you cannot fully avoid mistakes during construction, you can certainly avoid mistakes that blow a sizeable hole through your company finances. One way to do this is by implementing accurate casework shop drawings. However, shop drawing professionals can and do sometimes do not develop them properly.
It's one thing to paint the walls the wrong color – but realizing that the cabinet space you finalized for your client's bathroom is not going to fit the casework is a mess that will cost you more than just your reputation. That's just one example of what can go wrong without detailed casework shop drawings. 
At BluEntCAD, we've worked with a lot of millwork and casework clients since 2003. After a few hundred sets of custom shop drawings, we've confirmed that some planning mistakes are easier to avoid altogether than to fix later. 
Casework Shop Drawings: Costly Mistakes You're Making
Not taking the client out on a date
Metaphorically, of course.
As on any good date, communication is key. Begin with the basics: 
Who is going to use that casework?

How many people will have access to it?

What environment and space will it be in? For example, is your modular casework going to be in a children's room? Then your design will have to be solid, fall-proof, and child-safe. (Oh, and easily cleanable.)

As another example, are you going to install your casework cabinets in a healthcare facility? Make sure that the surface is easy to sanitize and that the casework contains smaller spaces for easy-to-grab objects, such as soap, gauze, paper towels, etc.
Once you clear up such questions, you can create casework and millwork shop drawings that will lead to simple and easy-to-use components.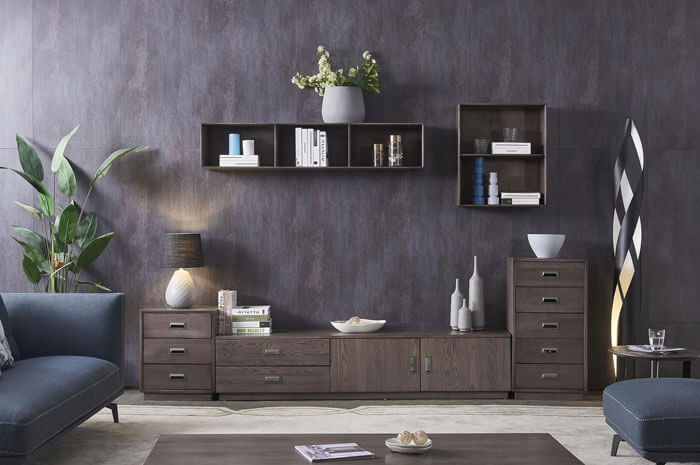 Image by we-o_rd
Not knowing the space for casework
When drafting your architectural millwork and casework, keep your focus on space. Typically, casework anchors the entire room, acting as a visual barrier between elements and operating as storage at the same time. Hence, your architectural millwork design should help to create a lasting, functional workflow.
That being said, no two rooms are alike – in usage, technical considerations, or facilities.
Your living room might be the most vibrant room in your house, but your bathroom bears the brunt of the highest traffic. Subsequently, you might need versatile, attractive storage options for your living room, but you will definitely need sturdy, durable cabinetry for your bathroom.
Let this reflect in your drafting drawing.
Keep the space requirements in mind before you go out and buy that fancy hotel-style sink. The golden rule is to "measure twice, cut once." Furthermore, leave some room for future installations. This will come in handy whether you want to remodel your bathroom or renovate your whole home.
Modular casework is designed to survive moving, reinstallations and reconfigurations. However, you have to make sure that you get the right team on board to give you the best possible architectural drafting services.
Incoherent design elements
You have to decide the purpose of the space and create a functional design instead of automatically going with the standard configuration.
For instance, you can install custom glass panels on the storage shelves of healthcare modular casework. This will allow nurses and doctors to find things they need quickly. In a space where swiftness is crucial, you can help save lives by reducing the time needed to find supplies.
However, in an office, where privacy is supposed to be maintained, glass panels can be replaced with wooden doors.
And this is not all. You can always come up with different ways to create a functional and rewarding space for your clients. Installations such as under-cabinet lighting, recycling containers, and separate space for toxic waste are "smaller" ideas, but create a high-end facility for your customers.
Leaving out the details
Where will your MEP connections be? Do you have enough room for electrical, plumbing and HVAC? Are your outlets high enough to avoid splashes?
Leaving these crucial details for later means your casework planning will be expensive, time-consuming and taxing. Your shop drawing sets should include these details.
Here are some points to consider:
Most states in the US require the top of your furniture to be 18 inches away from the bottom of your sprinkler.

Keep your wall cabinet and base cabinet the same width. This adds consistency to your design. No one ever notices this detail – unless of course, it's off.

Always measure the depth of your wall. Nobody wants to install 36-inch cabinets inside a 32-inch deep wall.

Will you install upper or lower cabinets first? The former gives better access for lifting the cabinets. However, installing the lower cabinets first helps to ensure uniform spacing for upper cabinets if floors are uneven.

Hire a reliable courier if you need your casework or millwork delivered to a site. Ensure that all drawers and doors that have been pre-fitted are firmly shut, and protect the woodwork with blankets.

Consider assembling the casework in your workshop before taking it to the site. This does feel like extra work, but you don't want to find out that something's wrong after you've arrived at the site.
Not cutting your coat according to your cloth
Just because you like something does not mean it will look good in your space.
This applies to everything, from sinks to kitchen cabinets to countertops. You cannot have a 30-inch sink inside a 30-inch cabinet.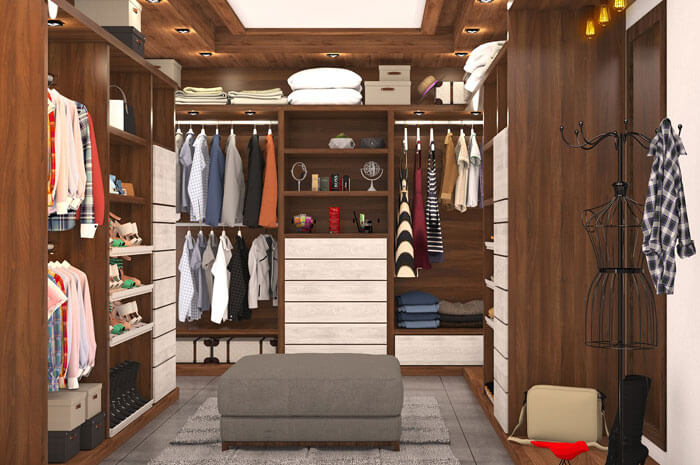 Clothing cabinet interior by Bumiputra
Conclusion
Casework shop drawings and millwork shop drawings can help you prevent many of the above-mentioned issues. That's why so many businesses reach out to BluEntCAD for precise shop drawings.
We serve casework companies, woodworking companies, custom furniture manufacturers, millwork manufacturing companies, signage manufacturers, interior designers, prefabricated home designers, and decks/fencing manufacturers. Browse our portfolio to see how we've helped companies like yours.
Ready to make your project a success with casework shop drawing services? Contact us now!
Maximum Value. Achieved.