SolidWorks modeling by BluEntCAD
If you work in engineering, architecture or design, you've heard of SolidWorks rendering. Every company wants to reduce errors, streamline workflow and improve collaboration – but is SolidWorks modeling the right choice for you?
In this article, we'll outline the main features of SolidWorks to help you come to a decision.
Introduction to Rendering in SolidWorks
SolidWorks is among the most common Computer Aided Design (CAD) packages on the market. It is a 2D and 3D parametric modeler and used globally across enterprises, often but not always for millwork projects.
In today's digital environment, many businesses, including but not limited to manufacturers, millwork companies, and home designers, are converting their files from 2D to 3D to streamline the design process.
Users can import AutoCAD sections and 2D data in DWG and DXF formats into SolidWorks to generate 3D models. They can also drag and drop drawing sections from DWG into SolidWorks.
Applications of SolidWorks 3D Modeling
SolidWorks software is used for everything from rapid prototyping to designing, and is crucial to many engineering and drafting methods. It is also useful for developing new, innovative products.
Some applications of SolidWorks are:
Manufacturing: Turning designs into products, including machine modules.

Designing: Surface modeling or parametric/direct solid modeling.

Engineering Analysis: Electromagnetic analysis, thermal analysis, fluid analysis and more.
Important Features of SolidWorks 3D Rendering
1.

Visual Analytics

Take advantage of fully integrated analysis and simulation tools. Visualize results in 3D design and get important information with visual reporting and analytics.
2.

Photorealistic Rendering and 3D Animation

Develop powerful photorealistic renderings and 3D animations to clearly communicate design. These 3D renderings and animation can be powerful tools for marketing as well. Indeed, they are often used to boost real estate sales.
3.

Library

With the library, you won't have to redraw common features repeatedly.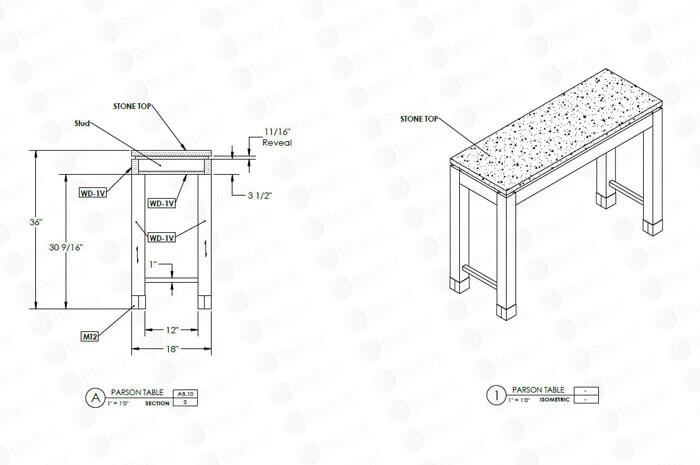 SolidWorks model of Parsons table by BluEntCAD
4.

Hole Wizard

Information such as threads, fit tolerances, etc. are accessible within the Hole Wizard tool. The NPT, Counterbore, Threaded threads and more are included.
Recommended Reading:
5.

Power Trim/Extend

Power Trim lets you get rid of extra lines in the design. By holding the Shift key while dragging lines, you can switch from trimming to extending.
6.

Quick Mates

Put together components in an assembly easily. To bring up the Quick Mates icons, hold the Ctrl key and select references such as edges, faces and vertices.
7.

Hide and Show

Hide and Show makes working with assemblies far easier. If you hover over a part and press the Tab key, it will hide that part. Shift+Tab will unhide it. To unhide all hidden components, click "show hidden components".
8.

Breadcrumbs

With breadcrumbs, it becomes easier to find features, select reference plans and interact with assemblies. Furthermore, pressing the D key will bring the breadcrumbs to the cursor.

This way, you will not have to collapse and expand the feature tree to search for things.
9.

Command Finder

SolidWorks software contains hundreds of commands. With the Command Finder, you can locate commands easily. This helps to both learn the software and get to tools more quickly.
Advantages of SolidWorks Rendering
Chances are your guests will have some work to do while staying at your hotel. They'll want a space where they can relieve their stress and be comfortable.
Hence, landscaping for hotels should include inviting spots such as cafes, poolside bars and courtyards.
1.

Share Designs Quickly

Share your designs and demos remotely with clients, investors, team members, and more.
Share designs and data in real-time to as many people as you require.

Send designs over the web, apply them in other mediums and use them in animations for demos and presentations.
2.

Automation

With automation, you can focus on running your business.

Replicating existing 3D design patterns often slows down the design process. This is where SolidWorks CAD modeling comes in, since it has built-in automation.
Automatic dimensioning of 3D CAD models, which means that you can go from the inception of an idea to the design phase quickly.

Create multiple configurations by setting guidelines and parameters to develop existing designs. This means you can create many variations of an idea in the same time it would usually take to create only one.

Automate creation of new designs by setting parameters and rules. Store library of existing formulas, parameters and information.
Recommended Reading:
3.

Easily Check Interference and Calculations

SolidWorks software helps to calculate geometric measurements and forces related to deflection, motion, part stress, vibration and other factors.
Save time, since you don't have to do the calculations yourself.

Improved accuracy of design, since the software makes sure the math is correct based on the set parameters.

Easily make changes regarding additional variables.

Features allow you to inspect for interference in large assembly designs.

Dissect models by exploding them.

Visualize assembly process or inner components.
4.

Cost-Efficient

Due to standard built components that are included in 3D CAD, designers can save time and hence money.

SolidWorks modeling helps you to shorten the design cycle, speed up time to market, and eliminate repetitive activities.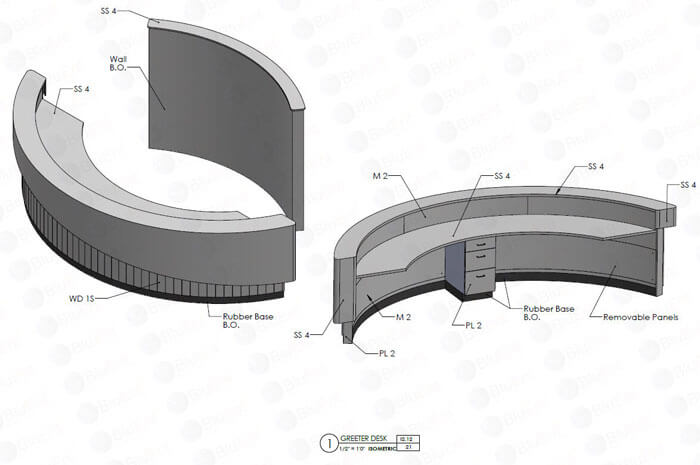 SolidWorks 3D model by BluEntCAD
5.

Innovative Designs
Visual graphics help customers and investors understand components' properties and features. They also help in preparing proposals.

Explore a variety of design methods and align electrical and mechanical designers with embedded simulation tools. This helps to consider various "what if" scenarios.
Drawbacks of SolidWorks Modeling
SolidWorks, like any other software, comes with its challenges. Some of them are:
Limited operating system (OS) compatibility. It requires a Windows computer, since there is no Mac OS version.

Limited 2D functionality. If you want to primarily design in 2D, AutoCAD might be a better option.

Higher cost. The software requires both an annual subscription and an initial license investment for access to frequent updates and technical support. Students can receive a reduced-cost license for educational usage. However, Dassault does not give free licenses.

Their relatively new focus on cloud-based apps was introduced a little late in the game. It might require some work to make it truly enterprise-class.

Some 3D models cannot be repaired with feature works and healing.

Could use faster processing.

There have been reports of random crashes. It will require a powerful computer.

Requires an add-on program for file management.
Conclusion
If you are working on 3D modeling and manufacturing, SolidWorks is overall an excellent choice. SolidWorks rendering allows you to take full advantage of realistic details, thereby making your processes and product more efficient.
If you do not have the bandwidth or expertise to use SolidWorks, BluEntCAD is just a click away.
Our experienced SolidWorks professionals serve casework companies, furniture manufacturers, signage manufacturers, decks/fencing manufacturers, interior designers, cabinet makers, prefabricated home designers and millwork shops for commercial, hospitality and residential projects. Go through our portfolio to see how we've helped other businesses like yours.
Ready to make your project a success with SolidWorks modeling services? Contact us now!
Maximum Value. Achieved.