This blog has been updated on – April 06, 2022
Millwork, as well as millwork shop drawing, has been essential to building construction, interior design and architecture for many centuries. With so many years of history, it is little wonder that there is a difference between traditional millwork and modern millwork.
Knowing the difference between the two will help you come to better decisions in your construction, renovation or design projects. Let's get started.
Compared to the cutting-edge technologies introduced to the building industry, such as computer-aided manufacturing and building information modeling, millwork only experienced a transformation from traditional to modern. Technologies are employed to improve and streamline construction and renovation using millwork.
The introduction of state-of-the-art machinery and high-quality craftsmanship help make the transition from traditional to modern millwork.
What is Traditional Millwork?
Most of the work involved in traditional millwork included the making of lumber pieces through mechanical sawing and other processes. Products and materials from traditional millwork were found in many homes in the late 18th and early 19th centuries. (We've covered the Golden Era of Millwork, if you want a peek into history.)
Throughout the ages, traditional millwork created a link between ideology and production technology, and contributed character and functionality to buildings through a high-quality and innovative market.
Architectural millwork was the bedrock of traditional millwork, as many times the wood was exposed to view after the completion of a building project.
Included in this category are windows, doors, paneling, stairs, crown molding, box beams, door frames, trim, shelving, commercial and residential cabinetry. That is, everything made of wood that was built into the building or attached to its interior.
Millworkers also provided custom millwork to create personalized signatures and make statements. This encouraged the creation of unique products that were not similar to others, and no one was likely to have an identical piece.
Traditional millwork was made of almost 100% wood without any inclusion of other materials, such as plastic. The production process started from manually sawing lumber into pieces and then manually molding them to fit the design.
This is why there were a few differences even in parts meant to be similar, unlike in modern millwork. Modern millwork techniques often depend on 3D modeling, millwork shop drawings, and machinery, which can result in identical pieces if that is the intent. 
In traditional millwork, more attention was paid to the finish of the wood products. These could be paint, stain, or semi-transparent finishes. The purpose of the finish could be decorative or protective, to keep the woods from fading, splitting, warping, or decaying.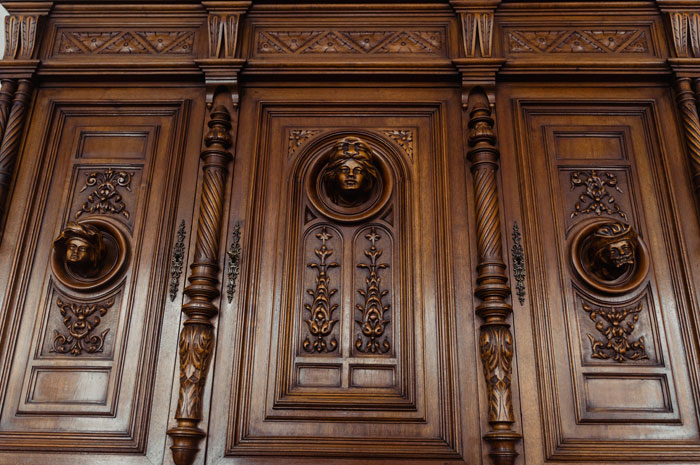 Image of antique wooden furniture by Tima Miroshnichenko
What is Modern Millwork?
Modern millwork was the result of the introduction of modern technology and a slight shift away from older styles and themes.
Architecture, designers, builders, and even homeowners have embraced these changes, and many prefer a blend of old and the new kinds of millwork.
Unlike much of traditional millwork, modern millwork seems is primarily concerned with kitchen and bathroom designs, including cabinetry and countertops. It also relies on enhanced techniques for panels and casework, and hand tools for finer details such as carvings, trims, embellishments, and applied details.
The National Association of Home Builders in a report stated that about 29% of the total cost of building a house goes into interior finishes comprising cabinets, countertops, fireplaces, fixtures, drywall, trim, doors, and so on.
This shows a significant demand for modern millwork, which has led to some rapid changes. Companies digress into computer-based production technology for accuracy and mass production of millwork, while still allowing custom millwork & casework and cabinetry.
At present, more than 90% of millwork companies and cabinet-making shops depend on computer-based design software. More than 40% use computer-controlled equipment in their production.
Image of chairs near television by Jonathan Borba
One thing that architects, millworkers, and builders have realized is that modern millwork has created a new paradigm. It does not have to be restricted to mass-produced products. 
Instead, there is a marriage of design, technology, production, and ideology to create beautiful, personalized spaces.
Modern millwork uses a wide range of materials such as hardwood, softwood, medium-density fiberboards (MDF), composite materials, finger-jointed wood, fiberglass, and particle boards. Other materials include aluminum, stainless, steel, and glass. Production is not solely dependent on wood. 
Your modern ceiling doesn't have to be bare and dreary, either. You can install crown molding and choose from an extensive collection of moldings available on the market. 
But that's not all – modern millwork also extends to floor molding to take a room's design to the next level. Indeed, during the Golden Era of millwork, the construction process was not considered finished until floor molding was installed.
Conclusion
Whether you favor traditional or modern millwork, there is a need for high-quality millwork shop drawings, woodwork drafting, custom millwork & casework, and cabinet drawings because they serve as the groundwork for any good millwork project.
BluEntCAD offers top-of-the-range, computer-aided millwork drafting and drawings to casework companies, woodworking companies, custom furniture manufacturers, signage manufacturers, cabinet makers, interior designers and manufacturers. Browse our portfolio to see how we've helped companies like yours. 
Ready to make your project a success with millwork drafting services? Contact us now!
Maximum Value. Achieved.